CHESIL COVE - THE GROVE - PORTL;AND HARBOUR - FERRYBRIDGE - WEYMOUTH MARINA
WEATHER: dull and overcast, very windy at the coast, light rainm at times.
The south-westerly wind continues to blow, birds are blown into Chesil Cove at Portland and so Guy and me decided to make a second visit this week (Guy's third visit) to look for a SABINE'S GULL and whatever else gets blown in.
Guy came over to me at 8am and we drove down to Chesil Cove without stopping along the way. A SABINE'S GULL had been reported yesterday, it was lingering in the Cove and today it was still there. As we arrived we could see bunch of birders and photographers on the shingle beach looking at a large area of floating weed just offshore. A number of gulls were flying around the floating mass of weeds.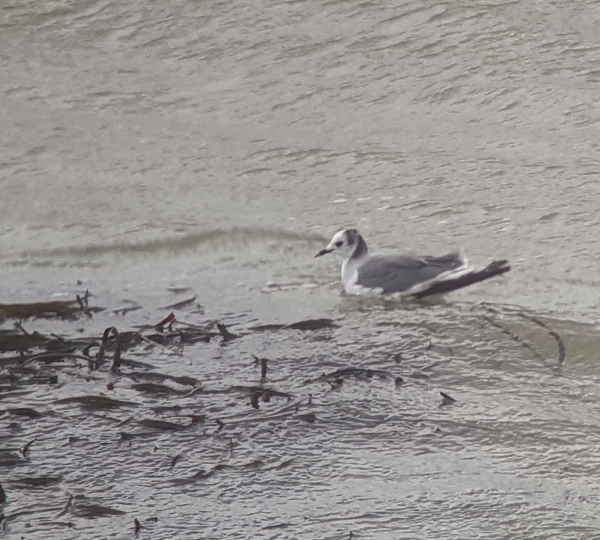 the adult SABINE'S GULL in non-breeding plumage
The Sabine's Gull was still present and was easily picked out with its distinctive wing pattern of black and white and its dull grey body. It was a non-breeding plumaged adult bird because the head colour was mottled black instead of a full-on black hood.
Sabine's Gull in flight showing the distinctive wing markings (this bird has a missing right foot!!)
We watched the bird for half an hour and also picked out several Kittiwakes, a Guillemot, a Razorbill, some Mediterranean Gulls and lots of Herring Gulls, G BB Gulls and Black-headed Gulls.
more of the Sabine's Gull with Black-headed Gulls for company
We were told that a Grey Phalarope had also been seen, but a little further down the beach towards Ferrybridge, we walked a short way on the shingle and within a few minutes we relocated the Phalarope. It was very hard to see, but it flew up above the waves many times and we had the occasional view of it on the water, it kept disappearing behind the swell of the waves.
a Guillemot in Chesil Cove
After an hour or so we decided to move on, we drove up onto Portland for a second look for the Common Rosefinch that was visiting a garden feeding-station in someone's back garden at the Grove. We stalked what we thought was the correct garden for half an hour until another birder informeded us that we looking in thwe wrong place, doh!
After finding the correct place we realised that a sighting of the bird was very slim because we had very litlle visibility of the garden, but just in case, we watched and waited for an hour. Many House Sparrows, Starlings and Goldfinches came down to the garden but not the Rosefinch, I was thwarted once more, I think that was my tenth attempt at seeing a Rosefinch this Autumn!
Next we returned to Chesil Cove to look at the gulls once more, because now, at least three Sabines Gulls were present. A Juvenile sat on the water very close to the shore and an adult bird was flying around, we never saw a third bird but two was enough. They both gave great views sitting the water and flying around.
juvenile Sabine's Gull taken at Chesil Cove
We then drove to Ferrybridge where an Arctic Tern and a Little Gull had been reported earlier, we crouched behind the visitor's centre sheltering from the wind with three other birders and scoped the mudflats on a rising tide. Hundreds of Med Gulls were out there, along with some Brent Geese, Oystercatchers and the usual small flocks of Dunlin and Ringed Plover. At least 5 Bar-tailed Godwits fed out there and we saw Little Egrets, Red-breasted Mergansers, Turnstones and more of the common gull species, but not the Tern or the Little Gull. A few Kittiwakes flew over us just before we called time and went into the cafe for a hot cuppa.
female Red-breasted Merganser taken at Ferrybridge
After our coffee break we drove to Ham beach on the south side of Portland Harbour to scan for Goosander and a couple of reported Leach's Petrels. We ate our lunch sitting in the car on the car park at Ham Beach before getting out to scan the harbour. Neither of the targets showed up but we did relocate a Northern Wheatear that Guy had found yesterday. Also on the rocks and the grass margin along the shore of the harbour we saw Stonechat, Rock & Meadow Pipits and few Pied Wagtails.
a very late Northern Wheatear, an excellent find in November
We did bump into a local birder on Ham Beach, it was Oli from Yeovil. Later he drove round to Sandsfoot Castle to scan the northern end of the harbour and actually found a couple of Leach's Petrels but they were very distant.
For our last birding we drove into Weymouth to look for another Arctic Tern that had been seen around the Harbour for the last few days, Guy had seen it yesterday. We drew a blank, the light was beginning to fade as four o'clock approached, so we decided to call it a day and headed off home.