O'REILLY'S LODGE, LAMINGTON NP ALL DAY – VILLA & BORDER TRAILS – KAMARUN OUT-LOOK – ROBERT'S WATER-HOLE TRACK.
Weather: a beautiful sunny morning, some cloud but much cooler, around 10C to start but warmer later.
We assembled outside the main reception building at 6:30am and we were bombarded by King Parrots and Crimson Rosellas, they were after food, it was amazing how tame these wild birds were. They would land on you head, shoulder or arm and just wait for tit-bits, Regent's Bowerbird seemed also very tame but not so brazen.
Our day was interesting and exciting because of the new terrain and the well-marked trails of Lamington National Park with information boards giving details of the forest history and the ecology of the tree species. We walked a single trail before breakfast and although we never saw many new species we enjoyed a lovely walk. Satin Bowerbirds were common as was White-browed Scrubwren, Yellow Robin, Golden Whistler, Eastern Spinetail, Black-faced Monarch and we did get brief views of Little Bronze-Cuckoo. A flock of Topknot Pigeons flew over us as we returned to the lodge.
King Parrot - a very common tame bird at O'Reilly's
After a wonderful breakfast we set off at 9am taking a longer walk along the 'Border Trail' and despite the number of people walking the same trail we saw plenty of bird activity. A Green Catbird sat nicely for us, this was our first sighting of this species, Yellow-throated Scrubwren and Brown Gerygone also showed very well. A Rufous Fantail stole the show with a fantastic tail-fanning display, that was until Barry showed us a Satin Bowerbird at its 'bower'.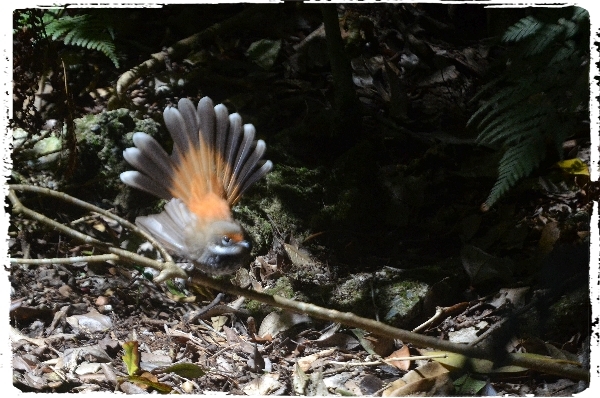 The Rufous Fantail taken by Mike Ambler
The Bower was an incredible construction of twigs, forming a short avenue and was littered with everything you can imagine but only with blue items. Plastic bottle tops, pieces of rag or ribbon, blue coloured stones, anything blue! The Satin Bowerbird appeared and stood in the bower making repairs and enhancing his walls of sticks with regurgitated blue berries, we saw him wiping this on his bower! Bowerbirds are probably the only family of birds that actually use 'paint' for decoration.
Satin Bowerbird in his Bower and the complete bower shown below
Our walk continued for another couple of hours during which time we made some excellent sightings and enjoyed the wonderful forest of ancient trees. The Logrunner is a colourful ground dwelling species that has adapted to leaf-litter foraging, it scraps the litter away in search of insects in an unusual way. By using its reinforced tail feathers' it sits back as it brushes the leaf away at right angles to its body instead of backwards like most other species, fascinating to watch.
the Superb Fairywren
We added a couple more species to the list as we bumped into them, Russet-tailed (Bassian) Thrush was a brief encounter, the tiny families of the Gerygones and the Thornbills were hard to get on to in the forest but we managed to find them but Albert's Lyrebird remained elusive. An Olive Whistler was a nice find and special for Barry as he had never seen one at Lamington! A Wonga Pigeon foraged on the forest floor and a Brown Thornbill was found back at the visitor's centre along with a Superb Fairywren.
For lunch we drove out of the national park down the mountain to the look-out point at Kamarun, the sun was now shining brightly and the temperature was a nice 20C as we ate our picnic. The fruiting fig trees around the look-out attracted Wompoo Fruit-Doves, Regent's and Satin Bowerbirds and lots of Lewin's Honeyeaters.
The beautiful Regent's Bowerbird
Our afternoon birding continued as we dropped further down to lower altitudes to dry forested areas where other bird species could be found. Our main walk was along a track at Robert's Water-Hole into eucalyptus forest we were fascinated by the large number of Caper White butterflies. From the car park we found the beautiful Scarlet Honeyeater (now called Scarlet Myzomela) and a must-see species, a favourite of mine, the Crested Shrike-Tit, a little beauty it sat perfectly still for us.
Crested Shrike-Tit
Our main target was the Bellbird or Bell Miner, Barry led us to a colony of them and they do really make a bell sound. They form large groups and set out a feeding-territory in the forest which they defend by chasing off most other birds. We also found White-naped Honeyeater, Cicadabird (a male), more Scarlet Honeyeaters, Variegated Fairywren and our first Pardolate, the Spotted variety, this tiny creature was hard to see in the canopy.
Bell Miner
Before we left we added a Striated Thornbill and a Grey Whistler, both were seen near the water-hole as we were about to leave.
Little Bronze-Cuckoo
On the way back up the mountain one final stop was made to look for Riflebird and Noisy Pitta but neither of them showed! A nice consolation was the finding of a Little Bronze-Cuckoo, this one sat nicely for all of us to get views of.
Dinner was taken at 7pm, again it was delicious with a tasty selection, however it had been a tiring day and we all went to bed early.