TRANSFER FROM CAPERTEE VALLEY TO SYDNEY – COCO CREEK – LITHGOW SEWER WORKS– WALLACE LAKE – RICHMOND LOWLANDS – PITT DOWN MARSHES
WEATHER: A beautiful sunny day, cloud later, Top temp 30C
We were all packed and ready to leave at 8am. A few birds were recorded around the paddock as we gathered around the bus, Yellow-faced Honeyeater, Yellow-rumped Thornbill0, Noisy Friarbirds, White-winged Chough and Willy Wagtails.
Our journey back out of the valley was interrupted several times to look at perched birds such as Australian Kite, Brown Falcon, Red-rumped Parrots, Galahs and finches & larks. A few kilometers along the valley we stopped at Coco Creek which ran through a eucalyptus woodland, we had an amazing time there, birds were everywhere and the weather was perfect. Two cuckoo species landed in the same dead tree, Fan-tailed and the rarer Black-faced Cuckoo. We had short but excellent in-the-scope views of Turquoise Parrot, what a beauty in the morning light. We also added yet another Honeyeater to our growing list, the Yellow-tufted variety was nest building near the bridge over the creek. A Little Eagle circled over us, a pair of Sacred Kingfishers visited their nest hole and a small party of Double-barred Finches fed on seeds in the grass. A Grey Shrike-thrush sang to us as did Jacky Winter, Willie Wagtail and Yellow Thornbill.
two views from our 'cottages' in the Capertee Valley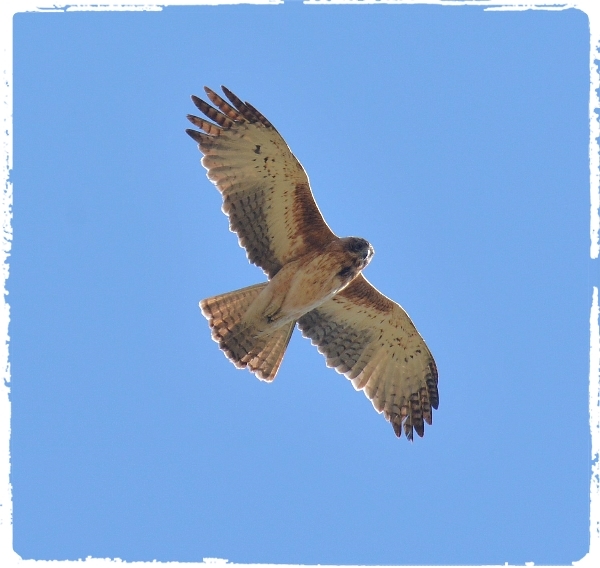 Little Eagle - Bob Longhorn
Further up the valley we found another Little Eagle (Australia's equivalent of Europe's Booted Eagle), this one circled very low over us giving a great display. Once out of the valley we headed southeast towards Sydney making our first stop at Lithgow Sewerage Ponds! Apart from the smell and the flies we enjoyed a variety of sightings of ducks and other water birds. The two most interesting sightings out on the water were our first Hoary Grebe and Australian Shoveler, we also saw our first Red-whiskered Bulbul, (an introduced species, now well established) and our first Eurasian Blackbird, another introduced species!
Yellow-rumped Thornbills
The short distance to Wallace Lake took just a few minutes and we had had great success there with our last remaining target duck species. First we found a male Musk Duck close by and then three more at some distance. This amazing beast has an extraordinary leathery pouch-like wattle hanging below its bill, it can fill this wattle with water and during courtship display it squirts the water out in a fountain! The bird also floats semi-submerged and is an excellent diving duck. This animal derives its common name from the peculiar musky odour it emanates from its rump during the breeding season.
Musk Duck
Pink-eared Ducks
At Wallace Lake we listed Australasian Swamphen, Australian Reed Warbler and lots of common water birds. From the lake we drove to Blackheath where we bought picnic supplies for lunch which we ate at Evan's Lookout. We made a last attempt for a Rock Warbler sightings without success.
Fan-tailed Cuckoo
Dollar Bird - Bob Longhorn
Crested Shrike-tit - Bob Longhorn
It took another hour to reach the huge alluvial plain found in the Richmond area of north Sydney, we drove along quiet lanes looking over large flat pastures, turf-farms and stopped at several small pools. A good selection of duck species were found including another sighting of the strange Pink-eared Duck. We also listed Red-rumped Parrots, Galahs, Restless Flycatcher, Little Eagle, being mobbed by Australian Kite, Royal Spoonbill, White-faced Heron, Great Egret and all four cormorant species.
Brown Falcon
Our last stop was a nature reserve called Pitt Down Marshes, where a large, well placed hide overlooks a huge lake and marsh area, it was a lovely spot, the kind of place you would love on your local patch. Reed-beds, islands, mud-scrapes, marsh and open water surrounded by woodland and pastures. It had great potential but didn't produce today! We saw lots of Pelicans, Black Swans, Cormorants, Pied Stilts, common ducks and waterfowl and a single Caspian Tern.
Galah
That concluded our days birding, we drove into Sydney and returned to the Arts Hotel, dinner was taken in the pub next door, the conversation was more political than avian. We had been without, phones, WFi etc. for three days and had no idea that the world had been TRUMPED!!! OMG!