Chambers Lodge – Lake Barrine – Yungaburra creek – Wongabel Forest – Nerada Tea Plantation
Weather: dry, sunny & warm all day. Top temp 28C
It was the mammals that grabbed the headlines today, over the last 24 hours we have seen a good selection of nocturnal animals with Platypus stealing the show and Tree Kangaroo coming a close second.
We had breakfast at 6am and met in the car park at 7am in preparation for our daily excursion, many birds were calling from the forest and feeding on nectar in the flowering shrubs in the gardens. We listed several Honeyeaters with Lewin's, Bridled, Yellow-faced and Macleay's being the most common. We also watched Black-faced Monarch and several species already listed, it was excellent birding before even before we set off!
Our first destination was the natural crater-lake at Barrine, we were hoping to see Victoria Riflebirds performing their incredible display but after searching the car park area we realised that none were there. However a number of other birds were, Eastern Spinetail was a beauty as was Golden Whistler, whilst Large-billed Scrubwren and some of the honeyeaters were not!
Dusky Honeyeater
We listed Great Crested Grebe (over 80 of them), Australian Pelican, Pacific Black Duck, Common Coot, Little Pied Cormorant and Intermediate Egret on or around the lake before we set off on a walk into the forest.
Many species could be heard deep in forest we managed to track down quite few, with Wompoo Fruit-Dove, Spotted Catbird, Tooth-billed Catbird (Bowerbird), Yellow-breasted Boatbill and Pale-Yellow Robin byt tge Riflebird remained elusive. We also had several sightings of the tiny Musky Rat-Kangeroo!
Tooth-billed Bowerbird
From lake Barrine we drove to Wongabel Forest stopping at the famous Curtain Tree along the way. This huge tree has route vines growing down from all its branches forming a spectacular 'curtain' around its base, it is a very popular tourist site with a boardwalk all around it. Several good birds were seen around the tree with Eastern Whipbird, Pied Monarch, Bower's Shrike-Thrush, Grey Fantail and Pale Yellow Robin all showing well.
At Wongabel Forest we spent some time walking the main trail, again the forest was alive with bird calls, but birds were hard to see. We managed views of Grey Fantail, Brown Cuckoo-Dove, Tooth-billed Bowerbird near its bower, both Atherton and Large-billed Scrubwrens, Brown and Fairy Gerygones were common and we found a flock of Red-browed Firetails in the car park on our return.
Lewin's Honeyeater
Just after leaving the forest we made a quick stop at Yungaburra Creek and to everyone's great satisfaction we located a couple of local celebrities, the PLATYPUS, what show they put on, one of them came out of the water and sat on a log. Whilst there we also saw Laughing Kookaburra, Grey Goshawk, Cattle Egret, Nankeen Kestrel and we heard Scarlet Honeyeater but couldn't find it.
Platypus
We drove to Nerada Tea Plantation for a late lunch and in the strip of woodland along the entrance drive we watched several butterfly species and to our great delight we located one of our 'most-wanted' mammals, TREE KANGAROO, it was such a delight to see this species.
After our late lunch we drove back to our lodge for a break we arrived at 4pm. Barry our guide suggested putting out bananas on our verandah to attract birds. Most of us pulled in a common bird local, I got Lewin's Honeyeater but Helen & Jeff attracted a male Riflebird and had the photograph to prove it!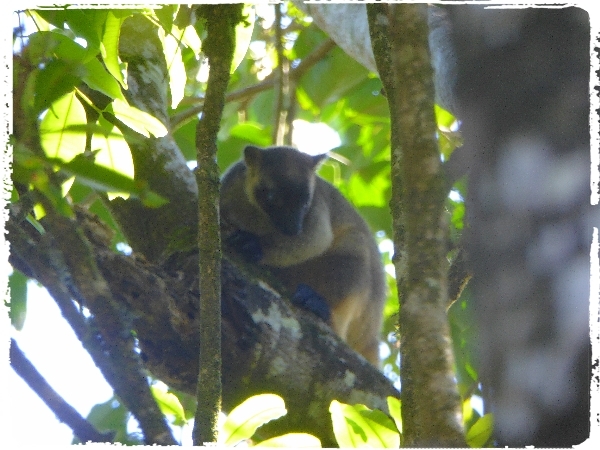 Tree Kangaroo
We left at 6pm to drive into Yungaburra for dinner but our birding wasn't over yet! Barry took us to a site for Grass Owls and Black Shouldered Kite, we saw several kites in good light and a couple of owls in very bad light. We also had sightings of Golden-headed Cisticola, Nankeen Kestrel and Spectacled Flying Fox (no I hadn't been drinking, I did see a Fox, flying, whilst wearing spectacles!!).
the amazing Curtain Tree
After a typical pub dinner were drove back to the lodge noting Red-legged Pademelon and a Common-brushtail Possum along the way back.