GAUCIN SWEET CHESTNUT WOODS - RIO GUADIARO AT EL COLMENAR – CUEVA DE GATO – LLANOS DE LIBAR
Weather: Southern Spain continued to bake in this very unseasonal hot-spell. It reached 42C today which reduced our birding time somewhat!
Fiona and I left my house at 7:15am, it was only just getting light as we left the village and drove the 3km to the woods. At first it was very quiet, just a Eurasian Nuthatch called then other birds began to wake and started feeding.
A Great-spotted Woodpecker came next followed by sightings of Blue & Great Tit and the Nuthatch. Soon the 'goodies' began to appear, 2-3 Firecrests showed well before a 'gang' of Crested Tits appeared, they had a successful time catching moths in flight, very skillfully done.
female Bronze Demoiselle Damselfly
After breakfast we met up with Penny, Paul and Helen and together in my van we drove down to the Rio Guadiaro at El Colmenar. It wasn't too warm at that time in the morning so we spent a nice hour looking at birds, insects and bugs. Paul is an expert entomologist and is currently producing a field guide on the insects of the Mediterranean.
We logged Grey Wagtail, Long-tailed Tit, Willow Warbler, Eurasian Chiffchaff, Blackcap and a possible Garden Warbler. Some butterflies were on the wing with Monarch, Lang's Short-tailed Blue, African Grass Blue, Speckled Wood and a Clouded Yellow all seen in flight. Paul pointed out a few damselflies and dragonflies; Bronze Demoiselle, White Featherlegs and Ringed Cascader.
The track through the Llanos de Libar
Fiona, Penny and I left Paul and Helen to study the insects whilst we drove to Benaojan and Cueva de Gato. On arrival it was boiling hot so we never walked far from the car park, a flock of about 30 Alpine Swifts flew over us and a couple of Crag Martin joined them. High up we logged a few Honey Buzzards and just over the ridge a Short-toed Eagle drifted by.

We visited the cave and its beautiful 'blue pool'. A Cetti's Warbler showed unbelievably well as did Grey Wagtail and we had together views of Long-tailed Tit, Blackcap, Common Redstart, Willow Warbler and Eurasian Chiffchaff.
Iberian Wall Lizard
From the cave we made the short journey to the Llanos de Libar track. We ate our picnic lunch in the shade whilst watching the local Griffon Vultures drifting along the mountain rock face and climbing to great heights on the thermals. We had several sightings of small groups of Honey Buzzards at very great heights with a few Black Kites.
A Black Redstart flitted around on the ivy-clad rock nearby, a Cirl Bunting flew up off the track and both Willow Warbler and Chiffchaff sp. fed in the ivy.
You can imagine the lack of bird activity in 40C heat so we drove to a spot where we could watch a leaking water trough, where birds were coming to drink. With small flocks of Goldfinches we logged Rock Bunting, Linnet and two Black Wheatears sat on prominent rocks in the foreground.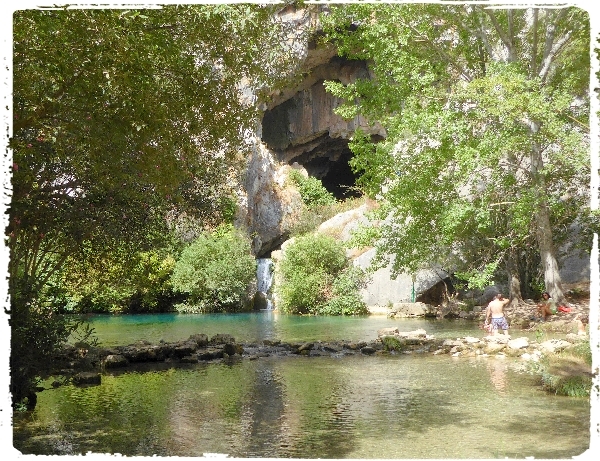 The entrance to Cueva de Gato
Apart from a 'swarm' of Martins, both House and Crag, nothing else was moving so we drove up the valley for a few kilometers hoping for sightings from air-conditioned car. But apart from a single Northern Wheatear, a couple of Black-eared Wheatears and a Common Stonechat it was very quiet.
The scenery was stunning, it was worth going there just for that but alas time had run out and we had to go. We returned to the Rio Guadiaro to collect Paul and Helen who had had a great time photographing insects.
We finished back in Gaucin at 4:30pm a little early but the heat was now oppressive so we chilled to 7pm and then went into the village centre to eat and to watch a dance-concert in the square.