ENCINAS DE BORRACHAS TRACK – SIERRA DE LAS NIEVES - RONDA
Weather: the hot spell continued and with little wind in the mountains it was a scorcher average temp. 38C
We set off towards Ronda at 8:00 am and reached the Encinas Borrachas (drunken oaks) track within 30 minutes. It was still a cool 23C with a little light cloud cover that soon burnt off.
This track is a favourite of mine with something good to see any time of the year, however I wasn't optimistic today because of the current heat-wave. My fears were allayed as we notched up a few species within minutes, Iberian Grey Shrike, Northern Wheatear, Black-eared Wheatear, Whinchat and both Crested and Thekla Larks.
Northern Wheatear
It took us nearly an hour to walk the first 100 meters! Soon we were listing warblers that were feeding in the tamarisk scrub, we saw family parties of Spectacled Warblers, a few Sardinian Warblers and further down the track we found Dartford and Subalpine Warblers.
The Hermit Butterfly
Flocks of Bee-eaters flew over but very few raptors were present, a couple of Spanish Ibex stood in the shade high up in the mountain cliffs, one pregnant female looking a bit hot and stressed as she crouch in a sheltered crevice.
the underside of the Wall Brown is quite beautiful
As the cloud cover burnt off the sunlight became harsh and the temperature went up to 35C. Butterflies came out in good numbers, lots of Hermits, Rock Graylings, Small Blues, Sage Skippers, Wall Browns, Meadow Browns and Iberian Marbled Whites.
Cardinal Fritillary
We got back to the car 3 hours after we set off and promptly drove to a venta for a cup of coffee and a rest. We saw Swallowtail Butterfly whilst drinking our caffeine.
For the next venue we drove to the natural park of Sierra de las Nieves some 3 minutes up the road, after entering the park we stopped at the entrance picnic site to eat our lunch in the shade of a pinsapo pine!
During lunch we saw around a dozen Common Redstarts as well as Black-eared Wheatears, Willow Warblers, Jays and Blue Tits.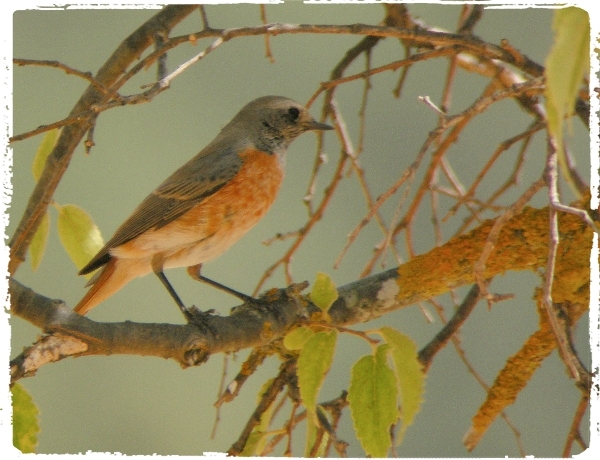 Common Redstart
For the next two hours we sat in the shade close to an over-flowing watering trough where a creditable list of species was recorded. The two trees above the trough were alive with birds, they took turns to drop down to drink or bathe or both.
The trough
Trough list:
Blue Tit, Great Tit, Crested Tit, Eurasian Nuthatch, Short-toed Treecreeper, Jay, Blackbird, Chaffinch, Willow Warbler, Iberian Chiffchaff, Garden Warbler, Spectacled Warbler, Cirl Bunting, Spotted Flycatcher, Firecrest, Common Redstart and Eurasian Hoopoe.
female Cirl Bunting at the trough
Several butterflies came to drink or take up minerals from the wet soil, Cardinal Fritillary, Banded Grayling, Spanish Chalk-hill Blue, Cleopatra and Striped Grayling were the most abundant.
The Cleopatra Butterfly is the Mediterranean Cousin of the Brimstone
It was now 4:15pm so we decided to call it a day, we drove into Ronda to be tourists for an hour, boy was it hot there, the car registered 40C again. We added Red-billed Chough to our trip list before we nearly melted.
Spotted Flycatcher
We got home at 6:30pm, a cold drink, in the shade, went down very well!