A DAY BY THE RIVER
WEATHER; high temperatures for the first 5 days (30-38C) but much cooler now. The last few days have been quite breezy, with thunder clouds and a tiny bit of rain. Temperatures mid-to high 20's, quite cool in the ealry mornings.
At last, we had a day out by the River having travelled to Spain over 7 days ago! Our travel arrangements included two days on the Portsmouith to Santander Ferry where I watch Cory's and Manx Shearwaters, as well as Yeliow-legged Gulls, Great Black-backed Gulls and lots of Gannets.
I had to stand at the back of the ship to sea-watch as it was so windy you couldn't stand up (and cold)
Our 10 hour drive from Santander to Gaucin was enjoyable, the scenery is always stunning for m ost of the way and birds of prey sightings are frequent. We saw both Red and Black Kites, Booted and Short-toed Eagles, Marsh Harrier, Common Buzzard and Common Kestrel.
Its great to be back in Gaucin, looking up at the Castle and across to the twin peaks of Sierra de Crestellina
Spotless Starlings, Spainsh Sparrows, Iberian and Eurasian Magpies, Jay, Turtle Doves, Woodchat Shrikes, Crested Larks, Corn Bunting, Serin and lots of Griffon Vultures all appeared over the road as we made our way south-eastward.
After settling into the house for the summer we had a few chores and some repair work to do which involved driving down to the coast to visit the DIY store.
Yesterday we took the day off! We made a picnic and headed off to the Rio Guadiaro at Estacion Cortes soem 15km from us. We sat under our favourite tree watching over our favorite part of the river, it was bliss, with a nice breeze.
the view we had from our picnic site under the weeping ash tree
We saw Bee-eaters on the way down to the river, also Black Kites and a Booted Eagle. The bushes along the river were alive with many birds and small flock were always dropping down to the water's edge to drink.
White Wagtail - female?juvenile type
A nice little list was soon amassed, finches were most common: Goldfinches, Greenfinches, Chaffinches, Linnets and Serins. Both White & Grey Wagtails were present and were always in sight.
A Sein with two other birds, can you see them?
a group photo - Serin, Great Tit, Blackbird and a Chaffinch? can you find the Chaffinch?
A Kingfisher flashed by a few times before we finally found it perched, it later became very showy and even perched on rocks next to the river. Two Wood Pigeons came down to drink and soon afterwards two Turtle Doves flew over but they did not not stick around.
Common Kingfisher
Around 4pm two of friends (John and Mary - Americans) came to join us. Jon is quite keen on birding and is a great novice, always asking interesting questions. They brought us some luck as a Black Kite flew down to the river quite close to us. Wow! It wss a juvenile bird and as yet, not too wary of human presence, he will learn quickly or die ignorant.
Juvenile Black Kite, came down to drink and soak its feet in the cool water
Other species of note: Common Stonechat, Woodchat Shrike, House Martin, Barn Swallow and huge numbers of House Sparrows (they appeared to be eating grain put down for the local goat herds).
Juvenile or female moulting - Common Stonechat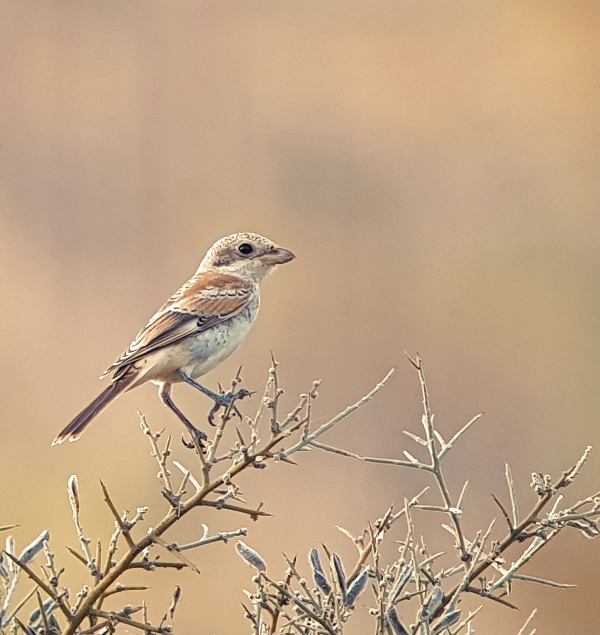 juvenile Woodchat Shrike
Warblers in the bushes along the river included many Iberian Chiffchaff, Western Bonelli's Warbler, Blackcap, Melodious Warbler and Cetti's Warbler, heard but not seen.
a family party of Goldfinches having their drinking session gate-crashed by a juvenile Serin on the left
A few Dragonflies were dashing about, the very common Onychogomphus forcipatus, Samll Pincertail seemed to be be on every rock along with Trithemis kirbyi Orange-winged Dropwing,the best sighting was of Zygonix torridus Ringed Cascader - this indivdual patrolled a section of the river for six hours whilst we were there and never ladnded once!!
Orange-Winged Dropwing - Trithemis kirbyi
Small Pincertail - Onychogomphus forcipatus,
A few small white type butterflies whizzed by, they never stopped, hardly any flowering plants we around (too dry or too many gaots). I did see Clouded Yellow and a Brimstone.