A rainy day in Somerset produced some great birds after the storm of Thursday night...……………
YEOVIL - CHEDDAR RESERVOIR - CHEW VALLEY LAKE AT HERON'S GREEN, STRATFORD HIDE & HERRIOT'S BRIDGE
WEATHER: wall to wall rain in various strengths, light winds Temp around 15C
Guy Campbell picked me up from my home around 10am (I know, its was not an early start), we waited until then to hear of local sightings before we set off. The storm that hit the UK on Thursday night had brought a lot of sea-birds to inland lakes and reservoirs. Especially Grey Phalaropes, Leach's Petrels, Black, Common & Arctic Terns, Little Gulls and even Sabine's Gulls and Pomarine Skuas.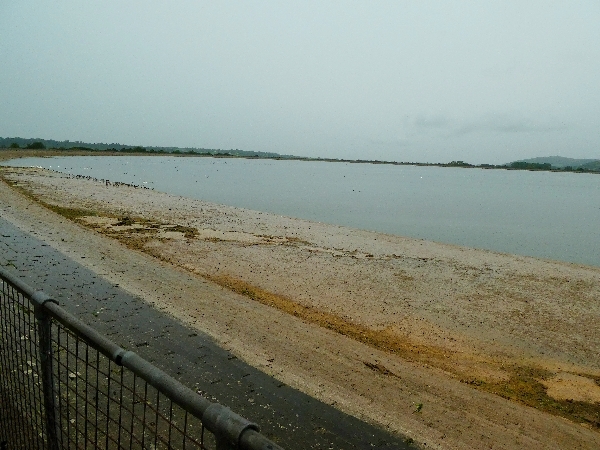 A VIEW OF THE CIRCULAR CHEDDAR RESERVOIR
Cheddar Reservoir is about 50 minutes away from Yeovil and Guy drove us straight there, it was raining all the way but it eased off on arrival. It took us about 5 minutes to locate a Common Tern sitting on a buoy, then a Little Gull came near and began feeding 'tern-like' in front of us.
The reservoir was covered in ducks, grebes, cormorants and above the water dozens of both House and Sand Martins fed.
Further scanning produced a distant Grey Phalarope it was close to shore but a fair way around this circular reservoir. We walked towards the bird and got quite close, as we progressed we noticed a Black Tern feeding close to the shore, another good bird!!
one of three GREY PHALAROPES SEEN TODAY
The rain came down a little harder as we began to photograph the Phalarope, then a second bird appeared not too far away and took all our attention. The rain eventually drove us away, as we walked back towards the car we found an Arctic Tern flying around with the Little Gull and the Black Tern, wow! Smashing, four good birds on one reservoir.
Other species noted: Mediterranean Gull, Shoveler, Teal, Wigeon, Gadwall, Tufted Duck, Common Pochard, Little & Great Crested Grebe and Great Cormorant, a dozen or so Pied Wagtails fed along the banks of the reservoir too.
THE VIEW FROM STRAFORD HIDE OF PART OF CHEW VALLEY LAKE
After stopping at Woodford Lodge for a warm-up, a Coffee and toasted Tea-Cakes we went to Straford Hide and spent some time in the dry scanning the huge Chew Valley Lake. Apart from thousands of ducks we did see a couple of Great White Egrets and a couple of albino Coots.
a record shot of the Great Whites and the Cattle Egrets
We then stopped at Herriot's Bridge and lo' and behold we found a third Grey Phalarope, it was a little distant but what a great find! We saw another 3 Great White Egrets and then 3 Cattle Egrets dropped in. I thought I had left Spain but here in front of us were Great and Cattle Egrets, Little Egrets were just over the road on the main lake and Oh! it was raining so now I knew it wasn't Spain.
have you ever seen a White Coot?
We added Common Snipe, Common Shelduck and Northern Lapwing at Herriot's Bridge. We gave up around 3:30pm, we were cold, wet and ready for another coffee, so we went home happy but wet! It's so nice to be back in the UK I so miss the rain............not!