A full day out at the wonderful birding area of Bourgas, it is always a great place to visit and often turns up some surprises......
'Bourgas Vaya Lake – Mandra Lake – Poda Reserve
We had a full day out in and around Bourgas today we recordes just under 100 species, the weather was smashing, high cloud cover at first but it soon burnt off to give us bright sunshine.
A short pre-breakfast walk from the hotel found in a line of scrub between the hotel and the beach, this area can be good for passing migrants and a few breeding species and we had the bay to look into.
GREAT REED WARBLER
Bourgas Bay stretched out in front of us and was flat calm we could see a good distance out into the Black Sea. It wasn't long before we found Black-throated Diver and Great Crested Grebe, we also also Oystercatcher, Great Cormorant and a number of Yellow-legged Gulls.
Our concentration then shifted to the scrub area from where a number or species were singing, Olivaceous Warbler, Blackcap, Greenfinch, Golden Oriole, Common Nightingale and Cetti's Warbler were all seen or heard. A River Warbler was chuntering away in some dense scrub but stopped whilst we searched for it and never showed. One nice species seen well in the scope was the Hawfinch, seen on our way back to breakfast.
RED-BACKED SHRIKE
Bourgas Lake covers a huge area on the inland side of the main artery road through Bourgas, various pull-ins allow you to view the lake from the noisy roadside. It was alive with birds, especially terns, great swathes of them could be seen in the distance, they were mainly Black Terns, but we also listed Common, Whiskered, Little, White-winged and Gull-billed.
Great Crested Grebes were most numerous birds, followed by Common Pochard, Great Cormorant, Dalmatian & White Pelicans, Mute Swans, Gadwall, Coot and Moorhen. In the reeds we saw Great Reed Warbler and a few flyovers included Night Heron, Grey Heron, White Stork and lots of Yellow-legged Gulls.
DALMATIAN PELICAN
Another, called Mandra, smaller lake lies in a similar position to Bourgas Lake but is found a few kilometers further this was our next venue. It has a dense bed of reeds around most of it and the viewing area is much closer to the very noisy road but it is worth a visit. We quickly found Garganey and Reed Warbler and had much closer views of Dalmatian Pelicans.
It was fly-over species that made our stay at Mandra Lake more interesting, we saw Glossy Ibis, Purple Heron, Marsh Harrier and had better views of several of the tern species. Over the distant hillside we noted a number of raptors rising on the thermals, we picked out Lesser Spotted Eagle, Common Buzzard and more Marsh Harrier.
Next we drove inland, it was relief to get away from the busy town area, we visited an area of flooded meadows that held a good number of species which could be viewed from a quiet lane which passed high up on a bank.
LARGE COPPER
We never moved from the spot for at least an hour the birding and the light were that good. Ferruginous Duck, Garganey, Gadwall, Common Pochard were seen well along with Squacco Heron, Little Egret, Glossy Ibis, Common & Ruddy Shelduck, Northern Lapwing and large flocks of Curlew Sandpipers, Little Stint with the odd Ruff, Common Sandpiper and hundreds of Black-headed Gulls. A special find was a number of Collared Pratincoles, they gave us a great flying display as they hawked insects above us.
The movement of migrant raptors was also quite visible above the valley, we saw Booted Eagle, Short-toed Eagle, Lesser Spotted Eagle, Honey Buzzard, Marsh Harrier and Common Buzzard.
WHISKERED TERN
From the meadows we drove to a causeway on the landward shore of Bourgas Lake where after a short scan of the reed beds we settled down to lunch. We had a superb lunchtime display from a flock Bee-eaters that decided to bathe right in front of us, they would drop down into the water and quickly fly up after their dip. Then a White-tailed Eagle came over, this gigantic beast circled right above us giving unbelievable views. Dancho, our Bulgarian guide then picked out a very distant Steppe Eagle, in the superb light we could clearly see its markings. A few Honey Buzzards also passed over during this magical birding spell.
For the rest of the afternoon we visited the Poda Reserve found on the south side of Bourgas forming a large length of the Black Sea shoreline and affording protection to a large number of species. A series of brackish lagoons, reed beds, open grassland and scrubland forms an oasis for many species, there are a number of hides as well as a roof-top viewing area at the visitor's centre.
Our highlights there were the sighting of a Short-eared Owl, this is a rare sighting for Bulgaria, likewise a flock of Greater Flamingos got Dancho very excited.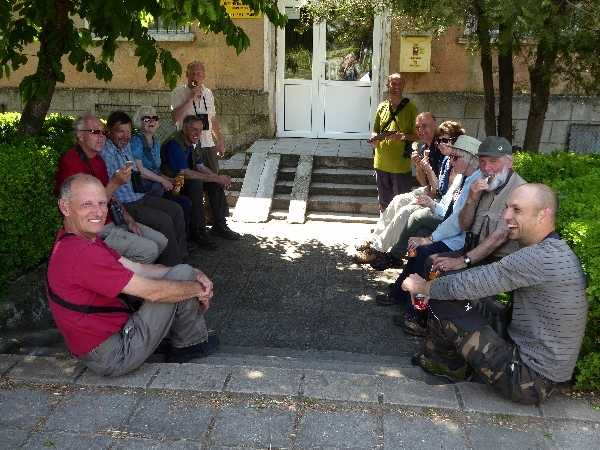 ICE-CREAM TIME
Other good birding moments included good close views of all three 'Marsh' Terns, Whiskered, Black and White-winged, good views of Pygmy Cormorant, Black-necked Grebes in the bay and a very busy herony with Eurasian Spoonbills, Night Herons, Egrets and Glossy Ibis.
LITTLE OWL - taken on the 14th but I forgot to show it then
Time quickly flew by and it was soon 5pm so we had to leave this little paradise and head off back to the northern part of town to our hotel.
We saw 91 species and heard three more, our best tally so far and I'm not surprised it is a wonderful area to visit.