ARDA COMPLEX - MARDZHROVO CRATER - LYUBIMETS - CALVA - POMORIE VIA BURGAS
WEATHER; a great start to the day, some clouds, lots of sunshine From 2pm thunder cluds lots of rain. Top temp 15C
Rain was forecast for the afternoon to day and so we had to make the most of this morning's calm anmd clear weather. We mret at 6:30am and went for a walk in the grounds of our hotel complex. ird song came from all direction we spent an hour just walking along the approach track.
Olivaceous Warbler, Common Nightingale, Black-headed Bunting, Turtle Dove, Tree Sparrow, Red-backed Shrike, Common Kestrel, Black Stork, Grey Heron, Peregrine Falcon, Raven, Great Cormorasnt, Great Spotted Woodpecker and Black-headed Yellow Wagtail were just some of our sightings. We listed over 30 species in less than an hour before we went in for breakfast, Black Kite and Yellow WEagtail were both nw for the list..
on the drive at our hotel, the Arda Complex.
After packing our bags into the bus we set off for the Black Sea Coast at Burgas. IT was to be a long journey with some birding stops but heavy rsain was on its way and we knew we had limited time in the field. We made a stop at a rock face on the way dowen to the Crater at Mardzhrovo to look for Western Rock Nuthatch. We found a nest on the rocks but saw no activity there, in the meantime we added Subalpine Warbler, Sombre Tit, Ortolan Bunting (two males were singing form high pinnacles), Cirl Bunting and Common Buzzard.
Black Stork on tone of th highest pinnacles
At the crater we had another great birding session, the light was perfect we listed many species including our target species the Western Rock Nuthatch, as we found an active nest site. Both Griffon and Egyptian Vultures were present as well as Black Stork, Ortolan Bunting, Common Buzzard, Blue Rock Thrush (displaying) and several other species.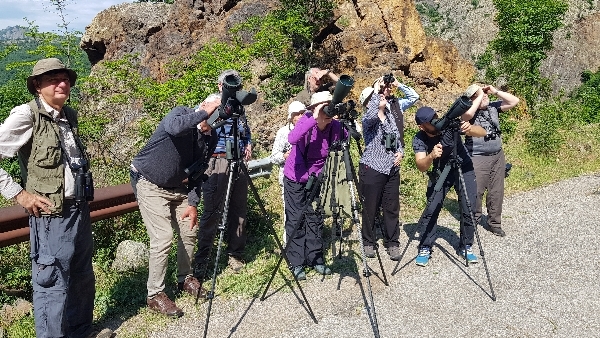 watching the Western Rock Nuthatch
We continued on our journey leaving the crater behind us heading north-eastward. After ashort while we stopped to look at a Little Owl, but the front bus flushed the bird before we, in the second bus saw it!! We drove onward along a very pot-holed raod and after a couple of hours we arrived at the town of Lyubimets. A few kilometers passed Lyubimets we stopped at a hillside where open mixed woodland of oak, olive and hazel trees could be seen with some scrubs.
Masked Shrike
We had a fantastic 30 minutes there hitting a really good purple patch. First Dancho pointing out a Masked Shrike sitting on a bare brach, we had pronlonged views of this most beautiful shrike. Then he pointed out a Honey Buzzard, which then performed a short burst of its' wing-clapping display, most of the group had never seen this before. Then a Lesser Spotted Eagle appeared and this was joined by an Eastern Imperial Eagle, wow!! A minute later a large flock of White Pelicans drifted past at a great height!
Olive Tree Warbler
Two Hawfinches landed in nearby tree, seen by just a couple of the group andwe heard Woodlark singing.in the diatnce. At the top of a rise we had a good view of the surrounding woodland, we quickly found two more Masked Shrikes, a hawfinch flew over us and we could hear our target bird, the Olive Tree Warbler, singing below us.
Dancho located a bush where the Olive Tree Warbler was singing from and before long we all saw the bird out in the open, in fact two birds appeared and one of them, the male, repeated landed in the same tree and saning its raucous song several times. What a show it gave us, we could have watched for a longer period but it began to rain, very large spots of rain came down, so we left.
Green-viened White
We drove bnack into town for lunch which was taken in a nice little restaurant, the rain shower had dispersed but we could see dark clouds in the sky and the wind had increased significantly.
For the last ten years or so there has been a reintorduction programme of Lesser Kestrels in Bulgaria. the stock, taken from the Spanish population are raised and released at a site we visited next. Our visit was marred by strong winds but we sheltered behind the buses and the wind did not seem to bother the kestrels. We saw up 8 birds in the sky at any one time and some perched on wires. Lots of nest boxes have been placed in nearby building and at least twenty of them are acitive. We also saw a few other raptors during our brief visit, Booted Eagle, Black Kite, Long-legged Buzzard and many Spanish Sparrows around the buildings.
Spanish Sparrow
We tried a raptor viewing point just down the road but the wind and rain drove us away. Well, that summed up our birding of the day because heavy rain persisted throughout the afternoon and we never got out of the vehicles until 6pm when we arrive at Pomerie. We had seen a few noteable species during the journey, such as Marsh harrier, Short-toed Eagle, Green Woodpecker, Mistel Thrush, Turtle Dove and lots of White Storks on their nests. At Pomorie we saw Avocets, Pygmy Cormorants, Common Swifts, Common and Sandwich Terns.
Yellow-legged Gull eatinmg a Pallid Swift
From our sea-facing hotel rooms we saw many Yellow-legged Gulls, one of whcih was eating a freshly killed Pallid Swift!!
The rain had stopped, the forecast for tomorrow is much better and we hope to see many new species in this castal area.