MADZHAROVO CALDERA AND PARK – LYUBENETS – LEVKA - BURGAS
WEATHER; overcast for most of the day, some sunshine later then rain.
Finally we got a dry morning, hooray!! We called off the early morning walk because of the forecast for rain which didn't materialise. Some pre-breakfast birding in the gardens produced the very unexpected sighting of a GOOSANDER!! Apparently, according to Dancho, a wintering pair have stayed over to breed, we saw the female flying around over the river.
After breakfast we drove to the huge Caldera at Madzharovo where the Arda river flows through its centre and two thirds of the now extinct volcano remain in place forming a huge wall of rock hundreds of meters high. Along the way we stopped at a roadside cliff face where we scanned a distant Blue Rock Thrush and a very distant Ortolan Bunting. At this spot we also saw Grey Wagtail, Black-eared Wheatear, Long-tailed Tit and over the distant rocky hills we saw Griffon Vultures and a Golden Eagle.
THE RIVER ARDA flowing through the Caldera at Mardzharovo
Before visiting the caldera, we popped into town to search the local park for Scop's Owls, we saw none! We did find several other species including Hawfinch, Cirl Bunting, Golden Oriole and many common species. We also saw the rare and endemic Rhinehold's Orchid.
a female Cirl Bunting
Rhinehold's Orchid - an emdemic to Bulgaria
At the caldera we scanned the high cliffs for a few target species, it didn't take long for us to find them all. Rock Bunting, Blue Rock Thrush, Ortolan Bunting and Western Rock Nuthatch were all seen well, albeit the latter was very distant. The light was good some sunshine broke through and it was much warmer, a few butterflies took to the air to celebrate.
can you spot the Rock Nuthatch at its mud nest? You would believe how far away this bird was!!
It was after 12 noon when we left Madzharovo and headed north-east towards Burgas. We made many short stops and a few scheduled stops, spending the rest of the day getting there.
Ortolan Bunting - Tony Moore
At Lyubimets we stopped at a roadside woodland site to look for Masked Shrike and Olive Tree Warbler. The Olive Tree was singing very close to where we parked and we all got excellent views of it. Walking up a steep slope into some open woodland we got even better views of the huge Olive Tree Warbler but we never found the Masked Shrike. Golden Orioles were seen fleetingly, we also saw Red-backed and Woodchat Shrikes.
Olive Tree Warbler - Tony Moore
A second site for the Masked Shrike produced the goods, a beautiful male posed for our cameras nicely, job done we moved on. Our next destination was the colony of lesser kestrels at Levka, where a very successful re-introduction after a 50 year absence of this delicate little falcon. Just before we arrived Dancho stopped the bus for us to get out and look at an EASTERN IMPERIAL EAGLE, this superb adult bird flew right over the top of us.
a fabulous shot of the Booted Eagle by Tony Moore - seen near Levka
Levka
Masked Shrike - Tony Moore
The Lesser Kestrels performed well but we did not stay too long as time was pressing, we saw about a dozen birds and more in the distance. Other birds of prey seen whilst during our journey concluded Short-toed and Booted Eagles, Black Kite, Common and Long-legged Buzzard, Common Kestrel, but we still haven't seen a Levant's Sparrowhawk yet.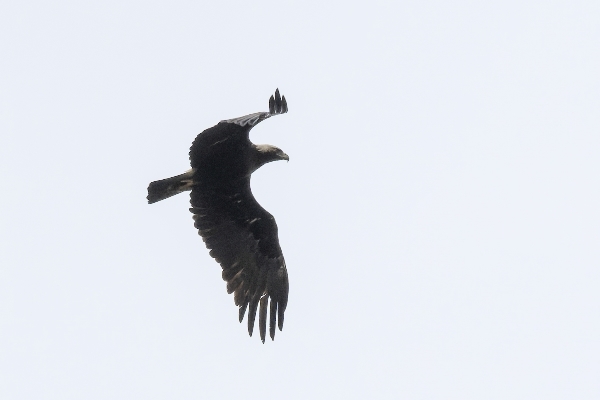 Eastern Imperial Eagle - record shot by Tony Moore
Short-toed Eagle - Tony Moore
We arrived in Burgas at 6:30pm and checked into our hotel. We ate in the reception area because the dining room was full with a private party, it was fun and two beers went down very well.