DURANKULAK PONDS – KALIAKRA CAPE – BOLATA VALLEY – BALGAREVO HEATHLAND
WEATHER: a gorgeous day, sunshine all the way. A nice cool breeze, top temp 26C
This was our last full day's birding because tomorrow we set off for Sofia in preparation for our departure on Monday. We made full use of the daylight hours and spent a lot of time in the field. We met at 6am and set off for the coastal pools at the nearby Durankulak, we noted Syrian Woodpecker and Golden Oriole as we loaded up into the buses.
On the approach road to the pools we saw a falcon on the wires which we initially thought was a Hobby but on closer inspection we saw that it was a Red-footed Falcon, our first of the trip. A little further ahead there was a 'brown' (hepatic) Cuckoo sitting on the track, this rare, unusual morph is seldom seen at home in the UK. We parked the buses at the restaurant by the beach and walked towards the vast reedbeds around the pools which were now quite hidden from view.
two male and one female Ferruginous Ducks in flight - taken by Mike Ambler
By standing on some raised sand dunes were had clear views across the top of the reeds, we could just see two Mute Swans and three Squacco Herons around the first pool. The reedbeds were alive with warblers and bird song was coming at us from all directions. The weather was perfect for birding we had exquisite morning sunlight, a very light breeze and a cool temperature.
the wing patterns of amale Ferruginous Duck - by Mike Ambler
Cetti's Warblers called from open perches giving great views, as did Great Reed Warblers and we heard a few Reed Warblers too. Our prized bird, a must-see species, was the Paddyfield Warbler, we could not hear one singing and recent visits by other birding groups had drew a blank. Luckily for us we found one after about fifteen minutes, it showed enough for all the group to see it but it did not stay around for long.
Mike did very well to capture this shot of the Paddyfield Warbler
A family party of Bearded Reedlings came into view and they flew straight towards stopping on the edge of the reeds giving us fantastic views, we also saw Red-backed Shrike, Tawny Pipit, Yellow Wagtail, Reed Bunting, Marsh Harrier and Common Cuckoo.
one Bearded Reedling
two Bearded Reedlings
three Bearded Reedlings
four Bearded Reedlings
The sky was always alive with passing birds, groups of Whiskered Terns were passing northward, Cormorants, Herons, Terns were always visible. We scanned the beach area and the bay and found Curlew Sandpiper and Little Stint on the shoreline, we heard a Greenshank and a pair of Little Ringed Plovers dashed around at some point. Out on the water we saw European Shag (desmarestii), a couple of Black-throated Divers and steady passage of Yelkouan Shearwaters.
a Tawny Pipit
It had been a glorious early morning birding experience, the weather was good to us and the birds were amazing, we saw 40 species during that 1 hour session. We had better views of the Red-footed Falcon on the way back too and we saw our only Pheasant of the trip so far.
After that exciting morning we drove back to the hotel for breakfast and we were all ready for the day's outing at 9am. We decided to visit to the Kaliakra Cape as early as possible as we knew it would very busy with weekend visitors as it is a very popular spot for Romanian tourists because of its close proximity to the border. The car park was packed and many visitors were already on the trails to the headland. We found our target birds within minutes of our arrival as a male Pied Wheatear sat singing from a bush on the edge of the car park along with a Northern Wheatear.
We spent two hours walking towards the point without actually getting there!! A lot of time was spent at one particular view-point where we watched European Shags and the antics of a harbour Porpoise as it circled around a pair of Yellow-legged Gulls that sat on the water, it seemed to be playing hide and seek with them.
We spent some time watching what we thought was a Pied Wheatear until one of the group pointed out that it had a white back, this made it a Black-eared Wheatear, we assumed it was the 'pied' morph of black-eared Wheatear called "melanoleuca" because it looked exactly like a Pied Wheatear except for the white on its back.
We drove back into the nearest village to buy lunch and we sat in the park to eat it. After that we spent a couple of hours in the nearby Valley at Boleta. It was also a little crowded down there especially at the beach area but we still managed to find some great birds. Near the beach a Thrush Nightingale sang from the scrub, we saw it briefly a couple of times. From the concrete sea wall we watched more European Shags and a fantastic Black-throated Diver in summer plumage, what a great bird.
Red-rumped Swallow taken by Mike Ambler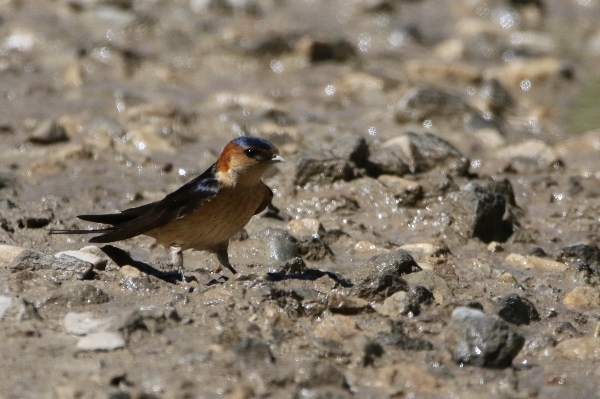 Back on the track we watched House Martins, Barn and Red-rumped Swallows coming down to collect mud from a puddle, then a Thrush Nightingale flew down for a brief moment and showed well. A Common Whitethroat did the same on a few occasions.
just a record shot of the Shearwaters passing the Cape
Our walk into the valley was superb we had some great birding, the temperature had cooled a little and nice breeze developed. We saw many species, we had excellent views of Golden Orioles, Great Reed Warbler, Long-legged Buzzard and many more species. A Marsh Warbler sang from deep inside a bush and we saw Balkan Green Lizard and Glass Lizard.
Our last birding of the day was on the heathland near the village of Bolgarevo, we had a superb time there watching larks, it was covered with them. Crested Larks, Skylarks, Calandra Larks and Short-toed Larks, all singing from prominent perches or up in the sky, it was proper 'larksville'.
a record shot of a Calandra Lark
Stone Curlew taken by Mike in very bad light
We also watched Isabelline Wheatears, Eurasian Hoopoe, Bee-eaters, Golden Orioles and Tawny Pipits. It was a marvellous way to finish the day. One species eluded us and that was the Stone Curlew, but we managed to find a couple as we drove away, in fact there was four of them because we noted two chicks with the adults, how fantastic was that? I have never seen Stone Curlew chicks before.