TRANSFER FROM KRAPETS TO SOFIA WITH STOPS AT: BELCHIC - NEVSHA – KARNOBAT HILLS
WEATHER: some high clouds but mostly sunny, a little breezy. Top temp 20C
Our final day was to be spent travelling from the Black Sea Coast at Krapets to an hotel near the airport at Sofia, we had a couple of stops planned for birding and a couple for lunch and coffee. But first we took a pre-breakfast walk along the track from the hotel, it was little blustery but we managed to see many species right on our doorstep.
A Black Redstart was seen around the hotel buildings, Greenfinches were flying around and the usual Barn Swallows, House and Sand Martins were seen all around us. A couple of Barred Warblers were singing from the scrub, so we spent some ytime trying to locate those. Both birds showed very well for short spells as they sang from the tops of bushes, a Common Whitehtroat did the same.
One of the Barred Warblers taken by Mike Ambler`
Bee-eaters seemed to be everywhere we saw perched in dead trees and flying around the cliffs, we also saw Golden Orioles, Hoopoes, we heard Common Cuckoo, Common Nightingales and there was quite afew Turtle Doves flying around.
A pair of Hawfinches gave us brief views and a Marsh Warbler sang from deep in the scrub withouty showing. From the cliffs we scanned the sea picking out Great Cormorants, Yellow-legged Gulls, Little Egrets and Common Shelducks.
We loaded up the buses after breakfast and departed just after 9am, we were hoping to arrive in Sofia around 6pm. Our stop was just 40 minutes into the journey, it was quick stop for a second look for the Eurasian Eagle Owl along the white cliffs at Belchic. We only saw Bee-eaters and heard another Barred Warbler.
We then put some miles on the clock and drove for a couple of hours arriving in a small valley to look for Golden Eagle a well known site. The eagles were not home, the nest site looked deserted, we did see Common Whitethroat, Eurasian Nuthatch, Long-legged Buzzard and a few Golden Orioles. From there we stopped for lunch at a motorway restaurant before setting off once again.
the beautiful Long-legged Buzzard taken by Mike Ambler
It was around 3pm that we stopped on the top of some grass covered rolling hills near the village of Karnobat. Our target species was the Eastern Imperial Eagle and this site is known for sitings of juvenile birds. Within 5 minutes we saw two Imperial Eagles and as predicted they were both sub-adult birds, we also watched three Long-legged Buzzards, Hobby, Common Kestrel and a bunch of Ravens.
Isabelline Wheatear takenonce again by Mike
The star bird for us was the beautiful male Montagu's Harrier, was a fantastic bird. It circled the grassland flying low and showing so well at times, the group loved it. We also noted a few ground squirrels called Sousliks, we were hoping to see some of them during the trip. Isabelline Wheatears performed their soing flights, we saw Hoopoes, Lesser Grey Shrikes, Tawny Pipit and at the bottom of the hills near the village we saw our first Rooks of the trip.
Mike's effort with the Montagu's Harrier, it never came close to us
We still had 2 1/2 hours left to travel to Sofia and most of that was spent on a motorway. A traffic hold-up delayed us somewhat and wasn't until 7:30pm that we arrived at our hotel. Many sightings were made along the way including at least three Lesser Spotted Eagles, Marsh Harrier, Common Buzzard, Roller, Turtle Doves, hundreds of White Storks and lots more.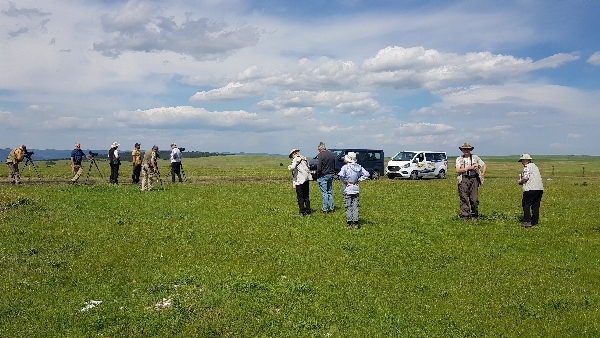 the group on the grassy hill-top at Karnobat
We sat down at 8pm to dinner with a nice cold beer. Speeches were made, thanks were given all round and some great memeories were reminisced. It had been a great trip, the group gelled so well and Dancho was performing his usually high standard of guiding. We saw recorded 186 species, a great total for this time of the year. Tomorrow we fly back to the UK with no birding planned before breakfast, aaaaaah, a lie-in!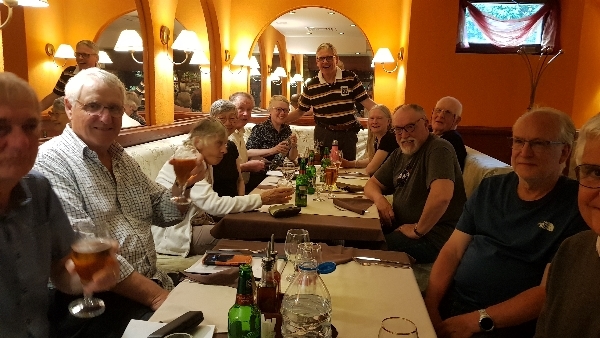 a poor effort of a group shot, appoligies to Steve and Allen for cutting them in half