We spent all day at Rancho with mixed results, the morning was very quiet but we had a great late afternoon
RANCHO NATURALISTA ALL DAY
WEATHER: clear and sunny with some cloud, warm all day
We met at 5:30am on the veranda of the main building at Rancho Naturalista, coffee and Tea was waiting, it was just getting light and the hummers were stirring. Grey-headed Chacalacas were first to arrive at the bird-feeding stations but generally it was slow going.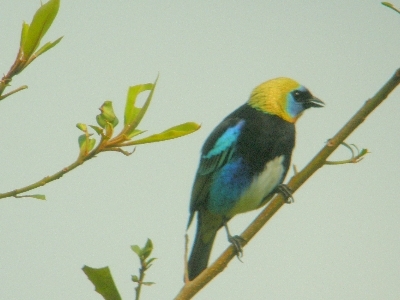 GOLDEN-HOODED TANAGER
Eventually it started to get busy with hummingbirds, White-necked Jacobin, Green-breasted Mango, Stripe-throated (Little) Hermit, (Violet) Crowned Woodnymph, Brown Violetear, Snowcap, Green Thorntail and Black-crested Coquette all put in an appearance. We also saw Orange-billed Sparrow, Bananaquit, Brown Jay and Montezuma's Oropendola.
Breakfast was served at 7am on the terrace from where we could still see the garden and the feeders, at 8am we were on our way to the nearby forest trails. Again it was slow going not many species to look at, we heard a Thicket Antpitta but couldn't coax it out and Roy pointed out a Hepatic Tanager. A little further along the forest trail we bumped into a small feeding flock of Tanagers where we added Bay-headed Tanager to our collection and we had good views of Golden-hooded Tanager.
GOLDEN-OLIVE WOODPECKER
Other species were few and far between until we hit a small feeding flock, we saw White-necked Manakin, Yellow-Olive Flycatcher, Paltry Tyrannulet, Buff-throated Saltator, Streak-headed Woodcreeper and the star bird was Buff-throated Foliage-Gleaner.
Back at the lodge we had dinner at 12 noon and during that time we added White-lined Tanager and Rose-breasted Grosbeak to our list.
CROWNED WOODNYMPH
For the afternoon we decided to return to the forest to look for more species with the hope of seeing a 'feeding flock' of mixed species, this did not happen! We searched the open orchard areas and found Golden-olive Woodpecker and a few warblers, the beautiful Golden-winged Warbler was also added to our sightings list.
At 4:30pm we walked to the hummingbird Pools which are a serious of small, natural basins formed by a cascading stream in the forest. These pools are visited by a number of species to wash and drink, but it is the 'hummers' that make this such a special place. We all stood on a the track which formed a balcony that overlooked the pools and as 5pm approached hummingbirds started to appear. They would hover over a pool and then dive down into the water to bathe, it was magical, several different species came to wash including the Snowcap and a Purple-crowned Fairy which was a new species for us. One last bird appeared just as it got dark, a Tawny-throated Leaftosser which was a very good find and an excellent species for the list.