Transfer days do not usually produce many sightings and this was the case today but we did add one special Ground-Sparrow................
-Transfer from Rancho Naturalista to Orosi Valley next to Tapanti National Park
WEATHER: Dry, sunny for the morning then rain later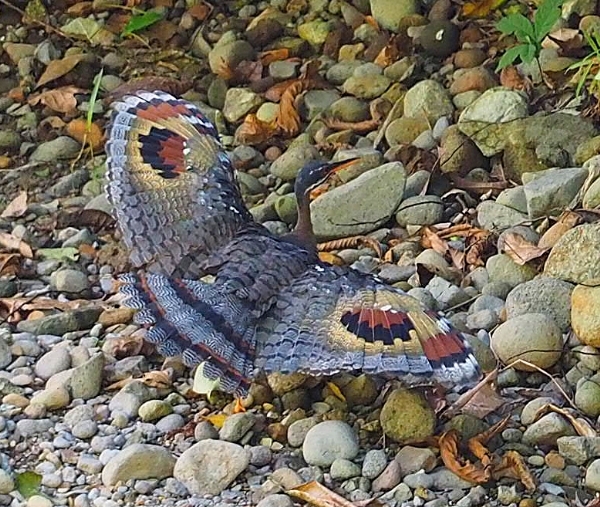 one late picture from yesterday of the Sunbittern - taken by Ken Gosbell
We made an earlier start than usual today because we wanted to view the moth trap for a second time before breakfast, it was as good as always we saw all the usual suspects and one new species for the trip, a Slaty Antwren.
Following another superb breakfast taken on the terrace we packed our things and loaded up the bus ready for our departure. We said goodbye to the staff and drove down the long driveway to the village and onto a dirt track that followed the River Tuis.
The weather was bright with sunny spells and quite a few species were flitting about in the trees that lined the stream. We noted Piratic Flycatcher, Common Tody Flycatcher, Red-eyed Vireo, Bay-headed Tanager, Paltry Tyrannulet and Yellow-faced Grassquit. After an hour or so we left the area to continue our journey to Orosi.
Hoffman's Woodpecker
Our next stop was near Orosi in a little village called Ujarras which is famous for having the oldest 'Ruinas' (ruins) in Costa Rica. It is also well known for producing some of the best fruit and vegetables because of the superb soil. Squash is grown on elevated racks with an understory of weeds, birds love this, especially finches, seed-eaters and sparrows. We 0searched the squash fields for Prevost's and White-eared Ground-Sparrows without success but we had fun trying. We did see Lesser Goldfinch, Variable Seedeater, Rufous-collared Sparrow and a few warblers which included Mourning Warbler, Blackburnian and our first Ruby-throated Hummingbird.
Just after that we drove a short distance to an 'organic' coffee plantation where we ate our picnic lunch and had a tour of the small processing plant, it was interesting and educational and even more interesting was the sighting of White-eared Ground-Sparrow which showed extremely well, what a bonus. We sampled the coffee before driving on.
Coffee beans drying out
Next we stopped at a large man-made lake called Cachi, after crossing the dam we parked at a view point to scan the far end of the water which was covered in water plants with some open pools and a couple of wooded islands. We found Black-crowned Night Heron, Green Heron, Wood Stork, Muscovy Duck, Little Blue Heron and many common egrets. Our first Northern Rough-winged Swallows swarmed over the water with Black and White Swallows.
Our last stop was along a track high up above the town of Orosi which led to another dam and a smaller reservoir, unfortunately we drove into cloud and it started to drizzle, the lake wasn't visible when we got up there. However the forested roadside was dripping with birds and we tried our best to identify a few in very poor light. A juvenile Grey Hawk perched low down and gave good views but confused our guide for a while having strange plumage, the bird not the guide!
wish you were here!
As time went by the rain got worse and so did the light but it never stopped us getting soaked whist enjoying a number of new sightings. The beautiful White-winged Tanager was most obliging, Wilson's Warbler joined our warbler list we also added Yellow-bellied Flycatcher, Spot-crowned Woodcreeper, Ochraceous Wren, and we saw Emerald Toucanet with a good selection of tanagers.
The rain and bad light eventually drove us off, we finished the transfer to our hotel arriving just at it got dark at 6pm, wet but happy, we were now ready for a hot shower and a nice dinner, we got both!