LA SELVA BIOLOGICAL STATION ALL DAY
Our day began at 6am when we met in the car park just outside our rooms, Johan joined us and led onto to a concrete path into the grounds of La Selva Biological Station. A few birds in the gardens of our rooms included Social Flycatcher, Chestnut-sided Warbler, Passerini's Tanager, Common Tody-Flycatcher and a few common species.
Johan soon found us quite a list of species, all new for us and some of them were excellent finds. A Great Tinamou strolled along the path ahead of us and at some point, a little later, so did Green Ibis and Grey-chested Dove. Within a few hundred meters we found Black-headed Trogon, Rufous Motmot, Semi-plumbeous Hawk, Rufous-tailed Jacamar and a Black-throated Wren.
record shot of the Semiplumbeous Hawk
The path took us through pristine rain-forest where the occasional open area appeared where trees had fallen. We continued to find a number of new species, Semiplumbeous Hawk sat lovely in the morning sunshine, our second Wren appeared when we found White-breasted Wood-Wren. A Snowy Cotinga had the group buzzing whilst Orange-throated Sparrow and Red-throated Ant-Tanager rounded off our early walk.
The group getting a good look at the Snowy Cotinga - a record shot of this distant bird is shown below
The walk ended at the visitor's centre where we arrived just in time for breakfast which was much appreciated. The main walk of the day took us much deeper into the forest, we crossed the Sarapiqui River on a foot-bridge before passing the main 'study' compound of the Biological Station. All the time we were finding new and exciting wildlife to look at.
The Collared Pecary seemed almost tame whilst Mantled Howler Monkeys called from the distant trees. We saw Black River-Turtles, Common Basilisk Lizard and the huge Green Iguana. Later we encountered the poisonous Eye-lash Pit-Viper, luckily it was only a very small one.
Back onto the bird life we found two more Trogon species, the smaller Broad-billed Motmot, the ting Black-headed Tody-flycatcher, a fabulous Chestnut-colored Woodpecker, a Rufous-winged Woodpecker, Pain Xenops and both Cocoa and Streak-headed Woodcreepers.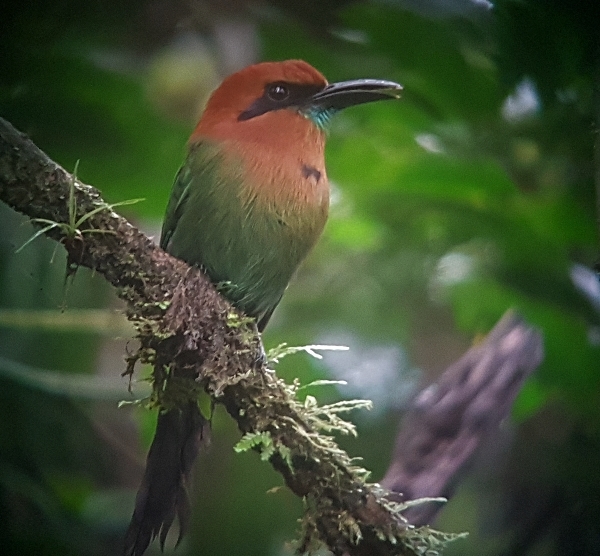 A Rufous Motmot
More goodies came along during the latter part of our walk when first we saw White-faced Nunbird, then Slaty-breasted Tinamou and later a Purple-throated Fruitcrow, wow a trio of real gems there!
By now it was late morning and it was getting very warm and humid, we made it back to the visitor's for lunch at around 12:30. We took a long lunch and reconvened at 2pm.
The afternoon walk was more sedate an with far less bird activity, we had to work harder to find out target birds. Eventually they came, Band-backed Wren was heard by all of us but only seen properly by one person. However, we all saw Bay-breasted Warbler, Tropical Gnatcatcher, Black-capped Pygmy-Tyrant, Long-tailed Tyrant and many more. So many birds kept coming that it very hard to keep up.
Long-tailed Tyrant
The last part of our day was spent looking over open meadows where huge Botorrama Trees provide a roost site for the massive Great Green Macaw. We only saw one but we had good scope views of it and enjoyed a lot of other species whilst looking for it. Mourning Warbler and Olive-crowned Yellowthroat were nice finds, so was two Bat Falcons, also Red-lored, Mealy and White-fronted Parrots.
It was almost dark when we got back to our rooms and after a quick shower and a change of clothes we went to dinner. Our birdlog was called after dinner, we had seen an amazing 109 species today, I'm not surprised because we covered a lot of ground in a biodiversity-rich forest.