TRANSFER FROM LA SELVA TO ARENAL OBSERVATORY LODGE WITH STOPS AT VIRGEN VALLEY FALLS
What a contrast today was compared to yesterday, we had bright sunshine all day, it was hot and humid which took its toll on us and our bird sightings. Hot weather never produces many species of birds, they don't like it in the sun. As a result we found our morning walks tiring and less productive than yesterday.
It was another 6am start, we set out on foot from our cabinas noting Collared Aracari and Montezuma Oropendola as we began the walk. We soon got into the thick of it as we bumped into a number of birds close by, a Bright-rumped Attila was new for us but most of the other species had been seen before.
The trails are excellent at La Selva, all are concreted and easy to walk
Lesser Greenlet, Dusky-capped Flycatcher, Chestnut-collared Woodpecker and a Short-billed Pigeon had all been seen previously but showed much better today. A Melodious Blackbird was our first sighting of this species and yet another Long-tailed Tyrant and another Summer Tanager also showed well.
Crimson-collared Tanager
We ate breakfast back at the visitor's centre restaurant before commencing our walk on the trails. It got quite hot and the forest was very quiet compared to yesterday. Over the next two hours we listed many of the same species as we did yesterday with the additions of Pale-billed Woodpecker, Rufous-backed Antbird and Stripe-throated Hermit.
One trail took us down to a couple of streams where we searched for the elusive Sunbittern, at one place a large number of vultures had gathered in the trees above a clearing. We soon found out why when the stench of a dead animal hit us! The smell was bearable, but it did give us the opportunity to see the vultures at close quarters. Both Turkey and Black Vultures were joined by the King Vulture which looks very strange with its colourful face markings and odd looking nasal appendages.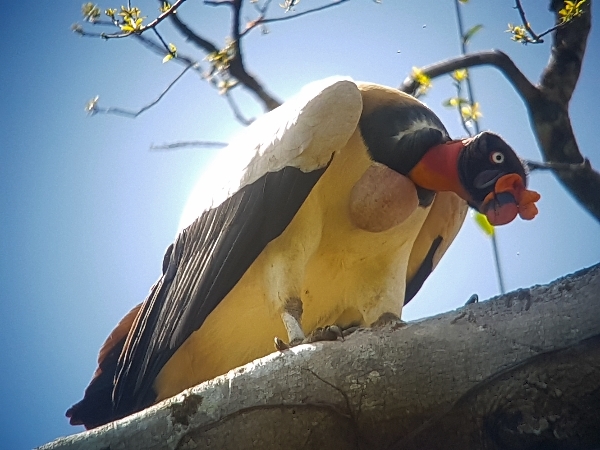 The fascinating head pattern of the King Vulture
We took lunch early before returning to our rooms to pack and load up the bus for our journey to Arenal, we made a detour to visit a site in the Virgen Valley where a roadside restaurant has a wonderful array of feeders and has been attracting a number of excellent species.
Green Ibis
It was a fantastic experience, we stood on a wooden platform which overlooks a lush green steep sided valley, a waterfall cascaded down the opposite valley wall about a kilometer away. The feeders were alive with an array of the most colourful tanagers and barbets you could imagine, the group were thrilled to bits.
Silver-throated Tanager
We watched many species at close quarters, the highlights included: the Near Endemic PRONG-BILLED BARBET, the endemic COPPERY-HEADED EMERALD, also the Red-headed Barbet (both male and female which look totally different from one another), the Emerald Toucanet and Common Chlorospingus.
The Prong-billed Barbet with a Buff-throated Saltator
Red-headed Barbet
The afternoon went downhill from there! We drove a short distance to a track that led us down towards the bottom of the valley, it was a little windy and quiet. We saw flocks of Collared Swifts high above and a Barred Hawk circled over us. A small flock of warblers flitted about in the trees high up on a bank, we noted Golden-winged, Blackburnian, Chestnut-sided and a Slate-throated Redstart but not much else.
Emerald Toucanet
It was now 4pm and we had a two-hour drive still to complete so we set off promptly. A road accident held us up for an hour on the outskirts of a town, so we arrived at Arenal in the dark at 7pm. A Black-and-White Owl sat out on a power line to greet us near the entrance to the lodge, how nice!
Despite our long travel time we still recorded over 100 species, our total is well over 200 after 4 days.