SAVEGRE LODGE AND SURROUNDS ALL DAY
WEATHER: a lovely sunny day, a little windy at times. Temp 25C
We met up at 6am at the reception area for our pre-breakfast walk in the grounds of the lodge, whilst waiting for others to arrive to saw Band-tailed Pigeon, Long-tailed Silky Flycatcher and Ruddy-capped Nightingale-Thrush. It was a good turn out, we made our way into some woodland and into the grounds of the hotel next door. A Grey-breasted Wood-Wren showed well quickly followed by the near endemic Black-cheeked Warbler and then a Dusky Pewee. Flame-colored Tanager looked beautiful in the morning light and as we made our way down to the river we found Common Chlorospingus (a juvenile fledgling had crashed into a window and the parent was still trying to feed it).
A Long-tailed Silky Flycatcher - Richard Pettett
We got back to the restaurant area around 7am and by 8am we were all loading into 4*4 jeeps which were to take up to the top of the mountain ridge. It was a beautiful morning, clear blue sky, nice and calm with clear fresh air. The forest at the top was just fantastic, a lot of very tall primary growth, with huge trees all around us from where Ruddy Pigeons called and Woodpeckers tapped on the dead branches.
Tennessee Warbler taken by Ray Marsh
We took 4 hours to walk back down to the lodge and saw a tremendous variety of species. Our first trail produced a few interesting species with Hairy Woodpecker showing well and the Black-faced Solitaire not.
Spot-crowned Woodcreeper - by Richard Pettett
We walked a second trail back towards the lodge, this trail looped into the forest down past a stream, along this trail we found a good number of species especially when we bumped into mixed feeding flocks, Acorn Woodpecker, Collared Redstart, Spot-crowned & Streak-headed Woodcreepers, Yellowish Flycatcher, Yellow-green Vireo, Spangle-cheeked Tanager, Ruddy Treerunner, Buffy Tuftedcheek, Yellow-thighed Finch, Large-footed Finch, Sooty-capped Chlorospingus and the star of the show the endemic Flame-throated Warbler, what a stunning looking bird! We also saw a lot of species seen already.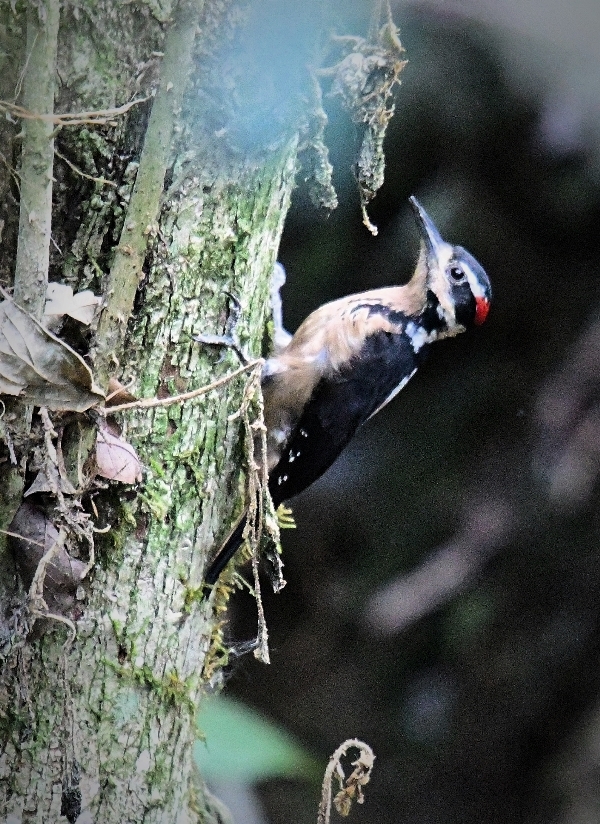 Hairy Woodpecker - by Richard Pettett
We spent a lot of time watching the flocks pass through but we had to continue down the forest trails to the main track, a few species eluded us, they called but we did not see them, this included Silvery Tapaculo and Barred Parakeet (flyover) the Black-faced Solitaire continued to frustrate us but we caught up with Rufous-browed Peppershrike and several other new species. We also bumped into one or two groups of Spotted Wood-Quails which showed well with a little patience.
Collared Flycatcher - by Richard Pettett
Back on the main track some of us finally caught up with the Black-faced Solitaire, we also found a small flock of Lesser Goldfinches and a Red-tailed Hawk drifted over. We got back to the lodge around 12 noon, it had been one of the best birding mornings of the trip, we must have seen 40 species with many new for the list.
Slaty Flowerpiercer - by Ray Marsh
We ate lunch at 12:30pm and met up again at 2:30pm for a walk to a local beauty spot, a waterfall at the bottom of the valley. Unfortunately many other people had the same idea so bird life was very quiet. Along the river we watched American Dipper and e found a Louisiana Waterthrush and not much else. A Yellowish Flycatcher showed well along the track and a small party of Black-cheeked Warblers was all we saw. As we got back to the bus we finally got all the group onto a Black-faced Solitaire, at last!
Our intention for the evening was to drive up to the head of the valley to look for Nightjars as it got dark so we set off at 5pm to do just that. We stopped at a nest site of the Resplendent Quetzal and had a thrilling time watching a change-over at the nest. Its incredible to watch a male Quetzal with a very long tail squeeze into a nest hole in a tree! At least 12 inches of the tail protrudes from the hole over the top of the bird once it is settled on the nest.
At the Quetzal site some of us saw our first Golden-browed Chlorophonia and we had extremely close view of Acorn Woodpecker which was picking up grit from the track. The Nightjar viewing did not go too well, we heard several and had glimpses of them in flight and a very quick look at one perched on the telegraph wire and that was all. It was cold and rain drizzled down on us, not pleasant birding conditions.
We arrived late back for dinner and went straight into the restaurant, we missed the birdlog, but our count is now around 420 species.