TRANSFER TO THE PACIFIC NORTH-WEST COAST, ENSENADA LODGE OVERLOOKING NICOYA BAY – BIRDING ARENAL LAKE TRACK
WEATHER: sunny spells in the morning, clear sky afternoon. Temp 18 – 32C
We said goodbye to Arenal Lodge and made our way down to Arenal Lake where we spent an hour birding along a track before we set off for the Pacific coast. It was a lovely morning, plenty of sunshine and for the first time we could see the top of Mount Arenal. We found a mixed flock of species with a few warblers, a couple of flycatchers, Tropical Parula and Tanagers but nothing new for the list.
our first and only view of the summit of Volcano Mt. Arenal
A Thicket Antpitta called from the wooded hillside and we did see a female Barred Antshrike, a Bare-crowned Antbird also called which would have a much better sighting but it never showed. Our 'best' bird was the Black-crowned Tody-Flycatcher, we finally caught up with this species having missed it before on a couple of occasions
A view of the lake after 1 hour on the road you can see Mount Arenal in the background
A Rufous-tailed Jacamar sat out nicely for us and we had brief views of a Stripe-breasted Wren before we concluded the walk and got back onto the bus.
two views of the Daggertail Butterfly
Our route took us the along the complete length of the Arenal Lake before we cut across the hills towards the coastwe stopped after an hour or so to stretch our legs and found a few species around a small shop in the middle of nowhere. Yellow-faced Grassquit, Morelet's Seedeater, Piratic Flycatcher, Yellow-throated Toucan and a few common tanagers.
the group birding the track around Lake Arenal
We stopped for lunch around 12 noon as we made it the Pan American highway, the difference in temperature was quite noticeable as we stepped down from the bus, it was so much warmer. Not long after lunch we turned off the main road onto a dirt road which we followed all the way to Ensenada Lodge. We past through a completely different habitat now, it was very dry with rolling hills, large meadows with cattle in them, woodland with leafless trees (the trees shed their leaves in the dry season to save moisture) and despite this there were birds out there.
Black-headed Trogon
We made several stops to look at birds, so progress was slow. Southern Lapwing, Common Ground Dove, Stripe-headed Sparrow and Tricolored Heron were a few of the birds we noted.
Once at the lodge we had a couple of hours to settle in and met up again at 4pm for a birding session. Our rooms were ideally placed with views over the beautiful gardens and down to Nicoya Bay. We all saw Magnificent Frigate birds flying passed and the odd looking Brown Pelican.
In the meantime most of us had been for walk in the grounds and seen the White-throated Magpie-Jay, lots of Groove-billed Anis, various types of Oriole including Baltimore and Spot-breasted, also Rufous-naped Wren, Squirrel Cuckoo and a few others.
Our afternoon birding session was a visit to a lagoon about 2 or 3 km's down a track, we took the bus of course, the heat had now abated and it was quite a pleasant temperature. We past a area of salt pans which had a few birds feeding or roosting but as it was low tide not many waders were present. We did see Least Sandpiper, Spotted Sandpiper, Black-necked Stilt, Whimbrel and Lesser Yellowlegs.
Brown-crested Flycatcher
We walked along the track to the laguna from the salt pans and found quite a few species in the scrub, a couple of new flycatchers for the list were the main sightings. Both Northern Scrub and Brown-headed Flycatchers were seen well, as was Yellow-throated Vireo, White-lored Gnatcatcher, the Banded Wren proved to be a little more difficult but the Black-headed Trogon sat out nicely.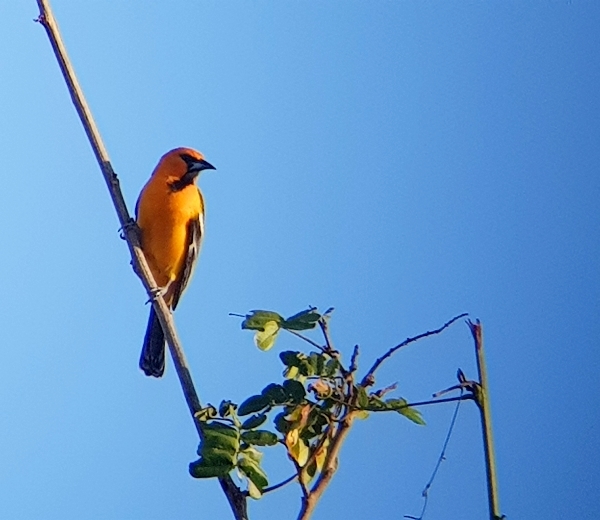 Streak-backed Oriole
The Yellow Warbler seemed quite common we saw a lovely male and the sub-species Mangrove Warbler which has a brown head, several birds appeared to be intergrades of the two having splashed of reddy brown over the head, face and throat.
The laguna was packed with species, hundreds of birds were out there and several large crocodiles, so we kept clear of the edge. We added a few species to our list but no many, most were birds that we had seen yesterday at Cano Negra. Common Gallinule was new and Stilt Sandpiper, we had much better views and closer views of a lot of egrets, herons, storks, spoonbills and ibis. There was even a few Pelicans out there.
Willet - taken at the salt pans
Our walk back to the salt pans produced a couple more new sightings, Peregrine Falcon was one of them, but it was the salt pans that were now prolific, they were covered in waders as the tide had now come in and the birds were there to roost for the night. There were thousands of them! We added a dozen or more new birds to the list there must have been about 20 different waders out there.
The small 'peeps' were the hardest to identify, Least, Western and Semi-palmated Sandpipers, they were there in good numbers, also the Semi-palmated Plover was difficult to separate from the Wilson's Plover without good scrutiny. We also saw hundreds of Whimbrel with the odd Marbled Godwit, Long-billed Curlew, Willet and Red Knot. Dozens of Ruddy turnstones, Short-billed Dowitchers, Stilt Sandpipers, Lesser Yellowlegs joined the throngs.
Four Royal terns were joined by a single Sandwich Tern and then a dozen or so Laughing Gulls dropped in, phew it was mayhem out there. A Black Vulture flew low over the pans and put all the birds up as the light began to fade we looked towards the setting sun behind the trees and we could the sky was also full of birds. Dozens of Barn Swallows and just as many Lesser Nighthawks filled the sky it was an amazing sight.
We got back to the lodge in the dark around 6pm and met up again for dinner at 7, one or two of the group had seen the local Skunk around the grounds as they made their way to dinner.