ARENAL OBSERVATORY TRAILS - TRANSFER TO ENSENADA LODGE WITH BIRDING ALONG THE WAY
WEATHER: dull and overcast with light rain for most of the morning. Hot, sunny and light breeze in the afternoon
It was raining when we met up at 6am but not too heavily, so we stood on the terrace and watched the feeders for a while which led to a couple of new sightings. The best of which was the Scarlet-thighed Dacnis, it was a male and such a beautiful bird.
Masked Tityra - taken by Richard Pettett
Our walk along the forest trails lasted for a couple of hours, we set off after breakfast, it was still raining but it didn't put us off. Bird sightings were few and far between once we had left the garden area around the main reception buildings.
Richard Pettett and Tony Moore taking pictures in the rain, whilst I ate Breakfast
We did bump into a few feeding flocks and found several new species. Some of them showed really well but most were skulkers and we only had short views of them. I particularly liked the Tawny-faced Antwren, a real stunner, the tiny Scale-crested Pygmy-Tyrant and the Striped Wren. We also added Brown-hooded Parrot, Plain Xenops, Russet Antshrike, Dusky Antbird, Dull-mantled Antbird, Buff-throated Foliage-Gleaner and Wedge-billed Woodcreeper.
Crested Guan - taken by Richard Pettett
Scarlet-thighed Dacnis - Richard Pettett
Shining Honeycreeper - Richard Pettett
We then packed up our things and loaded up the bus, we added one last species at Arenal and that was a hummingbird, a Stripe-throated Hermit. We made good time and took lunch at a fabulous roadside cantina, the food was excellent and the weather had improved from dull, wet conditions to dry, warm and sunny.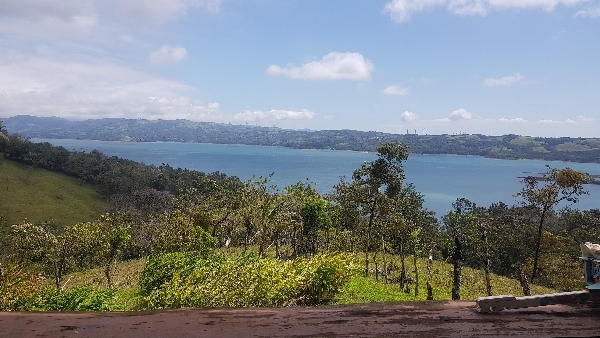 the view of the lake from the terrace at our lunchtime venue
We stopped along the 15km dirt approach road to Ensenada after about 1km, to stretch our legs and hopefully see some new species. We quickly added a few goodies such as Blue Grosbeak, Scissor-tailed Flycatcher, Common & Plain-chested Ground Doves, White-lored Gnatcatcher and Double-striped Thick-Knee. Further along the track we saw a small flock of Orange-fronted Parakeets and many flycatchers.
Stripe-headed Sparrow - Richard Pettett
Our late afternoon arrival at the Lodge gave us time to explore the huge expanse of gardens in front of cabins, they view down the sloping gardens was exceptional. We could see Nicoya Bay and the mountains beyond, the sun was dropping and turning the sky into a beautiful peachy orange colour. A walk down to old jetty at the bottom of the gardens produced several news species for the list, we saw: Whimbrel, Willet, Ruddy Turnstone, Spotted Sandpiper, Caspian Tern and quite a few Magnificent Frigatebirds. The dropped and reddened the sky, it was time to shower and get ready for our 7pm dinner.
sunset over Nicoya Bay
After dinner we called the bird log and then went for a short walk to try to see a couple of Owl species. We were successful on both counts, Pacific Screech-Owl and Ferruginous Pygmy Owl went onto the list. Everyone then went off to their rooms for an early night.