TRANSFER FROM ARENAL LODGE TO SELVA VERDE LODGE WITH STOPS AT LA UNION and a PRIVATE GARDEN 'NATURE RESERVE'
Weather: Thick cloud and mist dominated the morning, sunshine and showers all afternoon.
We met once again at 6am outside our accommodation block and took a short walk along the 'Waterfall Trail' once more, we were hoping for a sighting of the Umbrella Bird. A Grey-capped Flycatcher, a beautiful Semi-Plumbeous Hawk and an Orange-billed Sparrow were seen along the forest trail and were new for the list. Then a Sulphur-rumped Flycatcher and a Golden-olive Woodpecker was superbly picked out in the canopy by Roy.
Blue-Gray Tanager
Just before we went into breakfast at 7am we spent a little time on the terrace watching a host of species coming to the feeders, we picked up a couple of new species there when a pair of Black-headed Tityra were seen in the trees and then Roy got really excited when we found a female Lovely Cotinga. It was a very special find, we searched for a colourful male but a second female was all we got! Nevertheless, it was a great species to end our stay at Arenal with.
Lovely Cotinga
We set off at 8:30 for the long journey to Selva Verde Lodge, we made slow progress with few stops, spending all morning on the road. We picked up several new species along the way. A Wood Stork was nice, a perched Laughing Falcon was all too brief as it flew off when we stopped but a Roadside Hawk was much more obliging.
Roadside Hawk
A short toilet break at a supermarket was interesting, the car-park was a site where a Three-toed Sloth was usually seen, however it failed to show today, but we did find 3 very large Green Iguanas sitting or climbing in the tree tops.
We reached our destination at lunchtime, it was in the village of La Union and was a mini-nature reserve in a small private garden. The property is owned by a wildlife artist called Copé, he has created a hide with feeders and his small garden is packed full of wildlife. We had great views of a number of 'new' species of 'hummers including Brown-tailed Plumeleteer, Crowned Woodnymph and Scaly-breasted Hummingbird. Chestnut-headed Oropendula, Grey-necked Wood-Rail and Bay Wren also went on the list for the first time.
the hide in Cope's garden
Olive-backed Euphonia
The group with Copé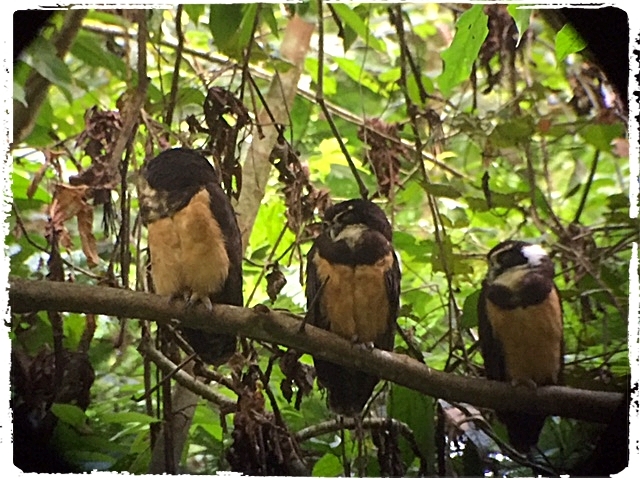 Spectacled Owls - taken by Christine Hopkins
We ate lunch ln the large bird-hide before setting off on short excursion to see a couple of owl species roosting in nearby woods. Copé led us straight to 3 roosting Spectacled Owls and then a single Crested Owl, fantastic. We also saw a Broad-billed Motmot and a White-crowned Parrot at its nest hole.
White Tent-making Bats - photo taken by Christine Hopkins
A little later we were back in the wildlife garden where we saw our first Poison- Dart Frog, a Hooded Lizard and a Three-toed Sloth! We were hoping for a sighting of a White-tipped Sicklebill but it never showed, we did see Large-billed and Little Hermits, which are two other hummers with sickle-shaped bills but not the Sicklebill.
Two-toed Sloth
The rain showers became more persistent now and the light began to fade so we left Copé and his wife and continued our journey to Selva Verde where the weather was a little brighter. We arrived just before dark as this beautiful rain-forest lodge, we met at 7pm for dinner and afterwards we completed our bird-log then a short night-prowl ended the day. Our night excursion produced sightings of Raccoons, Red-eyed Tree-Frogs, Gaudy Tree-Frog and a roosting Swainson's Thrush.