BELEN PLAIN – SANTA MARTA DE MAGASCA PLAIN – CACERES PLAINS – EMBALSE DE TALAVAN
WEATHER: Cloudy most of the day with showers and occasional bright spells. Temp 15C
We took an early breakfast before setting off for the twenty-minute drive to Belen Plain, a very bright full moon waned as a glorious morning developed, it was perfectly still and calm with no wind whatsoever.
As we approached the plains, having past through the village of Belen, a few cultivated fields gave way to huge open grasslands on gently rolling hills, a cry of 'Bustard' came from the back of the bus and it was nothing to do with my driving. Sure enough, a female Great Bustard was strutting across the first field we came to, I have never seen one this close to the village before, we all piled out of the bus and had great views of this magnificent beast.
FEMALE |GREAT BUSTARD
We stopped again on the brow of the next hill and scanned the open countryside, larks were everywhere their songs rang out from all directions, we saw Calandra, Thekla, Crested Larks and lots of Corn Buntings. We then had sightings of several Great Bustards and a single Little Bustard. The little fellow was performing his display dance. He would puff-out his black necklace and then jump into the air whilst flapping his wings, at the same time he would issue his 'raspberry' call, it was quite comical to watch, We then drove another kilometer to watch the Little Bustard from a much closer position.
From our new vantage point we also found a female Little Bustard crouching down in the grass not far away and we saw more Great Bustards. Eurasian Hoopoes wee common out there and White Storks were dotted all over the place. Black Kites, Griffon Vultures, Black Vultures and Ravens flew about in search of breakfast whilst we got to grips with the larks. On the fences we saw a few Whinchats at one point there were six together, the male birds looked stunning in their summer outfits.
MALE GREAT BUSTARD
We then took a side track and drove a kilometer or so before stopping to look at displaying Great Bustards, they seem to turn themselves inside out, display a huge amount of white feathers whilst spreading their brown and white tail feathers and dropping their heads over their backs. Several males were doing this to compete for the attention of one female.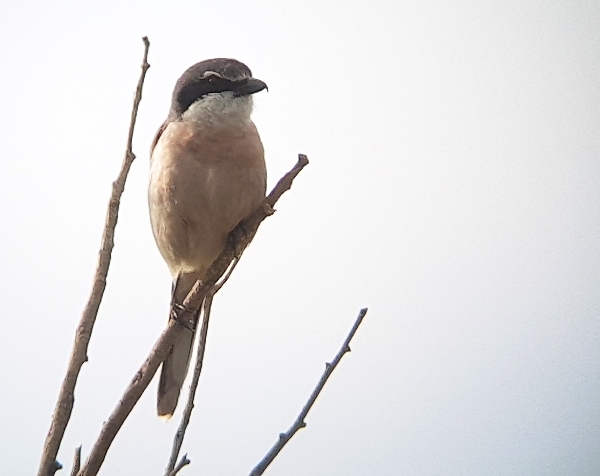 IBERIAN SHRIKE
More and more vultures appeared, they were dropping down into the grass behind the brow of a hill, some carrion must have been there, we saw Black Vultures much closer this time and we found our first Red Kite. Finally, we came to a pine woodland where a huge storage of cow dung was piled high and wide. Three Turtle Doves were feeding on or around the dung heap whilst a few Vultures perched in the pines with Black Kites. On the way back from this track we found a very obliging Iberian Shrike, this bird posed so well for our cameras.
EUROPEAN ROLLER
Another track led us to a point where we had superb views down into a valley which was covered in open-scrub and a lake had formed in the base of the valley We scanned the area and found our first Northern Wheatear and as expected we saw a Great Spotted Cuckoo which landed briefly on a fence not too far away. Soon two more Great Spotted Cuckoos were seen in the distance they were feeding on the grass, occasionally harassed by Eurasian Magpies.
We spent two wonderful hours on the Belen Plain, the morning light had been wonderful but dark clouds were looming in the distance. We drove off the Plains and up through Trujillo heading westward towards Caseres. We stopped on the plains not far from the village of Santa Marta where we searched in vain for Sandgrouse, we did hear Pintail Sandgrouse calling from behind the brow of a hill, but we never saw them. Instead we had fabulous views of 14 Great Bustards and the numbers of Calandra Larks was incredible. Red-legged Partridges were also seen and more vultures, kites, whinchats and Hoopoes.
After a coffee stop in Santa Marta we drove to a bridge over the Rio Almonte where we ate our lunch in the last of the morning sunshine. We saw both Grey and White Wagtails, a Green Sandpiper and a flyover Hawfinch (leader only) then a huge group of Vultures circled on the thermals above us. We saw our first Egyptian Vulture with Griffon and Black Vultures as well as both Red and Black Kites.
Along the Santa Marta to Caseres road a nest box scheme has proved very successful in providing nest sites for the European Roller, about a hundred nest boxes can been seen along a line telegraph poles beside the road. A dozen or so pairs of Rollers were seen and also Lesser Kestrel, Jackdaws and Spotless Starlings were using the boxes.
We continued our drive on an unmade road for about 15 kilometers, a few stops produced some interesting sightings, a group of three Short-toed Eagles, more Northern Wheatears, Short-toed Larks, more Whinchats but not much else. It started to rain around 2pm just as we approached another bridge oer the Rio Almonte. We took shelter under the bridge and scanned the steep rocky river banks for species. Many Crag Martins, House Martins and Red-rumped Swallows were nesting under the bridge and we saw Black Wheatear on the rocks.
Next we drove to a large Embalse (reservoir) near the village of Talavan, we found a Hobby perched on a wire on the approach road, it flew off across a field before we had better views of it. It stopped raining whilst we were at the reservoir. We found Zitting Cisticola, Cetti's Warbler (heard), Common Moorhen, Marsh Harrier, Red Kite, Booted Eagle and we heard a distant Common Cuckoo. Our first sighting of a Little Owl was made from the car park and the local storks kept us amused for a while before we drove back to plains at Santa Marta for a final search for Sandgrouse.
It was very windy when got out of the car, scanning with scopes was difficult so we gave up very quickly, our birding for the day was over, we drove back to the Finca arriving at 6:15pm, it had been a very productive day on the Plains.