MONFRAGÜE NATIONAL PARK ALL DAY
WEATHER: a perfect day, nice hazy sunshine, no wind, cloudy later with a few spots of rain. Temp 18C
This was our big day, our birding finale of the trip, we spent all day in the Monfragüe National Park, a huge area of protected land with steep side hills, rock faces, dehesa, scrubland, pine and eucalyptus woodland, rivers and many miradors and walks.
It was Easter Sunday so we expected crowds of visitors which turned out to be true but it did not detract from an excellent day out. We set off at 8am and drove through Trujillo where preparations for an Easter Fiesta were taking place, we then stopped at a bridge over the Rio Almonte, the sun was just rising over the surrounding hill side. It was a beautiful setting in perfect weather, magical.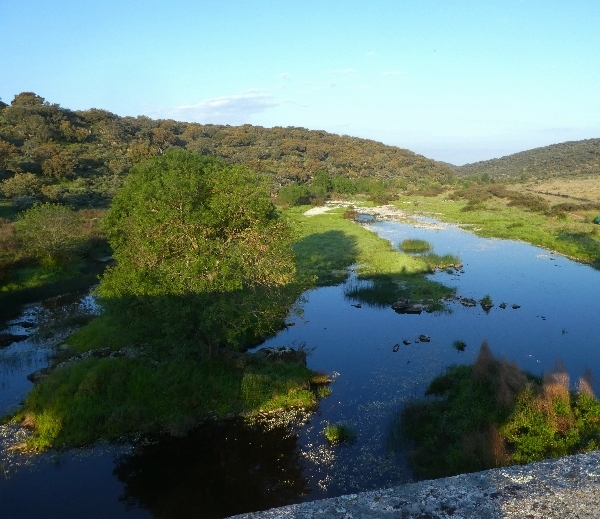 a beautiful setting - the Rio Almonte this morning
We watched from the bridge where saw White Wagtails, our first Rock Sparrow, Common Sandpiper, Common Kestrel, Eurasian Jay (also our first sighting of this species) and lots of common species. We stopped twice more on the approach to the National Park to look for Cirl Bunting, this relatively common species is at times difficult to locate We many species but not the bunting, a Melodious Warbler( seen by me only) and a Mistle Thrush were our new finds.
For our first stop in the park we visited the Monfragüe Castle, on the road leading up to the castle we stopped to scan a huge rock face which held several nesting pairs of Griffon Vulture. This was our first close encounter of vultures and the group were loving it. We also saw Egyptian Vulture, Blue Rock Thrush, Serin, Crag Martin and our first Black Redstart of the trip. From the castle we enjoyed great views of vultures at eye-level and below us, it was fantastic to see these majestic giants of the air so close.
From the Mirador at Penon Falcon we saw Black Stork on the nest and floating up on high with the vultures. We had great views of Blue Rock Thrush, Serin and another Black Redstart. The whole vulture experience was blowing my group away, how satisfying it was for me to see them enjoying this wonderful spectacle.
Black Stork on the nest we saw three eggs later
We stopped one more time before lunch at a bridge just before the village of Villareal, where we enjoyed good views of Alpine Swift, Crag Marting and thousands of House Martins, they were nesting under the bridge. We scoped the nests of Black Vulture, they prefer to nest in trees rather than on the cliffs with the other two species of vultures.
Lunch was taken in the village before we drove round to the Portilla de Tietar on the edge of the park. One stop along the way produced fantastic views of Subalpine Warbler, this bird showed really well, it was great for the group to see this bird clearly because up to now we had had only fleeting views.
Subalpine Warbler
The large limestone rock face at Portilla de Tietar is famous for nesting Griffon Vultures but it also used to have both Eagle Owl and Imperial Eagle nesting there, both of the latter species have now gone from there.
We enjoyed the vultures but our main objective was to find a few woodland birds so we walked further along the road and entered a cork oak dehesa. We saw European Robin and Eurasian (Wood) Nuthatch along the road, both firsts for the trip. For the next hour we scoured the oak trees and came up with a fw nice sightings. We finally got Golden Oriole in scope, also after a lot of tracking we saw Orphean Warbler well. More Rock Sparrows were seen, Woodlarks, Bee-eaters, Common Cuckoo, Iberian Magpie and Great Spotted Woodpecker also went into the notebook.
recently cropped Cork Oak trees
After spending some time sipping tea and coffee we made the journey back to the finca, a couple of stops were made to look for Cirl Bunting produced nothing new.
We ate out tonight because the Finca does not do dinner on Sundays, a short drive into the village Madroñera was made to eat a mediocre dinner.