ST MARY'S – OLD TOWN BEACH – LOWER MOORS – CARREG DHU GARDEN – LONGSTONE CAFÉ – HOLY VALE – PARTING CARN – OLD TOWN
WEATHER: a lovely bright and clear start, but from 10am the wind picked up and it started to rain. By 2pm we had heavy rain. Gales force winds came in during the afternoon with torrential rain.
We knew the bad weather was coming in this afternoon so visiting another island was out of the question, we made the most of what we had by walking to the nearest sites and hoped that something would turn up.
First we walked to Old Town to search the field where I saw the Brambling yesterday, there wasn't a bird in sight, two Greenfinches flew over and that was all. Old Town Beach produced Grey Heron, Little Egret, Oystercatcher and a few Rock Pipits.
We searched 'Standing Stones' field for Whinchat and got a Stonechat, at Lower Moors we got our first rain shower, so we sheltered under the trees along the track. At the hide we saw Common Snipe, Jack Snipe, Water Rail, Mallard and Moorhen – nothing new there then. A Sparrowhawk dashed across our view as we looked from the blind next to the hide.
Old Town Bay before the rain began to set in
From the bushes along the trail we saw Chiffchaff and heard Goldcrest and at the Porthloo end we turned to head up the island. The exotic garden at Carreg Dhu was very quiet, just common species and at Longstones we were forced to stop at the Café because Sarah wanted to treat us all to coffee and cakes as her birthday treat (the banoffee cake was delicious).
At the Porth Loo Lane end of Lower Moors are Rosehill gardens. A birght sunny morning turned into an horredous afternoon and evening.
We walked down into the sheltered Holy Vale, it was very still down there, very fitting for a Holy Vale. Dozens of House Sparrows and Collared Doves dashed about the buildings there with a few Goldfinches.
Along the woodland walk we bumped into a mixed feeding flock of Goldcrests and Chiffchaffs but nothing new and exciting, we searched the calm trees for a Flycatcher but found nothing. At the road junction we saw another Sparrowhawk and checked out some meadow Pipits. A Lesser Whitethroat had been seen in the roadside bushes so we searced there for a wile, avery obliging Ciffchaff came out but nothing else. Before stepping into Higher Moor we received news of some Redwings feeding in a field just down the road so we set off in that direction.
Whilst watching a single Redwing, news came up of a Water Pipit that was being watched in field a little further on so we set off for there, each time we moved we were getting a little nearer to Hugh Town and a little further away from the airport coastal path that we had chosen to walk!
We searched the field for the Pipit but apparently we had missed it, however we did find 2 Black Redstarts (one of them was a 'stonking' male). Eventually a few Pipits arrived we got onto one of them before they all flew off, it was a Meadow Pipit that we saw.
We decided then to walk back into Old Town, finding another Black Redstart (apparently 5 were now showing in the field at Parting Carn were we had searched for the Water Pipit) we took the coastal path from there towards the airport. In Old Town Bay we saw Greenshank, Oystercatcher and a few Black-headed Gulls.
The light rain turned a little heavier as we walked out of town, we sheltered under some trees whilst watching a field with Meadow Pipits in it. The rain and wind increased so we made a joint decision to return to our accommodation. It was 2:30pm when we got back, we missed a couple of hours of birding, but we were thankful to be home and dry.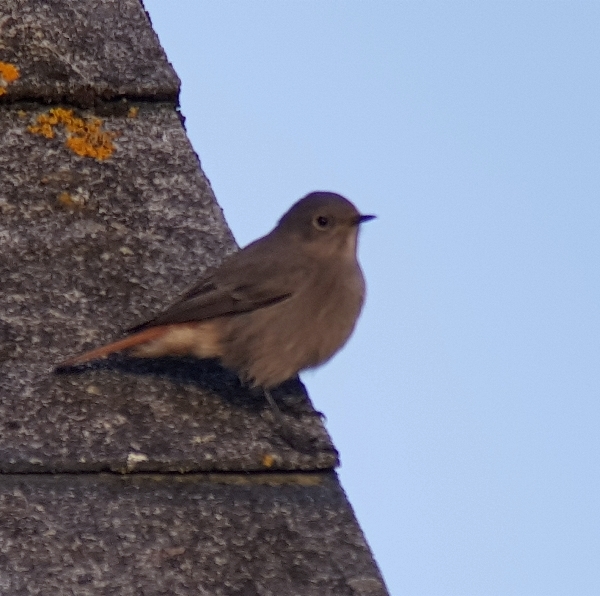 one of many Black Redstarts on St Mary's today
By 6pm we had gale force winds and driven rain it was horrendous, but I had promised everyone that I would fetch the evening meal, a fish and chips take out. I couldn't get a taxi, only one company was running and was fully booked all evening.
It was horrendous out there I nearly got blown over twice as I turned a corner or rounded a building. But, I delivered on my promise and got dinner back home safe and sound and dry, all were happy in the end.