WEYMOUTH & PORTLAND (LODMOOR, FERRYBRIDGE & TOUT QUARRY) AND SUTTON BINGHAM RESERVOIR
WEATHER: dull and overcast, some brighter spells but rain later afternoon. Temp 16C
At last I was out on a birding trip for the first in what seems to be ages (probably just two weeks?). At first this was meant to be a butterfly-day out, but the weather changed my mind. When Guy Campbell turned up to collect me we decided to go birding to Weymouth instead of visiting Bentley Woods in Wiltshire to look for Purple Emperor Butterflies.
We visited RSPB Lodmoor first and we walked the entire loop around the reserve, we knew that a few waders were present as well as all three Egret species had been seen recently. From the west track we watched 3 Redshank, 3 Dunlin and 5 Great Egrets, 3 Common Sandpipers and 4 Grey Herons, there was also lots of Black-headed and Mediterranean Gulls, a few Herring and LBB Gulls, a juvenile Shelduck, some Lapwings, Moorhens, Coots and Mallards.
3 Redshank and a juvenile Common Shelduck
Along the south track which runs parallel to the shore we found a pair of Common Terns still feeding a young chick on 'tern island', this is a very late brood, I hope the chick survives. We added Little Egrets, Oystercatchers (a pair still displaying to one another), more Common Sandpipers and lots more Med. Gulls.
Common Tern with a fish for the chick, taken at Lodmoor on Tern Island behind the fenced-off area
Passerines were few and far between, a few Greenfinches, Goldfinches, Dunnocks, Robins and House Sparrows flitted about. We heard a blackcap singing a tired song and a Song Thrush piped up too! A Reed Bunting was feeding along the east track and from the north track we scoped the 'Post Box' Pool looking for a Cattle Egret.
Reed Bunting on the East Track.
The egret was not present but we added 4 Black-tailed Godwits and a Green Sandpiper to the list as well as Canada Geese, Mute Swans and a few Gadwall.
Oystercatchers - dislaying. They were very noisy!
The 'Post-Box' Pool - 4 Black-tailed Godwits, still summer plumage - with a Coot, Lapwing and Herring Gulls
Before we set off for Portland we drove up to the top of Bowleaze Coveway which overlooks Bowleaze Cove at Furzy Cliff and where the Lookout Café serves lovely coffee and delicious cakes, yum yum!
We then drove around Weymouth and headed towards Portland, we stopped off at Ferrybridge to view the mudflats. We parked at Billy Winter's Café and walked across the main road to view the mudflats on a rising tide. Dozens of Dunlin dased about on the waterline with quite a few Sanderling, both of these species were dressed in fading summer plumage, fresh winter plumage and juvenile plumage but some we indeterminate (they looked a mess!).
Dunlin - a juvenile in the centre of the picture
Sanderling in the foreground and Dunlin behind them
Dozen and dozens of Med Gulls (including some juveniles) were joined by Sandwich Terns (also juveniles) and some Black-headed Gulls. Across the water on Chesil Bank we could just about pick out a few Little Terns (7) and not much else was seen. Skylarks, Linnets and a few Meadow Pipits was all we got.
Great Egrets and a Grey Heron at Lodmoor
two of three Common Sandpipers also at Lodmoor
Sandwich Tern (1 juvenile in the middle of the picture) with Med Gulls, Ferrybridge
Little Egret taken at Ferrybridge
The weather brightened up and the sun threatened to come out so we decided to switch from birding to butterfly whispering on Portland. Tout Quarry is the first quarry you come to as you break the horizon after the steep climb onto Portland, its on your right hand side. We parked in the sheltered car park and ate our picnic lunch, it was 2pm.
the view looking northward from Tout Quarry - of Chesil Cove, Portland Harbour and Weymouth in the distance
A walk in the quarry. which is a nature reserve and a Sculpture Park, produced our target butterflies. We walked for a while and realised the north-facing banks were quite sheltered from the brisk breeze so that's where we concentrated our efforts. Soon we saw Gatekeeper, Meadow Brown, Red Admiral, Marbled White and our two target species, Grayling and Chalkhill Blue. It took quite a while to get pictures of the latter as they would not sit still for any length of time, eventually Guy got a couple of good shots.
A Grayling, leaning at 45 degrees in its usual stance?
Chalkhill Blue taken by Guy the Butterfly Whisperer
After stopping at Billy Winter's for a second cup of coffee we drove home via Portesham avoiding Weymouth and Dorchester because of the traffic. I was home by 5pm, thanks to Guy for driving.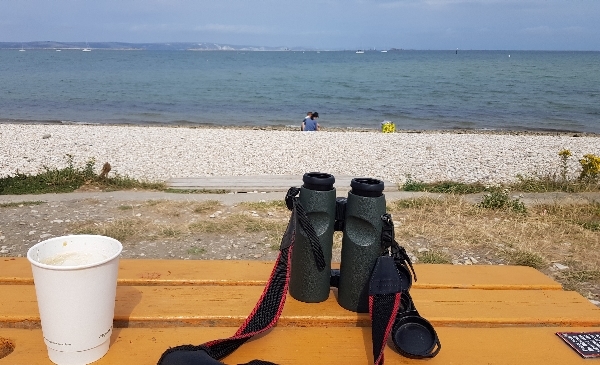 Coffe stop at Billy Winter's cafe overlooking Portland Harbour
Dawn was away at her best friend's house in Salisbury so I had to cook my own dinner, I had to use our brand new Combination Microwave Oven for the first (and without supervision) to cook my jacket potatoes!! It worked out just fine, crispy skins and soft centres, luckily the chilli meat-sauce was already made by Dawn and all I had to do was heat it and eat it.
Just as I finished my dinner and was preparing to watch the footy on the telly a message came through on my local WhatsApp group to tell me that a Wood Sandpiper had been found at Sutton Bingham. I called my taxi (I mean Guy), and asked if he was going to see the bird, he said he was on his way and would collect me.
We missed the Wood Sandpiper, a fox had flushed it, but we did see around 8 Common Sandpipers, two Green Sandpipers, two Common Terns and a Sutton Bingham 'first of the year' Great Egret. So, it was worth going out there after all. I was home before the footy started at 8pm.