EXETER TOWN CENTRE - TOPSHAM RIVER EXE - BOWLING GREEN MARSH
WEATHER: a cold, crisp, dry and sunny. Very misty at Topsham. Temp 0C - 4C
This was essentially a shopping trip to the centre of Exeter for Dawn to exchange a coat, but we planned to visit Topsham for lunch and maybe a little birding at Bowling Green Marsh.
The shopping went well and by 12 noon we were in Topsham walking along the Lane to Bowling Green Marsh. Unfortunately it was very misty and from the hide we saw a single Redshank, a few Eurasian Wigeon and not much else. The same happened as we walked along the Goat Walk into Topsham old town, we couldn't see much of the river Exe from the riverbank.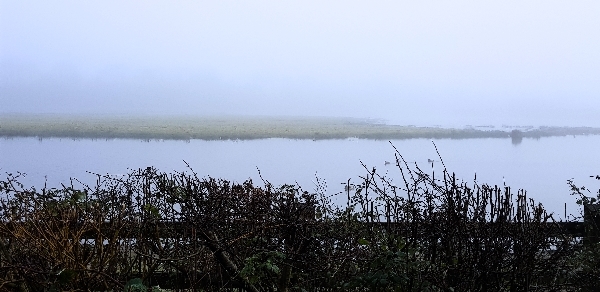 Bowling Green Marsh in the mist
The river Exe at Topsham as the mist began to clear
So we found a nice pub and had lunch and lo and behold when we left the pub the mist had lifted and the sun was shining. The river looked fantastic, we enjoyed the sunshine as we walked back along the Goat Walk to RSPB Bowling Green Marsh.
the river after lunch
Now things were a much better, we had great visibility of the marsh and before long we found the LONG-BILLED DOWITCHER which was our target species. We also had great views of 200+ Black-tailed Godwits, two of which were sporting their summer plumage, this is most unusual in January.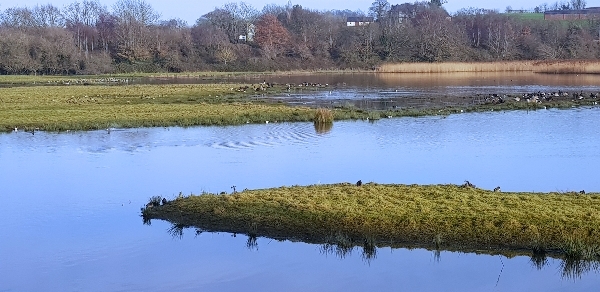 Bowling Green Marsh this afternoon
Other species seen included: Northern Pintail, Northern Shoveler, Eurasian Teal, Tufted Duck, Common Pochard, Common Snipe and lots of common geese and waterfowl.
a record shot of the Long-billed Dowitcher I must say in my defence that this picture was taken with my phone through a very cheap telescope called 'Avocet', which is a 60mm piece of rubbish sold by the RSPB in the hide at Bowling Green Mrash
So we both went home happy, me with a new bird on the year list and dawn with a new coat.