Dawn and I were invited to dinner at Penny and John's finca in Casares where John and Gill, some other good birding friends, are staying as Penny's guests for a short while. Trouble is, John is a Leicester City fan and you can't shut him up, he even wears the T-shirt!
We had a lovely evening and a delicious dinner prepared by Penny and John. A real bonus was a terrific passage of Honey Buzzards and Black Kites. During the evening we logged over 600 raptors and they were still drifting through as it got dark.
The view of Casares from the terrace
Most birds we were watching were really high up, just dots but some came over a little lower. An amazing aerial display by Griffon Vultures is always a show-stopper above the terrace, there is a constant presence of raptors in the sky, never a dull momemt. We saw a couple of dozen Booted Eagles, a handful of Eurasian Sparrowhawks, a couple of Short-toed Eagles and the odd Lesser Kestrel.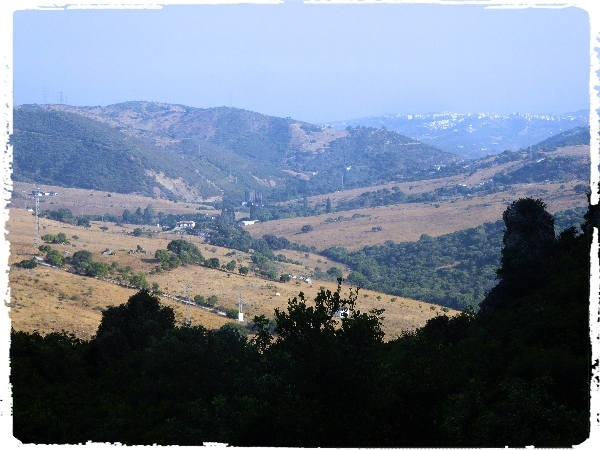 Another view; looking down to Manilva from the terrace
Flocks of Bee-eaters flew over too whilst both Common and Pallid Swifts were ever-present. A couple of Spotted Flycatchers fed in the garden below and as it got dark the prize bird appeared. Yes an EAGLE OWL flew across the valley and perched on rocks above us, it called twice before flying off just as I got its silhouette in the scope.
Griffon Vulture having a look for scraps off our dinner table?
A smashing evening topped by great company, delicious food and an Eagle Owl - it doesn't get much better than this!