FERRYBRIDGE – PORTLAND (EASTERN WEARE (FANCY FARM) – CHURCH OPE COVE – PORTLAND BILL – WEYMOUTH – LODMOOR RSPB RESERVE – ABBOTSBURY SWANNERY
WEATHER: Rain, rain and more rain, very little wind
Yes it rained all day, it never stopped once and we got soaked! Isn't that funny? It was raining at 8am when we left our lovely cosy guest house and it was still raining when we left for dinner at 7pm.
We set out from the Guest House at 8am and stopped at Ferrybridge 5 minutes later, it was raining, but we got out of the bus and tried to find shelter below the eaves of the visitor's centre, which was closed! The tide was high but just turning and a very large flock of Brent Geese were in the shallows not too far out.
The Brent Geese at Ferrybridge
We scanned the Geese hoping to pick out a single Black Brant (the North American version) and a few Pale-bellied Brent Geese which are the winter visitors that normally winter in Ireland. We found two or three Pale-bellied but not a Black Brant. It was quite spectacular when all these geese, 500-600 of them, took to the air when flushed by dog walkers or fishermen. Back at the car park we watched a Raven drop in and steal some food from a Carrion Crow no contest, the crow gave up the food easily.
One of the Pale-bellied Brent Geese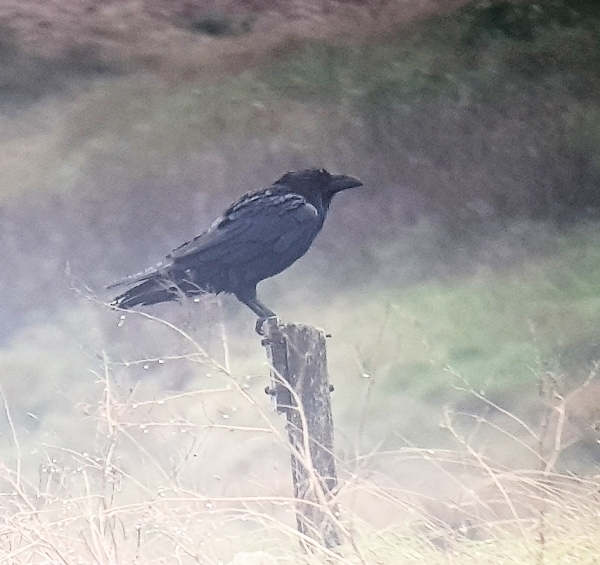 This Raven was no match for the Carrion Crow
From Ferrybridge we drove onto the 'island' of Portland, its not really an island, described by Thomas Hardy as a 'sleeping animal tethered to the mainland by Chesil beach'. After driving up through Fortuneswell and then Verne Common we made our first stop on the eastern side at Fancy Farm, we parked up and walked around Admiralty Quarry. We saw very little, it was raining all the time, Common Stonechat, Linnets, Goldfinches, Jackdaws, Robins, Wrens, Dunnocks and Blackbirds.
Now our waterproofs were soaked we got back into the bus and drove down to Pennsylvania Castle and walked down to Church Ope Cove. It was raining. We saw very little, Blue & Great Tits, Goldfinches and Blackbirds. Not a migrant in sight.
So we decided to drive to Portland Bill and get a coffee in the only café open, the rain eased a little, we scanned the ocean from the café window and saw Rock Pipit, Northern Gannet, Cormorants and Shags and a Red-throated Diver, our star bird.
In light rain we walked around the Bill area and found a single Northern Wheatear, a huge flock of Meadow Pipits, Common Kestrel, Common Stonechat and a few Linnets.
My group had had enough, they decided to go down to Weymouth for some retail therapy, so I dropped them off at the famous Weymouth Town Bridge. We made a brief stop along the way at Weymouth's Sailing Club to scan the Harbour, all we saw were a dozen Med Gulls and three Sandwich Terns.
Looking across the harbour back to Portland from the Sailing Club
One of the Sandwich Terns
They went shopping I went round to Lodmoor for an hour. I saw lots of birds at Lodmoor including the almost 'resident' Grey Phalarope, also Great Egrets and two new birds for the trip list, Common Snipe and Greenshank. I also scanned Weymouth Bay for a Great Northern Diver that had been seen there earlier, no luck, it was raining.
Snipe with a Dunlin
For the last part of the afternoon we drove out to Abbotsbury Swannery hoping to see one of a number of Cattle Egrets that are often there. Eight of them had roosted there last night. We saw none of them but we did add Common Pheasant and Common Buzzard to the list.
Great Egret taken with my phone, just hand held, the bird was that close, no zoom!

Back in Weymouth the light began to fade so we called it a day at 4:30pm a nice cuppa back at the guest house was on everyone's wish list!! What a day, wet, wet, wet!