Our last day in MAINE and the leaves still haven't fully changed colour, it is starting to look very good but unfortunately we will miss the best of it..............
PIERCE POND TRACK – SCOT'S LANDING (DEER ISLAND) – STONINGTON
Clear sky, crisp cold morning, not a whiff of wind – a perfect birding morning.
Having scanned the garden for an hour from 7 – 8am hoping for a return of the BOBCAT I gave up, nothing showing except an American Robin and a Blue Jay. At 8am I walked up the track to the neighbours house to watch the activity around their feeders, unfortunately the feeders were all but empty so very little activity was going on. However I stayed for about 40 minutes and made some good sightings. White-breasted Nuthatch was new for my list, the rest of the sighting were of common species.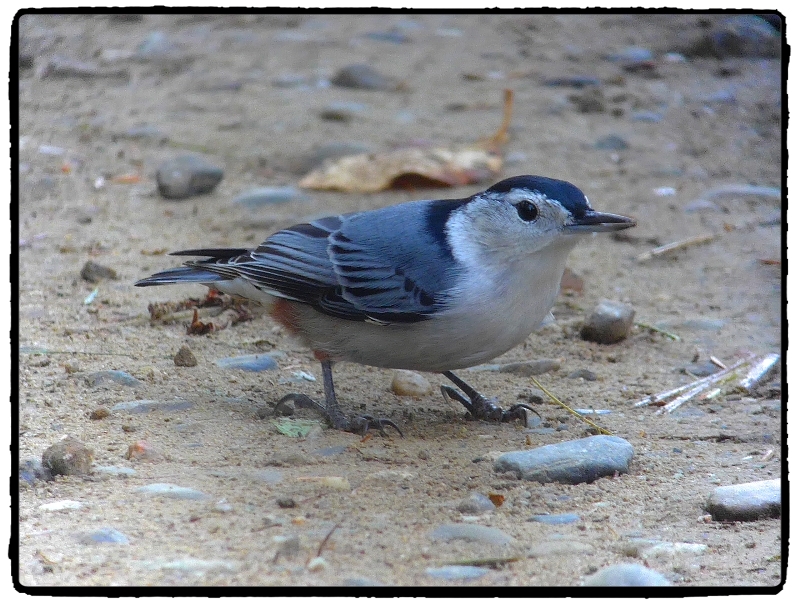 an unusal sighting - a White-breasted Nuthatch on the ground
At 9am we set off for a day out, heading south for Deer Island, this was our second visit to the area as we loved it the first time despite the inclement weather. Today the weather was perfect, sunny warm with very calm air. We stopped along the causeway between Little Deer Island and Deer Island, with good light we had great views of a good number of birds feeding out in the bay. Over 50 Eider Duck were joined by 20+ Red-necked Grebes, 11 Black Guillemots, a single Slavonia Grebe, a single Greater Yellowlegs, also numerous Double-crested Cormorants and the usual gulls.
From there we walked around Scott's Landing which is a wooded area on a spit of land that extends out into the bay, it is a well-known migrant trap. Today is was covered in Yellow-rumped Warblers we must have seen over 50 of them, also another Blue-headed Vireo, a Common Yellowthroat and a flock of 22 Cedar Waxwings. A few Sparrows were also flitting about but I only got onto the common Song Sparrow.
two shots of Cedar Waxwings
For lunch we intended to each at a highly recommended local fish restaurant, but it was closed for the winter when finally found it! So we drove into Stonington and had a very bad lunch there. However the village and the quayside are just beautiful and it was lovely spending some extra time there.
another picture of the ubiquitous Yellow-rumped Warbler
We drove back to the house around 5pm, we had to pack and clean up, sadly we are leaving the area tomorrow and heading south to Pennsylvania.