GRUSZKI VIEWING TOWER – CZERLONKA SPRUCE WOODLAND – BUDY WOODLAND – ZASTAWA VIEWING TOWER
WEATHER: another sunny and warm day, a lot more cloud, some thunder later but no rain. Temp 25-30C
It was our second very early start, another 4am jaunt into the the countryside, this time we were looking for European Bison and although they are big fellows, they are not easy to see. The first place we looked was a viewing tower not too far from the hotel, Bart our guide went on ahead and checked it out, he came back with negative results so we jumped back onto the bus.
For the next hour we drove around the local countryside stopping in various places that had good views over grass meadows and farmland, many of the small holdings had fields ropes off or had electrified fences to keep the Bison out. We never saw a single Bison all morning but we enjoy some great birding whilst looking for them.
the view from the Gruszki Tower
In the fields we noted Common Cranes, White Storks, Red Fox and European Hares and from one viewing point where we stopped for coffee we enjoyed watching a number of species. As we left the bus to walk to the Gruszki Tower we noted Mistle Thrush and a couple of Lesser Spotted Woodpeckers and from the hide we had a nice view over a valley with scattered scrub, grass and reeds.
Red Backed Shrike
Red-backed Shrikes were very active, a pair of Whinchats were trying their level best to scare off a male, it must been near their nest. A Wryneck appeared several times, it was collecting food for chicks hidden somewhere in a disused woodpeckers hole and Woodlarks sang out from bushes and up in the air. Two or three Hawfinches came down to a small potato filed and we heard Icterine Warbler, Golden Oriole, Common Cuckoo and Blackcap. A pair of Common Cranes sat in the grass, Black-headed Gulls flew over and Black Redstarts flitted around the tower with White Wagtails.
Wryneck carrying food
After the visit to the viewing tower we went back to the hotel for breakfast, it was lovely to sit out on the terrace at 8am in the morning and enjoy a lovely breakfast. Bird song filled the air. Our next walk was through a spruce woodland, we hoped to see Spotted Nutcracker and Bart took us to a place where they had been seen recently. It was a bit windy and we never saw one, in fact we never saw much at all. Two excellent butterflies were found on this excursion, the Woodland Brown, n uncommon species in this area and a nice fresh Black Hairstreak.
Woodland Brown
Black Hairstreak
Our next woodland walk was more successful, we parked up near a village called Budy and took a forest path for a couple of hundred meters, we came to a large open area where many standing dead trees could be seen. The trees had been killed by a change in water levels, the standing dead-wood provides a perfect habitat for woodpeckers and flycatchers. Bart took us straight to a tree where a pair of Grey-headed Woodpeckers were nesting and the female was perched just outside the hoel. We had great views of it. A apir of Collared Flycatchers had nest nearby and they showed well too. We also saw Common Chiffchaff, Common Swifts and we heard both Great Reed Warbler and Sedge Warbler calling from a bunch of reeds not far away.
After our lunch break we met up again at 3:45pm for a short drive to yet another viewing tower just outside the village, the Zastawa Tower. Our driver dropped us there and we intended to walk back. Again, it was quite windy, we saw no raptors and very few other species. The tower overlooked a large area of marsh with the forest in the background, we saw Reed Buntings, and we could hear Blackaps, Garden Warblers, River Warbler, Thrush Nightingale and other common species.
We had good time butterfly watching in the grassland around the tower. We found Bog Fritillary, Painted Lady, Small Tortoiseshell and as we walked along the lane back to the hotel we added Peacock, Brimstone, Wood White, Speckled Wood and the number of Painted Lady butterflies reached here figures.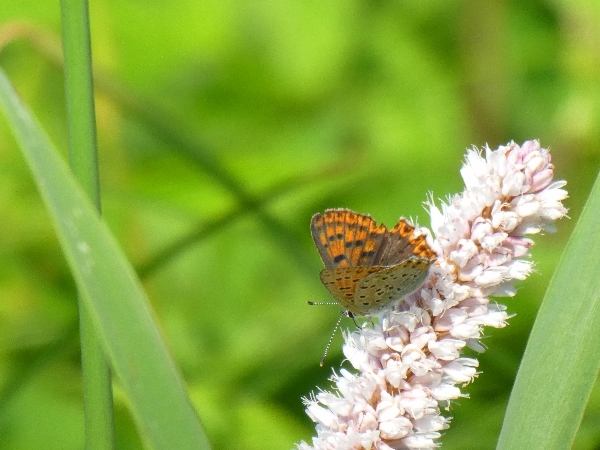 Sooty Copper
We had dinner early because we intended to go out afterwards to look for Beaver from a bridge not far from the hotel. The Beavers didn't show up but we did hear a good variety of bird song including a very close River Warbler and a Barred Warbler. We got back to the hotel at 10pm, it had been a long day, everyone collapsed into bed.