FARASUTO FOREST - BUND ROAD (BANJUL) - BANJUL FERRY BEACH
Weather: hot, not so humid. 30C
New species for the list are going to be extremely hard to find from now on but there are still about 30 possible ticks for us. We decided to go for forest birds in the morning and shorebirds in the afternoon, this plan worked well with a 2 hour break back at the hotel during the hottest part of the day.
We arrived at Farasuto Forest at 8:30am, this community-based conservation enterprise is run by the local village. We were met by a local lad who guided us to his prized birds, he led us through forest, open woodland and a mangrove marsh area. Our first target was the Northern Greyish Eagle-Owl of which we saw two very well. We then went to another section of the forest to search for another owl, this time we found an African Brown Owl, this one was quite an excellent bird for the list, an uncommon species and one we never expected to see.
Northern Greyish Eagle-Owl
A variety of other species were heard during this time but we never saw many until we came to the edge of the forest and broke out into the open mangrove marsh. We could see across a pool of open water into a row of trees where a pair of WHITE-BACKED NIGHT-HERONS could clearly be seen. This was another unexpected surprise, a superb addition to the trip list.
A pair of White-backed Night Herons playing peek-a-boo!
In the open area we had views over small pools and mangroves, we saw Senegal Thick-Knee, Wattled Plover, Malachite Kingfisher, Red-cheeked Cordon-bleu, Red-billed Firefinch and a lucky couple of the group saw Bar-breasted Firefinch! A couple of nice Sunbirds appeared, Beautiful, Splendid and Variable and a Lanner Falcon flew over us.
Black-billed Wood-Dove
Back in the forest, near the entrance, a resting place has been built where a seating area and a drinking station for both birds and birders can be enjoyed. We sat drinking cold drinks whilst watching the drinking pots put out for the birds. Not a single bird turned up in 30 minutes! So we went for a second walk, this time along the open approach track.
We saw African Harrier-Hawk, Lizard Buzzard, Yellow-billed Kite and Hooded Vulture in the open sky whilst a number of birds fed in the trees. One particular acacia tree held Olivaceous, Bonelli's and Willow Warbler as well as Greater Honeyguide, Variable Sunbird and a number of Red-cheeked Cordon-bleu.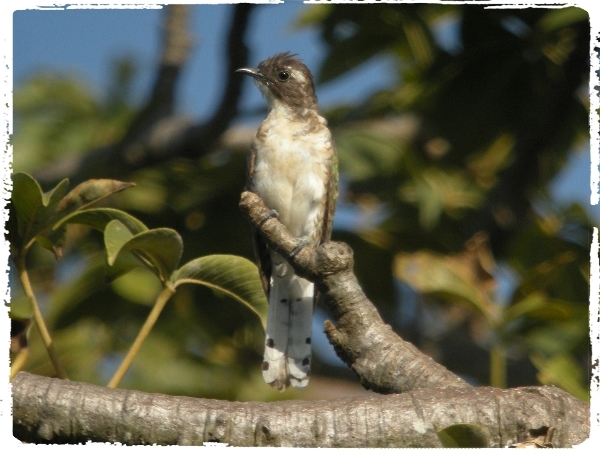 Klass's Cuckoo
Another bush gave us Northern Crombec and Scarlet-chested Sunbird, after that we walked back to watering station. This time a number species came to drink and apart from a number of doves we saw our first Green-headed Sunbird and we noted Common Wattle-eye, Olivaceous Warbler and African Thrush.
At 1pm we drove back to hotel for a midday break and lunch which was taken at the beach bar. By 3pm we were back on the bus heading to Banjul and after a delay caused by military road-blocks (this is usual on the main road to Banjul) we arrived at BUND ROAD mangrove marsh. It was still high tide so the open marsh and pools were covered in roosting birds, thousands of them! I won't list everything but we added Black-tailed Godwit, Pied Avocet, Curlew Sandpiper and Dunlin to our wader list but also present was six species of Terns, African Spoonbill, Yellow-billed Stork, lots of herons and egrets, it really was quite magical.
The most common bird on the coast - Grey-headed Gull
By the time we got to Banjul Ferry Beach the tide had turned and the light began to fade but it was still fantastic birding. Hundreds of gulls and terns were feeding just off-shore, they were being pestered by Skuas. Both Pomerine and Arctic Skuas came extremely close to the shore chasing gulls etc. we had great views of them, we also picked up our thirteenth new species of the day when a Black Tern flew by.
Well it had to end, another excellent day with only one more to go! Our total now stands at 307.