BRUFUT WOODS - TANJI BIRD RESERVE - TANJI BEACH
Weather: another full-on sunshine day, 30+C nice cooling breeze at Tanji
Another day in the birding paradise of The Gambia, another large list of species and one more rarity on the list.
A well behaved group finished breakfast on time so we were all loaded onto the bus by 7:45am. BRUFUT woods isn"t very far so we arrived in less than 30 minutes and into birding mode a few minutes later.
Our walk took us along a dirt track towards Brufut Woods with open woodland and some farmland on both sides of us, as usual birds were everywhere. It took quite a while to move more than 100 meters!
Swallow-tailed Bee-eaters
Grey-backed Cameroptera was one of the first on the list quickly followed by Variable Sunbird, Senegal Parrot, Fanti Saw-wing, Nothern Black Flycatcher, Northern Puffback and a Fork-tailed Drongo. Phew, give us a break! The birds just kept on coming, soon we added Northern Crombec, Lizard Buzzard, Singing Cisticola, Shikra, Western Olivaceous Warbler, Yellow-fronted Canary and Common Chiffchaff.
We ended up in the forest where a make-shift shelter and seating area had been built by the local guys for the purpose of serving hot & cold drinks for birds and birders. We watched dozens of birds coming to drink: Pygmy Kingfisher, Lesser Honeyguide, Blue-spotted Wood-Dove and Little Weavers joined a host of common birds.
Northern Black Flycatcher
Two excursions into the forest were led by local guides who showed us Northen White-faced Owls and Long-tailed Nightjars, smashing! We heard Oriole Warbler, Common Gonolek and Black-crowned Tchagra without seeing any of them!
For lunch we drove back to the coast road turning southward to Tanji where we pulled into the Tanji Nature Reserve and had lunch at the lodge. During lunch we watched two pools where many birds were coming to drink and bathe.
a very wet Western Bluebill
What a show, we added a few new species such as Orange-cheeked Waxbill, Blackcap and best of all, Western Bluebill, what a gem that one is. About twenty species came to the pools it was a fantastic luncheon venue.
Tanji Beach was our afternoon birding site, we parked on the edge of town and walked about a mile to the river mouth. A dozen or so waders went onto the day list including our second rarity find of the trip; American Golden Plover, now that wasn't expected at all.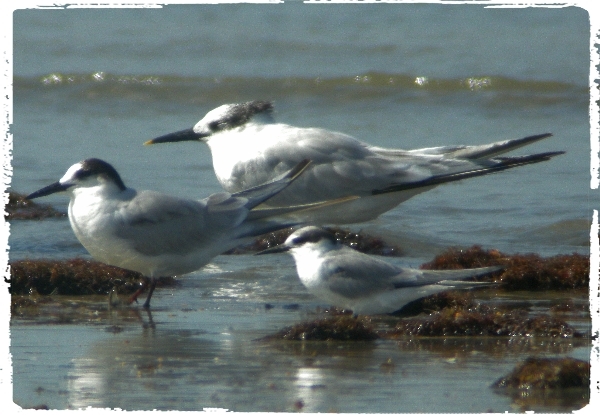 Little, Common and Sandwich Terns, all in winter plumage
A vast roost of Terns, gulls and waders were constantly flushed by Ospreys flying over, at least four of them were fishing (none had wing tags). We saw Lesser-crested, Caspian, Royal, Sandwich, Common and Gull-billed Terns as well as Grey-headed, Lesser Black-backed and Slender-billed Gulls.
American Golden Plover
Lots of Sanderling, Bar-tailed Godwits, Whimbrel, Ruddy Turnstones and Grey Plovers were joined by singles of; Eurasian Curlew, Red Knot, Greenshank as well as herons, Darters, egrets and a few Crested Parks found on the beach.

We left the beach at 5pm and got back to the hotel at 6pm, a relaxed dinner was eaten 90 minutes later. Our bird tally reached new heights as we topped the 100 mark for the day!, 108 to be precise!