TRANSFER FROM COASTAL REGION TO TENDABA CAMP IN THE MIDDLE RIVER SECTION, CALLING AT PIRANG FOREST, FARABA BUSH TRACK AND TENDABA 'AIRFIELD'
Weather: overcast all day, lower temperature around 25C
Although we left the hotel at 7:45am we didn't actually set off for Tendaba until 3pm, this was because we spent all morning walking the tracks in the Pirang Forest, then we ate lunch and spent a couple hours birding the Bush Track at FARABA.
Pirang forest is a fine example of primary forest with some impressive 'ancient' stands of trees. We didn't arrived until 9:30am but the birding was excellent. Modou was now our guide for the rest of the trip and he led us through the forest with a local guide.
Blue-bellied Rollers seen on route to Pirang
It took a while to find our first birds but a Northern White-faced Owl showed really well before we 'chased' an African Goshawk which showed very briefly and to only a few of us. This was the pattern for the few species such as Yellowbill Coucal, Green Crombec, Green Hylia and Snowy-crowned Robin-Chat, they all put in brief appearances.
Two prized birds came next, the first is making this piece of forest quite famous after its discovery in 2013. A pair of White-spotted Flufftails are seen regularly at a particular spot in the forest and today was no exception, what a cracker!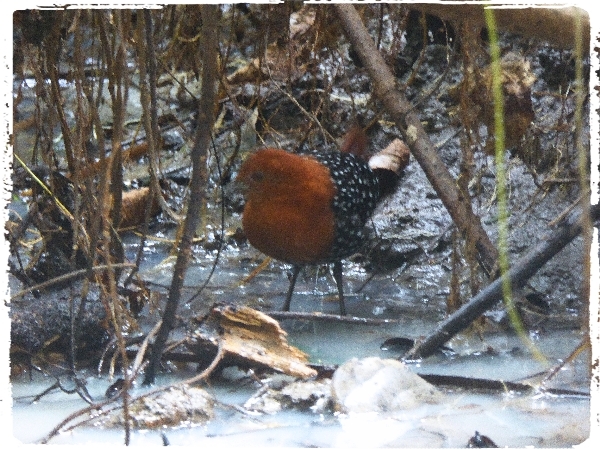 White-spotted Flufftail
We then had better views of Green Crombec and Green Hylia before being shown a Verraux's Eagle Owl, our second most prized bird.
Back at the entrance we sat drinking cold fantas whilst watching a drinking pool where a nice selection of birds were coming to drink. We added our first Black-rumped Waxbill to the list and enjoyed a good number of other species including a Pygmy Kingfisher.
From Pirang we continued our easterly journey before turning off at Faraba to explore the open forest along a Bush Track.
It was midday, hot and humid but still overcast, a hour long walk produced very little with Dark Chanting Goshawk being the most remarkable. We ate lunch in the shade of a large tree before spending an hour in a bird 'photography' hide where a selection of birds came to drink but nothing new for us.
Bruce's Green Pigeon
Our journey to Tendaba started in earnest at 3pm! We set off with no more stops planned, but of course we stopped a dozen times to look at perched raptors and other interesting species.
Both Lizard and Grasshopper Buzzards were seen on a number of occasions, as was Long-crested Eagle, Dark Chanting Goshawk and Grey Kestrel, We also stopped to look at Abyssinian Roller, Rufous Crowned Roller, both African and Bruce's Green Pigeons, Red-billed Oxpecker and an African Cuckoo!
African Cuckoo
At Tendaba we stopped for a walk on the old 'airfield' site looking for Ground-Hornbills without success but we did see a good number of species including the African Hobby, Pink-backed Pelican, Senegal Parrot, Gull-billed Tern, Hammerkop and a good deal more.
We arrived at the camp just before dark and dinner was taken at eight in the large covered terrace. I am please to report that the camp is going through a much needed renovation programme and the road from Banjul is tarmaced all the way to Tendaba now!