STOFORD – BIRDS FROM MY GARDEN – A WALK INTO YEO VALLEY
With changeable weather over the last few days it was hard to plan a day out so we spent a lot of time at home. The bird feeders are busy lately, quintessential woodland species are just as numerous as the regular garden birds. All at one time I saw Treecreeper (first spotted by Dawn), Nuthatch, Coal Tit and Great Spotted Woodpecker! Blue, Great and occasionally Long-tailed Tits are also seen most days, we also have a regular 'charm' of five Goldfinches feeding on the sun flower hearts.
Treecreeper on one of the sycamore trees in the garden
The meadow just outside our garden boundary has been quite productive too, there are no cattle or sheep grazing in there so the grass is fairly long. Nevertheless, there is a daily flock of 20-30 Wood Pigeons and after rain we get 10-20 Herring Gulls with the odd Black-headed Gull thrown in. Both Pheasant and Red-legged Partridge are seen in there daily and up to six male Pheasants fly onto our fence most mornings.
Red-legged Partridge in the meadow
They drop down to pick up morsels of food that have fallen from the feeders. I do throw seed and sunflower hearts onto our lawn but none of the Pheasants have been brave enough to come down for them (unlike Fez from last year who eventually fed from my hand!).
a nosey neighbour, male Pheasant looking over my fence (taken through my lounge window)
Other sightings in, over and around the meadow over the last few days include: Green Woodpecker, Sparrowhawk, Song Thrush, Redwing (a flock of around 50 birds were in there yesterday and the Sparrowhawk suddenly appeared causing chaos and pandemonium amongst the thrushes).
record shot of a male Sparrowhawk in the trees at the back of the meadow
Song Thrush below the hedge in the meadow
On Saturday afternoon I went for a walk into Yeo Valley, I had a short spell of sunshine and so the light wasn't too bad. It was quite desolate in the valley with few signs of life. I saw a single Grey Wagtail along the stream and a pair of Ravens flew over me. A small flock of Chaffinches flew up from beneath an oak tree, I checked them out for the presence of a Brambling without finding one.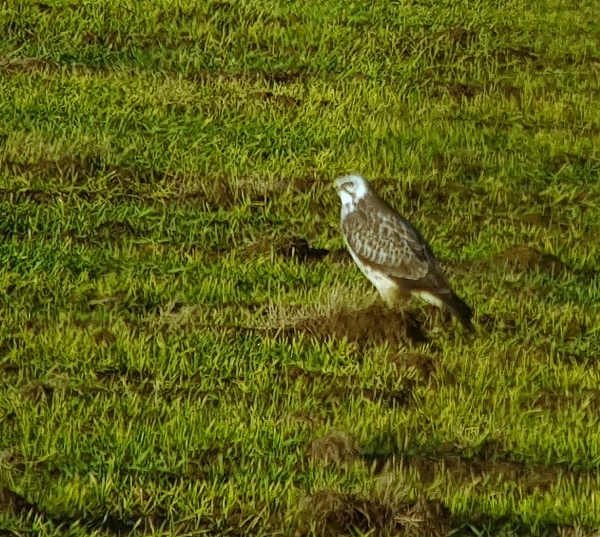 a pale Common Buzzard, one of eight birds seen in the field above the Yeo Valley
My best birding of the afternoon came as I scanned a grass meadow that had been recently sprayed with 'muck', it was covered in over 50 Pied Wagtails, a few Meadow Pipits, a single Mistle Thrush, lots of Black-headed and Herring Gulls and eight Common Buzzards were in view although there probably was a few more over the brow of the field.
It clouded over, light rain appeared and the wind picked up, three signs for heed and to set off for home. Above Rooks Hill there was a group of Jackdaws, Crows and Rooks enjoying the windy condition and giving five Common Buzzards some unwanted attention. The Buzzards were far too masterful of the windy conditions to be bothered by a bunch of Corvids.