2 RECENT VISITS TO THE RIO GUADIARO
WEATHER: clear sunny days, temp in the upper 20's C.
On Sunday 30th June Dawn and spent the afternoon at the Rio Guadiaro with our friend Claire. We sat under the bridge leading into the village of El Colmenar, it was a lovely sunny afternoon with a nice cooling breeze.
view of the Rio Guadiaro from under the El Colmenar Bridge
This site is not as good for birding as our favourite place further upriver but the insect life is excellent. It is one of the few places around Gaucin that you can find the African Grass Blue Butterfly of which I found a couple.
Brown Argus butterfly
Other butterfly species on the wing were: Brown Argus, Small Blue, Cleopatra, Small White, Clouded Yellow, Iberian Marbled White, Speckled Wood and the beautiful Monarch.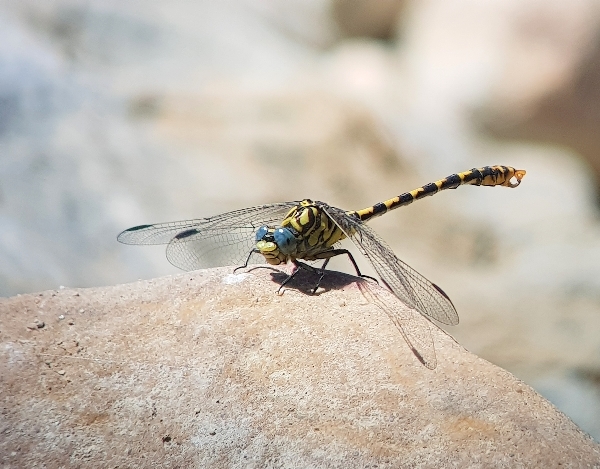 Small Pincertail - Onychogomphus forcipatus, very common and often sits on exposed rocks in the river
Birds on show were few and far between but we did see both Grey and White Wagtails, Serin, Spotless Starlings, Goldfinches and Linnets.
On Monday 1st July we visited the same Rio Guadiaro but this time we drove down to Estacion de Cortes which is a few kilometers upriver from El Colomenar. We were joined by our good friends Henry and Sue, they are very enthusiastic and willing bird-watching 'students'. Sue has never seen a Kingfisher and we aimed to put that right that afternoon.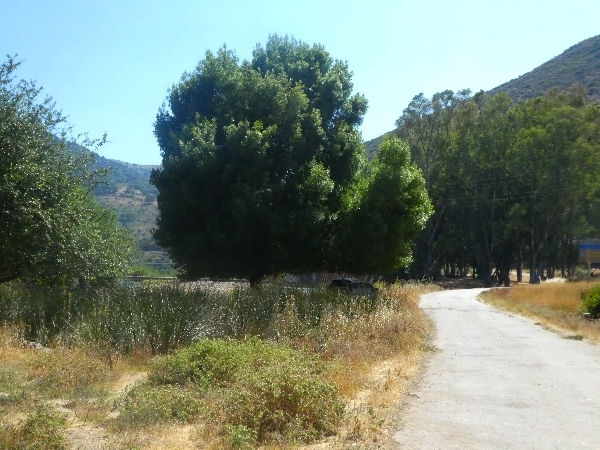 'our' tree and the view of the river from beneath the tree is shown below
We sat for several hours sitting under our favourite tree watching the world float by, many birds came down to drink or fed in the bushes along the river banks. We saw many family parties of Goldfinches, Linnets and Greenfinches, also Blackcaps, Chiffchaff sp. (either Common or Iberian), Cirl Bunting, three species of sparrows, Spanish, House and Rock. Many Grey and also White Wagtails fed along the rock-strewn River and a family of Little Ringed Plovers popped into view on a number of ocassions.
juvenile Little Ringed Plover
Spanish Sparrow
The star bird kept us waiting for a couple of hours and was quite elusive when it first appeared! Finally Sue saw a Common Kingfisher, in the scope, hooray henry! She was thrilled to bits as you would be and obviously 'hogged' the scope so no-one else had such good views or managed to photograph it!
one of the 'fresh' Painted Lady butterflies
A couple of short walks produced a number of butterfly sightings, many beautiful and fresh-looking Painted Lady's were on the wing, I remeber just a few weeks ago seeing hundreds of very worn and tattered individuals, they were the migrant generation arriving from Africa. They survived the unbelievable migration journey and laid eggs just before they died. We are now seeing the fruits of that enormous effort.
Long-tailed Blue
Other butterflies seen were: Long-tailed Blue, Ilex Hairstreak, Small Heath, Brown Argus and Holly Blue. We aslo saw Monarch, Cleopatra and Small White.
Short-toed Treecreeper
Before we left the area we walked down towards a dam and found a nesting pair of Spotted Flycatchers, a Turtle Dove on a wire and a Short-toed Eagle on a pylon. I spotted a Wryneck for a brief moment but it was gone before the others had chance to raise their bins. A Short-toed Treecreeper landed just above us in 'our' tree and gave us great views.