OUR USUAL PICNIC BY THE RIVER UNDER OUR FAVOURITE TREE
WEATHER: fluffy white clouds, broken sunshine but quite windy. Temp 25C
For the first time this summer we went down to the river alone, we had a wonderful 5 hours just sitting under our favourite tree sipping cold drinks or tea/coffee and eating a picnic made by Dawn.
The view of the river from beneath our tree
Short-toed Treecreeper on the trunk of said tree
Its amazing what wildlfe you might see if you sit still under a tree by the river! We did exactly that all afternoon and despite the windy conditions we saw over thirty species of birds, ten of which were in the tree we were sittiong under.
one of the few butterflies I managed to see; Large Skipper
We couldn't believe how close a Firecrest came to us, I could have lityerally stood up and touched it, a Short-toed Treecreeper did almost the same and both Bonelli's Warbler and Chiffchaff came relatively close too.
close encounter with a Firecrest
Other birds seen in the tree were Great Spotted Woodepcker, Blue & Great Tits, Goldfinch, Greenfinch and Serin.
On one bank of the river on the opposite side to us we saw 11 species all coming down to the river to drink or bathe, most were common 'garden' birds but we also saw Cirl Bunting, Rock Sparrow, Blackcap, Chiffchaff and Cetti's Warbler.
you don't have be a rare bird to be beautiful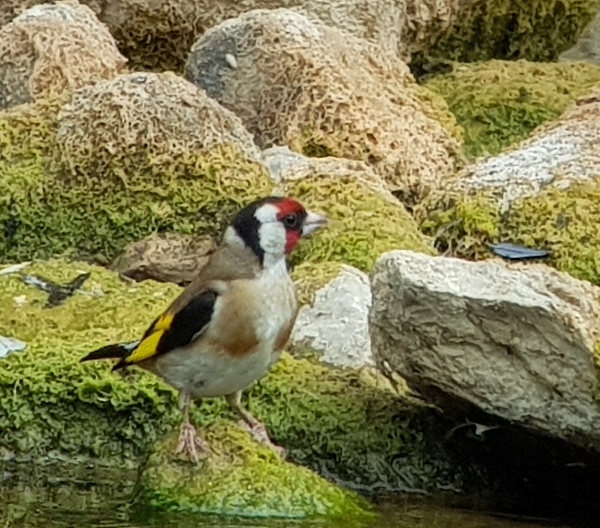 The usual River species were ever-present, both White and Grey Wagtails and Little Ringed Plover, we had one brief view of a Kingfisher.
peek-a-boo, a Linnet keeping a watchful eye on a White Wagtail
Other birds seen in the area of fields behind us and in the sky flying over were: Bee-eater, Short-toed Eagle, Turtle Dove, Barn and Red-rumped Swallows, House Martin and Griffon Vutlures.
Rock Sparrow above and White Wagtail below