ANOTHER AFTERNOON SPENT BY THE RIVER
WEATHER: The temperature is finally dropping, it was still hot but only mid to upper 20's. A strong breeze was present all afternoon.
Dawn and I met up with John and Penny from Casares on the edge of Gaucin, we all piled into our our car for the short drive down to Estacion Cortes and on to our favourite spot along the River Guadiaro.
We had a lovely picnic and spent a good 6 hours under our favourite tree watching the wildlife all around us it was very relaxing and so peaceful. A good number of species came down to drink or bathe and above us there was always something to to see feeding the tree. Short-toed Treecreepers were presnet for most of the afternoon and a procession of warblers fed just above us. One piece of excitement occured when a Reed Warbler appeared in the tree, we thought it was a Hippolais warbler at first, such as Olivaceous, but after further scrutiny we realised that the colours were all wrong.
The number of Willow Warblers and Chiffchaffs have increased over the last few visits but today there was no sign of the sandpipers that were present during our last visit. The breeding Little Ringed Plovers have now also gone.
Cirl Bunting
All the common species appeared including Common Kingfisher, Cetti's Warbler, Cirl Bunting, Blue and Great Tits, Greenfinch, Chaffinch, Goldfinch and Serin. Robin, Blackbird, House Sparrow, Blackcap, Willow Warbler and Chiffchaff sp. Two nice 'goodies' turned up in the shape of Melodious Warbler and the most wanted species by John was the Hawfinch, he had to wait until almost 5pm before it turned up.
A record shot of the Garden Warbler which was our first for this site this year,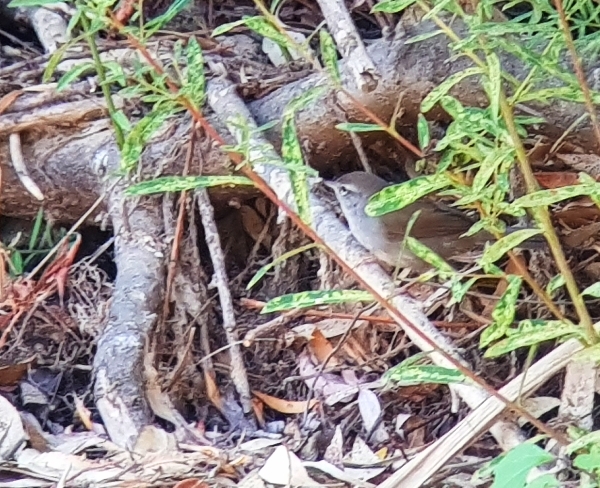 ther is a Cetti's Warbler in this picture somewhere
Melodious Warbler
We had brief visits by a Rock Sparrow (twice), Grey and White Wagtails were ever present, a Grey Heron flew over a few times and the Booted Eagle family werer still present. Bee-eaters came over on a regular basis but did not stop for a bath. Penny spotted a Short-toed Eagle and Dawn got onto the Kingfisher several times.
I managed to get a record shot of the Hawfinch during its brief stay.
We were joined by another John, our American friend from Gaucin, he turned up about 3:45, he stayed until 6pm when we all left.