MARCHENILLA TRACK – RIO HOZGARGANTE – PALMONES SALT MARSH
WEATHER: still very hot and humid. It was 26C at 9am and topped 31C at 3pm in Gaucin
Today was a pre-tour recce for my forthcoming migration tour which starts on the 1st Sept. I have Barbara Ross with me for the next 21 days and we met up with John & Gill Stacey, Val (Gill's sister) and John Hales, all birding friends of mine.
On the way down to the track from Gaucin, Barabara and I saw huge numbers of hirundines (swallows and martins) on telegraph wires, it looked like a pre-migration gathering, we also noted a few Bee-eaters, a small flock of Yellow Wagtails (they flew up from the road near San Pablo) and one or two Short-toed Eagles sitting on Pylons.
call it albino or leucistic - this Sardinian Warbler has survived for over 18 months so far and can be seen along the track
We met the others at the start of the track where we began our birding in earnest. To be honest it was very quiet to start with as far as migration was concerned, we saw a single Spotted Flycatcher, a few Barn Swallows, some distant swifts and not much else. The sparrow flocks are now getting rather large and good numbers of Corn Buntings sat on the wires. Common Stonechats seemed to have had another great year along with Goldfinches, Crested Larks and Greenfinches.
a record of our first Honey Buzzard today
An hour into our walk (we had only walked 1km) things started to warm up, both thermally and sightings wise. Our first Honey Buzzard took off from a small copse and it wasn't long before other joined it. Soon we had groups of 20+ in several positions, all circling on the thermals before moving down towards the coast.
Short-toed Eagle
Short-toed Eagles joined them, we also has sightings of Common Kestrel, Common Buzzard, Griffon Vulture, Montagu's Harrier and Booted Eagle.
Small passerines were few, a single Whitethroat, a flock of 20+ Bee-eaters and more Stonechats was all we saw as we progressed along the track.
groups of Honey Buzzards started to gather
Around 11am we continued along the track in the vehicles, spotting Woodchat Shrikes (2 juveniles), a Hoopoe in flight and then to our great delight a Roller was found perched on the wires. John Hale saw a Turtle Dove and we all watched more Honey Buzzard flocks as well as another Monatgu's Harrier and a third Woodchat Shrike.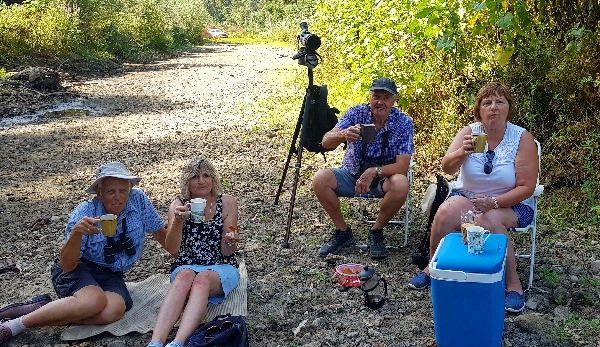 coffee break on the dry river bed of the Hozgargante - John Hale, Val, yours truly and Gill Stacey (John Stacey took the picture and Barbara Ross stayed in the car (becuase of her lack of mobility) seen in the background,
We passed through Marchenilla village before driving down to the, almost dry, river-bed of the Rio Hozgargante. Very small pools attracted a few birds. We decided to take a coffee break in the shade of the tall eucalyptus whilst we watched Common Kingfisher, Great Spotted Woodpecker, a couple of Chiffchaff sp. and a huge flock of Griffon Vultures. Before we left the river we added Egyptian Vulture (3) and an single Marsh Harrier.
Bee-eaters very high up
Our last port of call was the salt marsh at Palmones, we scanned the river and the marsh from the excellent Promenade which affords easy walking all the way down to the beach in Algeciras Bay. We watched a couple of dozen waders consisting of Greater Ringed Plover, Dunlin, Redshank, Greenshank, Whimbrel, Kentish Plover and Common Sandpiper. We also listed a dozen or so of Grey Herons, Eurasian Spoonbills, Cattle and Little Egrets, White Storks, a single Sandwich Tern, a single Slender-billed Gull, Black-headed Gulls and Yellow-legged Gulls.
Palmones Marsh with Algeciras Container Port in the background
Before we left we added Common Kingfisher (2), a very distant Osprey sitting in a tree and quite a few dodgey ducks which John Stacey wanted to 'tick'.
Slender-billed Gull
We left the area around 2pm as the tide came in rapidly and the temperature seemed to rise exponentially. It had been a smashing morning out, the Roller caused the most excitement followed by the number of Honey Buzzard sightings, we probably saw about 120 in all.