LA JANDA PART II
WEATHER; sunny and bright to start, cloudy later, top temp 17C
My second visit to La Janda was made today with Dawn, the gaffer and Mary and John, our American friends who also have a home in Gaucin. We left the village at 8:45 and after stopping twice for coffee and toilets along the way we arrived at La Janda around 10:30am.
It was lovely down there, bright sunshine, perfectly calm and full of birdlife. As we drove down the main track to the central canal we stopped to watch a large flock of Skylarks, also many Common Stonechats, Spainish Sparrows and a Zitting Cisticola.
On the central track with the main drain on the right
Once on the elevated central track it took just 10 minutes to find a BLUETHROAT, unfortunately, it flew across the track and landed beneath a bush and with tail cocked it hopped out of sight never to return. A real shame. But a great view of Black-winged Kite quickly followed, we saw it perched then hovering and next it was dive-bombing a Common Buzzard that sat on a fence post, totally unperturbed by the kite.
a view along the central drain
The Common Cranes were as noisy as ever, the flew over in small groups and at one stage we saw about 100 fly up in the distance. A large flock of Llapwings took to the air with about a dozen Golden Plover, a Kingfisher dashed up the stream and a Common Moorhen swan across it. Common Chiffchaffs were common, as were White Wagtails, Spanish Sparrows, Corn Buntings, Goldfinches, Linnets and Meadow Pipits.
Dawn's picture of the drain
Whilst watching one of the many Marsh Harriers quartering the fields John pointed out a stork in the distance circling on the thermals. A closer inspection revealed that it was in fact a BLACK STORK, a great sighting for mid-winter in southern Spain.
my only picture of a bird, a record shot of a Common Crane
A large eagle sat on a pylon in the distance, it was too far away to identify but I suspected that it was a Spanish Imperial Eagle. Other birds seen in flight included Common Snipe, Green Sandpiper and a large flock of Calandra Larks. Also Great Cormorant, Little and Cattle Egret and White Stork.
another scenic picture from Dawn
We ate our picnic lunch and then made our way slowly along the bunp central track, it began to cloud over and the wind picked up a little. we stopped to look at a flock of some twenty Eurasian Spoonbills and small numbers of Mallards, at this point we were able to get fairly close to flocks of Common Cranes feeding in the ploughed rice fields.
Another stop produced sightings of Bonelli's Eagle, we saw a juvenile bird sitting on a pylon then a second joined it, again they were too far to photograph. Above us a huge flock of over 100 White Storks circled high on the thermals, they were joined by Griffon Vultures and just as many Common Cranes.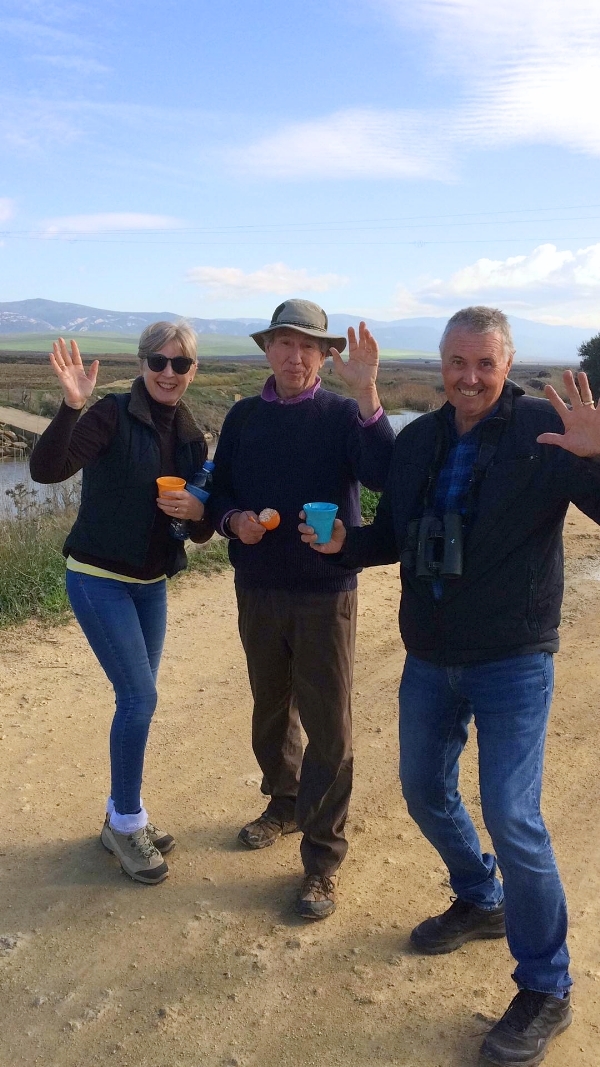 Goodbye to La Janda - our last visit in 2019
We saw another pair of Black-winged Kites nearby and then another pair as we drove off La Janda! Many more Cranes, Little Egrets, White Storks and Marsh Harriers were also seen as we drove slowly further along the track.
We left La Janda at 2pm and drove back to Tarifa where we stopped at the Hurricane Hotel for a late lunch, it was 5:30pm by the time we got back to the village. It was quite cold by then with a brisk easterly wind.