Another week has gone by, it was a real scorcher, rarely did the temperature drop below 30C
August 5th - 10th 2019
The heat of the week curtailed our forages into the countryside and our morning walks up to the Castle. Visible migration is still restricted to seeing small flocks of Bee-eaters and the odd Black Kite. Most of the Pallid and Common Swifts have left the village and both Swallows and House Martins have redued in numbers.
We have visited the Hotel in the village next to Gaucin, called Benarraba, on a couple of occasions. There you can lie by a superb swimming pool in the shade of the garden trees, but even that became too hot on a couple of days.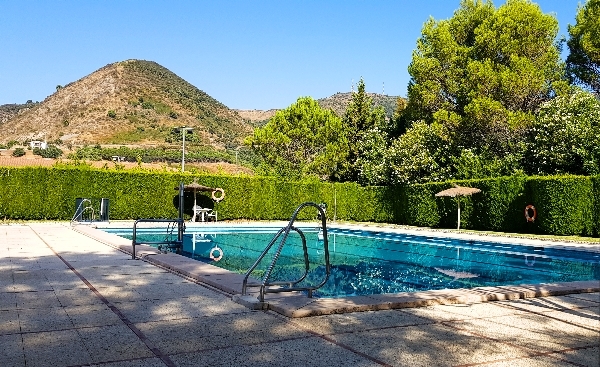 The pool at the hotel in Benarraba, lots of Swifts, Bee-eaters, Black Kites and Griffon Vultures flew over today (5th). and again on the 7th.
Our last visit to the River Guadiaro was on Saturday, 10th, yes the day Villa lost to Tottenham in the their first game back in the Premiere League! We had a wonderful afternoon with plenty to see. Many warblers are now filterinmg along the rivers towards the coast and then across the Strait of Gibraltar to Africa. Lots of Chiffchaffs of two species (Common and Iberian) were joined by Bonelli's Warbler, my first Willow Warbler of the autumn and dozens of Blackcaps. Most of the Blackcaps have brown caps, but as you see from the photo below they are now moulting into adlut plumage with many males losing their brown caps and donning new Blackcaps.
a male Blackcap moulting its browncap
A single Hawfinch appeared once, in the picture it is standing behind a female Chaffinch, dwarfing the latter.
Hawfinch standing behing a female Chaffinch
A week or so ago I found a Booted Eagle's nest in a clump of Eucalyptus trees on the other side of the river, I was drawn to it by the incessant calling of the juvenile birds. One of the juveniles is still there and today (10th) it called constantly for at least 4 hours. At one point an adult came in and the juvenile chased it around for a while, I am pretty sure the parents are trying to get the young bird to lave the nest and find its own food.
a poor picture of the juvenile bird.
There was no sign of the breeding Little Ringed Plovers or of any Sandpipers passing through, but we did see our first Turtle Dove, plenty of Bee-eaters were flying over and a few Swallows and House Martins swooped down to skim the water taking a drink.
Turtle Dove
Spanish Terrapin (Mauremys leprosa)
Chiffchaff sp. look at the supercillium on this baby - thought it was Yellow-browed for a split second