A full day out birding with local guide, Roy Adams, we saw a great range of species meeting all our targets which included 7 Woodpeckers, Eastern Imperial Eagle, Common Crane, Smew, Goosander, Garganey and so much more..........
My day started at 6am as I left the hotel complex to walk the local lanes, I saw 3 Song Thrushes singing in the hotel grounds as well as Hawfinch and Greenfinch.Along the lane I found Great Spotted Woodpecker, Green Woodpecker and heard Lesser-spotted drumming. Many Tree Sparrows outnumbered House Sparrows and a small woodland held Jay, Coal Tit and all the common garden species.
I met up with Roy, at breakfast at 7:30am and we set off around 8:15am to the nearby Nosvaj woodland reaerve. We passed through farmland and graudually rising hills into the large oak forest of the reserve. We then set off on foot along a well trodden track into the woods. Within 100 meters we had seen 5 different woodpeckers, it was amazing, they called, drummed and fed in all directions it was a great lesson in 'woodpecker' recognition by call and drum, Great, Middle & Lesser-spotted were joined by Grey-headed and Black Woodpecker onto our list. We also found Short-toed Treecreeper, Eurasian Treecreeper ( sub-species familiaris ), Eurasian Nuthatch, Marsh Tit and the exquisite looking 'white-headed' (sub-species - caudatus) Long-tailed Tit, what a beauty.
Middle-spotted Woodpecker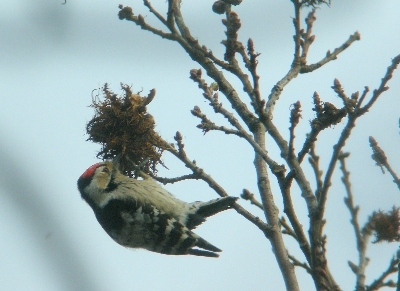 LSSER SPOTTED WOODPECKER
After a quick coffee stop we moved onto the Tiza Lake area, along the way Roy showed me a Long-eared Owl in the middle of a village in someone's garden, it was truly bizarre, the owls allowed close approach, they didn't flinch. Nine of them sat and watched us, eventually two flew off, so we quickly withdrew to leave them in peace.
the amazing long-eared owl roost tree outside a house in the middle of a village!
if you look carefully you can see 4 of the owls in this picture
a digi-scoped Long-eared Owl sitting in the tree shown above
Before we reached the lake we stopped to watch a male Hen Harrier and later two Rough-legged Buzzards that performed their characteristic hovering.
At the lake we spent a couple of hours driving along the raised bank (flood defence) that surrounds the shore, making many stops to scan the flocks of ducks, geese, swans, egrets, cormorants, grebes and lapwings. Species of note included: Snew, Greater Scaup, White-fronted Geese and on land Northern Bullfinch, Yellowhammer and lots of Common Buzzards.
White-fronted Geese with a Great Egret
The great majority of the ducks were Common Pochard but in with them we found Tufted Duck, Goldeneye, Mallard and Goosander. Endless numbers of Great Egrets were dotted all over the shallow inlets with Mute Swans, Great-crested Grebes, Great Cormorants coming a close second in the 'numbers race'.
Roy has lived in the area for the last 10 years and has built up a network of friends, routes and favourite eating places, he took me to one such place for lunch. We had a superb Goulash, it was delicious, with coffee the bill came to £2 each! This is my kinda country!
It was now 2:30pm so Roy directed me to drive into the plains area near the Hortobagy, we stopped on a quiet lane where we ciuld see for miles in all directions over very flat agricultural land, the occassional mature oak or ash tree sat scattered across the horizons. We searched for birds of prey, Common Buzzards were very common, a Marsh Harrier had been noted earlier and a large number of Roe Deer just about out numbered the sightings of Common Hare. A single Red Fox was also seen before we found our main target species, the EASTERN IMPERIAL EAGLE. A juvenile bird flew straight towards us before turning and landing in a middle distant tree, we had marvellous scope views.
a record shot of the Eastern Imperial Eagle - note the breast streaking which is absent on the Spaish version of this species
Further searching didn't produce anything else and as the light began to fade so we headed back to the hotel, it had been a great day out for me, no new species on my life-list but three new sub-species: Northern Bullfinch, (White-headed) Long-tailed Tit (caudata) and the (familiaris) race of Eurasian Treecreeper.
Back at the hotel at 4:30pm we were out again at 6pm. Roy and his wife Dena took me out to the local wine cellars, as I was staying in the best wine producing valley in the region, this is where they produce Egri Bikaver, BULL'S BLOOD wine!! This wine is described as "robust and fruity" I had to try it a few times!! It was very dry but palatable, 3 glasses cost £1.20, amazing - I was really beginning to like this place.
After the wine 'caves' we got a taxi into town (£2) where we went to Roy and Dena's favourite restaurant, it was packed with character, quirkiness and people. A pianist sat in the corner playing requests on a Baby Grand. The food, service and the bill were all excellent, I will return there with future groups. Thanks Roy and Dena for a lovely and very enjoyable night out!