PORTLAND, FERRYBRIDGE, PORTLAND HARBOUR AND LODMOOR
WEATHER: cloudy with sunny spells, very windy. Strong westerly/south-westerly gale. 30-40mph winds at the coast.
Guy convinced me that if we go down to Portland Bill on this very windy morning we had a great chance of seeing a Leach's Storm Petrel, Ha! There was more chance of Boris Johnson telling the truth than there was of us finding a Leach's Storm Petrel, but I humoured him and went along!
He picked me up at 8am and we set off for Portland, it wasn't too windy in Stoford, we turned back after about ½ mile because I had left my phone behind and I had also left my house keys in the front door on the outside, Doh! The onset of Alzheimer's don't you think?
We stopped at Chesil Cove because Guy thought it would be great to look for Leach's Storm Petrel there, or perhaps a Little Gull or even a Grey Phalarope? We had a strong easterly wind in our faces and it was difficult to stand up never mind scanned the Cove for birds. We found shelter by the side of a wall and spent 20 fruitless minutes getting cold and using countless tissues to wipe our streaming, wind-blasted eyes. We saw exactly zero Leach's Petrels, just a few Common Gulls, Kittiwakes, Mediterranean Gulls and a lot of Black-headed Gulls.
Next we drove to the Portland Bird Observatory where Martin, the Warden, gave us encouragement by telling us that many birds were passing at Portland Bill. So we slogged it down to the Bill where 40-50 mile an hour wind gust made it difficult to walk never mind set up a scope. After finding shelter behind the Obelisk at the Bill we started scanning the sea.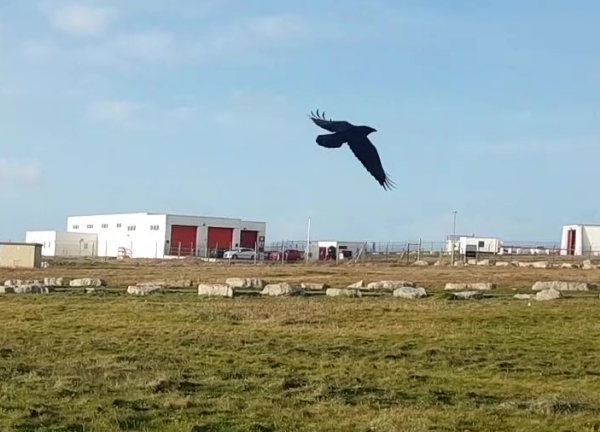 the walk down to the Bill took us across the Common where a pair of Ravens allowed close approach
I must say that there was plenty to look at, It was alive with birds, but all them were the usual common species expected at this time of the year. Over 100 Northern Gannets formed a huge flock, battling against the wind with Herring, Great Black-backed, Black-headed and a few Mediterranean Gulls. Hundreds of Guillemots and Razorbills dashed about in small groups often landing the surface of the water and quickly disappearing behind the terrific swell of the waves. Kittiwakes dashed by quite regularly whilst Fulmars appeared occasionally, both Cormorant and Shags sat on the water and that was about the sum total of our sightings. Leach's Petrel, not on your nelly!
our view from behind the Obelisk at Portland Bill
We then walked along the east cliff with the wind on our backs, we saw many Rock Pipits, seven Oystercatchers, a couple of Turnstones and a single Pied Wagtail. On the way up through the hut fields we had a very brief view of what looked like a female Merlin. Back at the Ob's we reported our lack of findings whilst Guy broke the news to me that a Leach's Storm Petrel had been seen at Burnham-on-Sea and at Steart, two places that were good alternatives to Portland but Guy chose the latter! I'm surprised that he is still alive.
the start of the walk along the east side of Portland Bill
As we left Portland to visit Ferrybridge Guy spotted three helicopters, at the heliport, Merlins to be accurate, he quickly turned the car around and headed off to see them. I couldn't believe what was happening to him, what about birding? He was off like a shot, transformed into a demented plane spotter, I walked across the road to view Portland Harbour from Portland Castle whilst he scrambled up an embankment to film the Merlins. To be fair, it was impressive to see three very large helicopters standing in line with all blades blazing!
record shot of a pair of Red-brested Mergansers in Portland harbour
I saw Red-breasted Mergansers, Cormorants, Shags, Oystercatchers, Turnstones and a single Razorbill whilst Guy filled his lungs with spent aviation fuel.
a shot to give a size comparison of Cormorant, centre top, Shag (16 in view - some are brown juveniles) and Great Black-backed Gull
Eventually I got Guy back, his trance had passed, his episodic dip into nerdiness was over, we were back on the birdy trail. Next stop was Ferrybridge, we found only three or four square meters that was sheltered from the wind. Huddled together with another local birder we scoped the intertidal mudflats and found: 50+ Dunlin, 10+ Ringed Plover, 3 Knot, 2 Bar-tailed Godwits and a solitary Curlew. Hundreds of Gulls sat on the mud and a small flock of Brent Geese fed on the grassy bank. Red-breasted Mergansers sat the water and the shoreline and not much else was seen.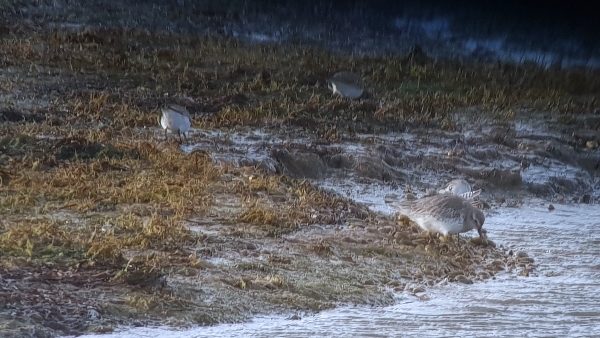 there are actually two Red Knots and two Dunlin in this picture
record shot of a Bar-tailed Godwit and half a Dunlin
At Weymouth Sailing Club we finally found good shelter from the wind, we were able to stand up and scan Portland Harbour quite comfortably. Guy sat in the car and ate his lunch whilst I multi-tasked as I scoped and ate my sandwich at the same time. It was quite barren out in the harbour, I clocked about 10 Great Crested Grebes, the usual Cormorants and Shags, Red-breasted Mergansers and a Great Northern Diver. Guy's attempts at finding the diver were as successful as his attempt of turning up a Leach's Petrel! Whilst at the Sailing club Guy had a second episode of nerdiness when two Sea-Cat Helicopters flew over the Harbour and a little later two Chinooks battered our ear-drums with the rythmic, thunderous pulses from their rotor blades. Guy knew what each species of helicopter was from just the sound, what a clever nerd he is!
Northern Lapwing with two Mediterranean Gulls, seen in lovely light at Lodmoor
Lastly we visited the west track at Lodmoor which again was quite sheltered from the wind. A Water Pipit had been reported from the track about an hour ago so we thought we had a chance of seeing it. We scanned areas where the reedbed had recently been cropped, but the Water Pipit may as well have been a Leach's Petrel because it went onto the 'dip list' just the same. However, we did enjoy a spell of good sunshine, we embraced the excellent light and marvelled as we watched a drab marshland spring into life and vibrant colour on a cold December afternoon.
Guy got me home safely at 3:15pm, he later texted me to tell me that an Iceland Gull had been seen in Portland Harbour about the time we were there! Doh!