PENNINIS HEAD – OLD TOWN BEACH – AIRPORT – LOWER MOORS – ROCKY LANE – OLD TOWN CHURCH – PENNINIS HEAD – HUGH TOWN
WEATHER: Windy all day, showers, but sunny spells and a better day.
Here we go again! It was windy when we left the guest house at 9am and still windy when we returned at 5pm!
News of the BLUE ROCK THRUSH had come through, it had been seen on Penninis Head so that is where we headed first thing, we were due to go to St Agnes but the boats were not going out today because of the wind.
We walked past Porthcressa Beach noting a single Northern Wheatear and a Common Stonechat, but no gulls.
It was very windy out on the Headland of Penninis, but there are sheltered areas, however, we never got a sniff of the BRT. We saw plenty of Northern Wheatears and Rock Pipits but not much else. We got wet and cold but the scenery was outstanding and the air nice and fresh, I could think of worse places to be.
We stopped briefly on the Farm Trail near Old Town Church where both Red-backed Shrike and Melodious Warbler are seen briefly every few hours, we saw neither but an obliging Spotted Flycatcher sat out for us. On Old Town beach there was a few Oystercatchers, White Wagtails, Black-headed Gulls and not much more. The group we forced to stop at Old Town Café for a coffee and a cake.
Much later we set off for the Airfield 'turning circle' at Church Point, it was another windy expedition, we walked up to the wind-sock and scanned the airfield for a Lapland Bunting. We found many Meadow Pipits, Northern Wheatears and White Wagtails but not the Bunting. Then after 20 minutes or so the bird appeared, it wasn't too far away but it was hidden in the grass, we all got to see it well in the end.
We ate our picnic lunch behind Church Point Rock formation looking across to Giant's Head which is another spectacular rock formation, see below.
From there we walked back to Old Town and on to Lower Moors, we tried to find shelter from the wind in the covered walkway where we spent some time looking for 'crests and Yellow-browed Warbler. After nearly an hour of looking we came up with two Goldcrests and a Chiffchaff.
Spotted Flycatcher
The weather improved and the rain-showers stopped, we walked across to Telegraph Road and round to Rocky Lane. The climb up to Sunrise Cottages and then down the 'Sunrise Farm Trail' had more butterflies than birds. We saw more Goldcrests, Blue and Great Tit, Linnets and Meadow Pipits. Butterfly sightings included: Red Admiral, Peacock, Painted Lady and Speckled Wood.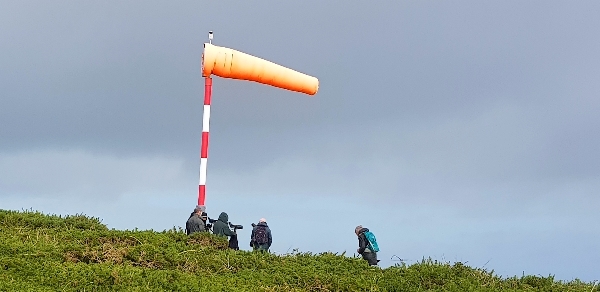 From then on things went down hill, two of group went back to Hugh Town via Porthloo beach, three more went back along Telegraph Road. The rest of us walked through Lower Moors back to Old Town, the rest of the group went back to Hugh Town along Old Town Road, which left just me! Old Town beach now had 3 Little Egrets, a Common Ringed Plover and a few more Oystercatchers.
record shot of the Lapland Bunting
I walked around Penninis Head once more in the hope of seeing the BR Thrush, the sun was now shining, it brought hope to me, but only false hope, the bird never showed. With tired feet a walked back to the guest house, another 12km walk finished.
Dinner was a lovely plate of fish, taken at 6:30pm we were all in our rooms by 8:30pm and I'm pretty sure that most of the group were asleep by 9pm!!