THE GARRISON – BOAT TRIP TO ST MARTINS – HIGHER AND MIDDLE TOWN – RETURN TO ST MARY'S – LOWER MOORS – DUMP CLUMP
WEATHER: still a cold wind, but it remained dry all day, cloudy at first but sunny spells later. Temp 12C
The Garrison is a huge fortification that sits on the hill above Hugh Town it takes just five minutes to walk up there, there are cannons mounted at every corner pointing to all directions, a formidable place. An Eastern/Siberian Lesser whitethroat has taken up temporary accommodation along the south face so we marched up there to look for it.
view of Tresco from St martins
Having walked past the place we discovered a large section of the Garrison before we realised our mistake, so we marched back to almost the beginning of our walk and found the correct place. Within minutes the bird appeared, it showed fleetingly and not very well two or three times. We also saw Blackcap, Wren, Robin, Song Thrush and Blackbird in the same area.
view from the garrison across top St Agnes
From the Garrison we walked down to the quay to catch a boat to St Martins, quite a few of other people had the same idea, the first boat was full and only three of us was on it, but a second followed immediately afterwards. We watched a Peregrine and a smaller falcon which was possibly a Merlin during the crossing and we added Common Scoter to the list.
it was so clear that you see the Cornish Coastline from St Martins
Once on dry land we all met up on the quay and walked to Middle Town to a stand of pines where a RED-EYED VIREO had been seen over the last three days. We saw many Goldcrests in the pines it was full of then and during sunny spells we saw a few butterflies, such as, Peacock, Red Admiral, Speckled Wood and Small White.
After about an hour some of the group wandered off to find a coffee, two of us stayed and you can guess what happened next! The bird started showing, a beautiful Red-eyed Vireo was seen very well, especially by Guy. The picture below was taken by a guy just in front of me.
back of camera view of the Red-eyed Vireo taken by Austin Morely
We all met at the Seven Stones Pub for a coffee and then spent another hour looking for the VIREO for a second time, but alas it did not show. So we wandered off birding the tracks and trails as we made our way back to the quay at Higher Town. We saw many common species and we search the small fields for pipits and finches and the hedges for warblers but we came up with nothing new for the list.
some of our group walking across the cricket pitch on St Martins
During the boat trip back we saw two Mediterranean Gulls a few Grey Seals, a Greenshank flew over the boat d many Oystercatchers, Shags and Ruddy turnstones sat on the rocks.
Throughout the day many reports of sightings were coming through of YELLOW-BROWED WARBLERS, it seemed that the islands were crammed packed with them. A conservative estimate was of 50-60 on St Mary's alone!!! That is amazing and unprecedented.
two pictures of Yellow-browed Warbler taken through the scope with my Samsung s8+ phone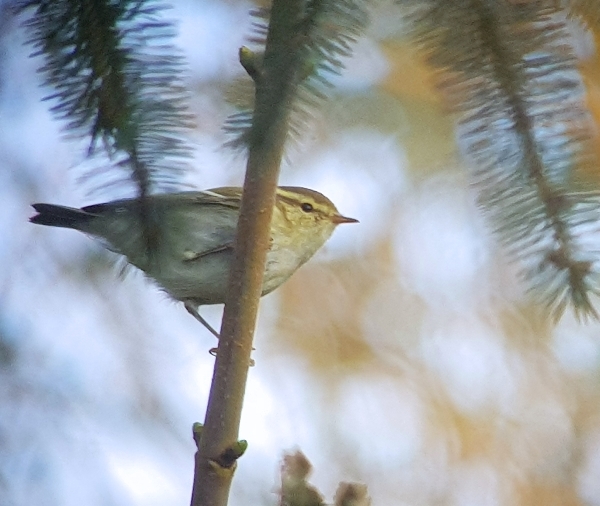 Our late afternoon walk was to see jack Snipe, two of them had been sighted at Lower Moors, so that is where we headed. It was 4pm when we set off for Lower Moors which is a 15 minute walk from our Guest House. Along the trail into the Moors we found 3 Yellow Browed Warblers and a couple of Goldcrests. From the 'blind' next to the hide at the first pool we saw the two JACK SNIPE with two Common Snipe, the group marvelled at the 'bobbing' action of the jack Snipe, they looked like clockwork toys. We also heard Water Rail but did not see one.
Jack Snipe taken at Lower Moors
On the way back we took a small detour to look for a Common Nightingale which had been 'resident' in an area near the local dump for the last week, it had shown well earlier today. We never saw the Nightingale, I think it was too late in the day, but we did see another two Yellow-browed Warblers.
Jack Snipe and Common Snipe - need I point out which is which?
Tomorrow is our last full day, we intend to stay on St Marys and look for a few species missing from our list such as Wryneck, Barred Warbler and Snow Bunting.