CARREG DHU GARDENS – LONGSTONE CAFÉ – HOLY VALE – NEWFORD DUCK POND – LOWER MOORS – OLD TOWN BEACH AND CHURCH – PENNINIS HEADLAND
WEATHER: a very windy day with blustery showers and sunshine later
This was probably the least productive day I have ever had on Scilly, it was so windy that it was hard top find sheltered areas and when we did there was noting in them! We walked a long way for very few sightings it is getting very frustrating out here.
The rain stopped around 9am and we set of just before 10! It was far too dismal before then. We walked up to Carreg Dhu gardens to look for a Yellow Browed Warbler and a couple of Firecrests. Matt set off ½ before the rest of us and saw both birds and added a Spotted Flycatcher, when we got there we saw two Firecrests but the YB Warbler and Flycatcher had disappeared.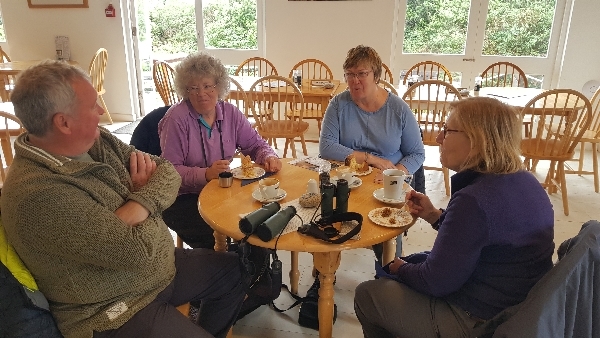 Hard Core birders!!! Pete, Pauline, Christine and Vicky
We birded for an hour before walking up to Longstone's Café where some of the group sat and had a mid-morning cuppa and a cake. Our walk down into Holy Vale produced nothing but common species although the sighting of 25 Collared Doves is worth a mention.
At Newford Duck Pond we stood watching the willow trees around the pond and eventually had brief sightings of Pied Flycatcher and another Yellow-browed Warbler, we also saw both Willow Warbler and Chiffchaff.
Newford Duck Pond was full of dodgy Ducks but it was sheltered from the wind
The long walk back began around 2pm we walked past Telegraph and the Golf Course down to Porthloo Beach where you could hardly stand up it was so windy. The sun came out and the sky cleared but the wind did not drop.
Christine and Peter set off for an early finish whilst the rest of us walked to Lower Moors. We saw nothing across the moor and we sat in the hide for a while seeing 1 dodgy Mallard. At Town beach there was nothing to see, a few Gannets out at sea but we did sit in the warm sunshine and have another cuppa at the Town Beach café.
the graveyard at Old Town Cruchyard has a fantastic view of Old Town Bay, not a bad to rest, Harold Wilson rests here.
We searched the trees in the Old Town Churchyard for warblers, nothing!! A scan of the sea produced a few large Shearwaters but we had no way of knowing whether they were Cory's or Greats.
this Moorhen was sitting 5 meters up a tree at Newford Duck Pond!!
At 4:30pm we gave up and walked up the hill back to the Guest House for an early shower. We had booked an early dinner at 6pm and needed to shower and change for that. Matt in the meantime walked out to Penninis Headland and saw nothing new. We had the shortest bird log ever before we went to dinner. Happy birding.