GAUIN - SEPULVEDA - BILBAO - PORTSMOUTH - STOFORD, SOMERSET
Weather: Day 1. bright and sunny until about 4pm,then dull with rain. Temp 12 - 25C
Our summer in Spain was over, 3 months had flown by and now we were on our way back to the UK. We set off at 9am from Gaucin and drove north eastward towards Madrid. Our first stop after an hour was at Laguna Dulce just outside of Campillos. As usual the laguna was covered in ducks, grebes, coots and moorhens. I listed Mallard, Shoveler,Teal, Common Pochard, White-headed Duck,Gadwall and Red-crested Pochard.
the view from the hide at Laguna Dulce
The three common species of Grebe, Little, Great Crested and Black-necked were also present. A couple of Purple Swamphens showed well just below the hide and a Cetti's Warbler called every few minutes. Distant Greater Flamingos and Eurasian Spoonbills could be seen feeding along the far shore. I am going to miss this 'Laguna-birding' there is always so much to see. We left after 30 minutes and made our way to Madrid.The cloud cover got thicker as we headed over the mountains west of Madrid, it started to rain at Somsierra.
Griffon Vulture taken at Sepulveda
We had a few sightings as we arrived in the area of Sepulveda, Red Kite, lots of Common Buzzards ,Common Kestrel, Eurasian Magpie, Carrion Crow,Jackdaw, Raven and Griffon Vulture At Sepulveda we settled into our 'stop-over' hotel and I watched Black Redstarts, Jakdaws and Griffon Vultures from our window.
Day 2
The second leg of our journey home began late, we ate breakfastat 8:30 before setting off for Bilbao, our ferry to the UK was due to leave at 5:15pm so we had plenty of time. It takes just 15 minutes to get to the famous Hoces de Duraton Nature Reserve from Sepulveda, we spent a lot longer as we watched dozens of birds over the fields and Woodlands. Corn Buntings were common as were Common Buzzards and Red Kites, we saw lots of Carrion Crows and a huge flock of Jackdaws .At the reserve it was a little chilly so Dawn stayed in the car whilst I searched for larks and such like. This reserve is famous for holding a small population of Dupont's Lark but I never saw one. The air was filled with lark song, Woodlarks mainly but also Thekla Lark, I saw both. Also Common Stonechats, Northern Wheatears, Black Redstarts, Linnets, Goldfinches and House Sparrows were all seen out on the rugged landscape.
the dry track leading to the Gorge at Hoces de Duraton Natural Park
The famous gorge there is a picturesque sight, the Rio Duraton cuts a deep swathe through a limestoneridge and a beautiful Chapel was built on the top ofthe cliff. Dozens of Griffon Vjltures drift aimlessly overyour head, Black Redstarts and Blue Rock Thrushesdash about on the rocks and the plaintiff call of theRed-billed Chough rings out from the gorge. It was a beautiful morning, I was in beautiful surroundings doing something I loved, so why was I going back to rainy Somerset?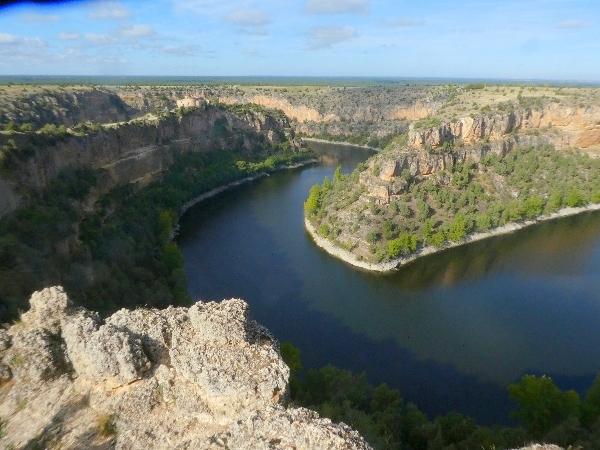 The gorge at Hoces de Duraton
you can see the village of Sepulveda in this one
On the way off the reserve I clocked a ring-tailed Harrier being mobbed by a Sparrowhawk, it looked good for a Hen Harrier but distant. We left without a Dupont's Lark and continued our journey to Bilbao. We boarded the ferry on timea nd when everyone was on board they made an announcement, there was a technical fault and a delayed sailing was predicted. 4 hours later we set off in the dark, so no sea-watching.
a cracking male Black Redstart
a few butterflies were on the wing, I saw this Adonis Blue also Grayling, Painted Lady and Clouded Yellow
Day 3,
We awoke after a very bumpy ride overnight,very little sleep was achieved. I managed some sea-watching this morning, in fact the first bird I saw was a Grey Phalarope! After a few hours and long vigils I added Northern Gannet, Manx Shearwater, Great Skua (4) and an Arctic Skua, also a single distant auk, a Guillemot. That was the last of my journey-birding.
one of the 3 Great Skuas (Bonxie) see from the boat in the Bay of Biscay
We docked in Portsmouth at midnight and drove through rain for the next 2 hours to get to Stoford in Somerset, such joy being back.