TRANSFER FROM THESSALONIKI AIRPORT TO LAKE KERKINI WITH STOPS AT ANGELCHORI LAGOON – KALOCHORI LAGOON – CHIMEROS QUARRY
WEATHER: all day sunshine, a strong breeze at times, top temp 22C
Frances and Vanessa arrived last night and Guy was still with me, so all four of us went out for a little birding before the rest of the group arrive at midday. We ate breakfast at 7:30am in our hotel at Perea before driving the short distance to Angelchori Lagoon. It was a lovely morning, bright, warm and perfectly still.
The lagoon held dozens of Greater Flamingos, Common Shelduck, Pygmy Cormorants and a flock of about 20 Slender-billed Gulls. Around the shoreline we saw Black-winged Stilts, Avocets, a few Ruff and lots of Little Terns with a few Common Terns.
Greater Flamingos with a single Slender-billed Gull on Lagoon Angelchori
On the marsh adjacent to the lagoon we found Wood Sandpipers, Curlew Sandpipers, Ruff, Little & Great Egrets, Grey Heron, Eurasian Spoonbill, Crested Larks, Hoopoe, Red-backed Shrike and a couple of Turtle Doves.
In the reeds around the shoreline we saw Reed Warbler and heard Great Reed Warbler, other species recorded during our morning excursion included: Little Owl, Sandwich Terns, Jackdaws, Hooded Crows, Barn Swallows, Common Swifts and House Martins.
Reed Warbler
I took Guy to the airport after dropping Vanessa and Frances back at the hotel and later the three of us returned to the airport to meet the rest of the group. Dancho, my Bulgaria friend and fellow guide met us outside the terminal and we met up with the group, all of whom arrived on time at 11:50am.
With the two buses loaded up we set off to our first destination which was the large brackish Lagoon at Kalochori, it took 40 minutes to get there. After parking the buses we stood scanning the marsh and the lagoon where a great number of birds were feeding. It took us a while to unpack our telescopes and binoculars and to eat our picnic lunch.
some of the group at Kalochori Lagoon
Mtes Swans, Greater Flamingos and hundreds of Common Shelduck dominated the main lagoon. Curlew Sandpipes and Little Stints were the most numerous waders by a country mile, but we also found Ringed Plover, Kentish Plover, Spotted Redshank, Grey Plover and Dunlin.
Slender-billed Gulls
On the small lagoon number one we found a large flock of 'Marsh' Terns, mostly White-winged Terns but also a good number of Black Terns. On the same body of water, we saw many Slender-billed Gulls, some Black-headed Gulls and a few Mediterranean Gulls. An adult Little Gull was a nice find and so was a Squacco Heron. We also saw Ruff, Wood Sandpipers, Little Grebe, Coot and Mallards.
Little Gull
We viewed this small lagoon from various viewing-points and during our stay there we also found Corn Bunting, Tree Sparrow, Marsh Harrier, Common Kestrel, Rook, Jackdaw and Goldfinches.
Woodchat Shrike seen in the quarry
After spending 40 minutes on the motorway we turned off towards Lake Kerkini, after a sort while we pulled over at a regular site for Rollers. Sure enough there was a pair on the wires by the side of the road, we also found Common Buzzard, Green Woodpecker, Red-backed Shrike, Common Nightingale (seen), Black-headed Yellow Wagtail, Corn Bunting and we heard Olivaceous Warbler.
European Roller - taken by Tony Moore
Soon we were back on the road and drove all the way to a village near Kerkini Dam. Chimeros quarry, is a well-known site where to look for Eagle Owl, so we drove directly into the quarry area. A Lesser Spotted Eagle was flying around the quarry and gave us a great show, it even perched for us! We never found the owl but we did see Honey Buzzard, Levant's Sparrowhawk, Woodchat Shrike, Eastern Black-eared Wheatear and Golden Oriole. We also heard Cirl Bunting and Common Chiffchaff.
Lesser Spotted Eagle
Lesser Spotted Eagle in flight taken by Tony Moore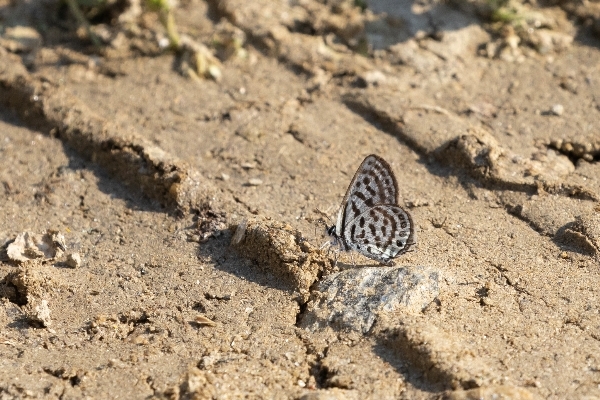 Little Tiger BLue - Tony Moore
We made it to the hotel at 6:30pm having noted many White Storks during the last few kilometers. We ate Dinner an hour later and cold beer went down very well. The hotel sits on the lower slopes of Belles Mountains and from our balconies we had panoramic views of the lake which was covered in birds. We had made a great start to our Lake Kerkini Holiday with 77 species on the list.