MANDRAKI JETTY – VIRONIA QUARRY – MEGALOHORI PICNIC SITE – VIRONIA EAST EMBANKMENT
WEATHER: wall to wall sunshine all day, a gentle breeze, just perfect. Top temp 20C
It doesn't get much better than this, we had perfect birding weather all day, we had birds flying around from all directions and we took our tally to 125 species in just 1 ½ days.
Our visit to Mandraki Jetty at 6:30am was simply phenomenal, the birding was mind-blowing and my group were mesmerised, what a fantastic experience for them, it also was for me too! From the jetty we had a panoramic view of the lake, plus small pools either side of us with reedbeds and scrub.
Great White Pelicans - taken from the jetty at Mandraki by Kevin Jones
The movement of so many birds was incredible and hard for the eye to process, hundreds of birds were moving around at any one given moment. Great White Pelicans (3000+) moved around the lake in large groups, landing on the calm flat water to join similar numbers of Cormorants. Dalmatian Pelicans in smaller numbers were doing a similar things and dozens of Grey Herons were constantly flying over. The water was dotted with hundreds of Great crested Grebes, Coots, Moorhens and the islands were covered in more Dalmatian Pelicans.
Pygmy Cormorant - another of Kev's shots
Add to that, Little Egrets, Common Terns, Night Herons, Squacco Herons, Pygmy Cormorants, Purple Herons, Spoonbills, Swallows and Martins.
The superlatives were constantly rolling off the tongues of my group and the photographers were in dreamland. In the reeds we saw Great Reed Warblers, we heard Cetti's Warbler and every so often a crescendo of Marsh Frog calls would rise from the marsh.
Great Reed Warbler
A Cuckoo called from a prominent perch for most of the time we were there and we heard Penduline Tit call every now and then. A Great Spotted Woodpecker flew across the trees behind us and Dancho (our local guide) shouted out a White-tailed eagle which some of us saw.
The breakfast table was buzzing after that excellent birding session and I'm not surprised, it was a magical experience never to be forgotten.
After breakfast we drove to Vironia and turned off on a track up into the wooded foot-hills of the belles Mountains. Where we visited an old quarry and the grounds of a chapel. In complete contrast to all the water birds seen earlier we found some woodland specialties and a few raptors. Within minutes of getting out of the buses we had found a male Levant's Sparrowhawk!!! This bird appeared many times over the next hour, we had great views of it in flight and perched in a nearby tree.
Levant's Sparrowhawk - above by Kevin and below by me
Corn Bunting, Cirl Bunting, Woodchat and Red-backed Shrike, Willow Warbler ( a none breeding passing migrant species) was a good find. We also heard the usual Common Nightingale, Common Cuckoo, Hoopoe, Bee-eaters and several others.
Our walk to the old quarry took us through some dense scrub with a few mature trees, the ridge high above us gave us some interesting sightings. First a Golden Eagle appeared, then a Common Buzzard, followed by a pair of Ravens. The Ravens mobbed the eagle and drove it over the ridge.
the group looking up into the old quarry
It was so unusual to see Cormorants and Pelicans rising on the thermal like migrating raptors but that is exactly what they did! We had good views of Short-toed Eagle and a few of the group got onto a Booted Eagle.
At the old quarry we were entertained by Blue Rock Thrushes, Black-eared Wheatears and we found the old nests of Western Rock Nuthatch. Lots of Bee-eaters appeared above us and heard Turtle Doves. On returning to the chapel area we located a singing Subalpine Warbler and had another 30 minutes with the Levant's Sparrowhawk. We then drove back down the hill to the village where we bought our lunch supplies and had a coffee.
There is a lovely picnic spot near the village of Megalohori near the eastern embankment of the River Strimonas, we went for walk along the embankment before lunch. What a fantastic place for birding, we had views over a large lagoon with a few reedbeds and on the other side of us there was a channel of riparian woodland and scrub. We saw birds galore I don't where to begin! A Little Bittern was nice to see inflight and for a short while perched at the edge of the reeds. There was Great Crested and Little Grebes, Pygmy and Great Cormorants, Grey, Purple and Squacco Herons, Eurasian Spoonbill, Mallards, Coots and Moorhens.
aview of the East Embankment
A few other ducks were also seen, two small parties of Ferruginous Ducks and a pair of male Garganey. We had the company of dozens of Bee-eaters, we heard Golden Orioles, Turtle Doves, Common Cuckoo, Hoopoe and Penduline Tit.
Ferruginous Duck
It was magical along that bank we added a few butterflies and our first dragonflies to the list of species and raptors kept appearing. We eventually got back to the picnic for lunch and some welcomed shelter from the sun.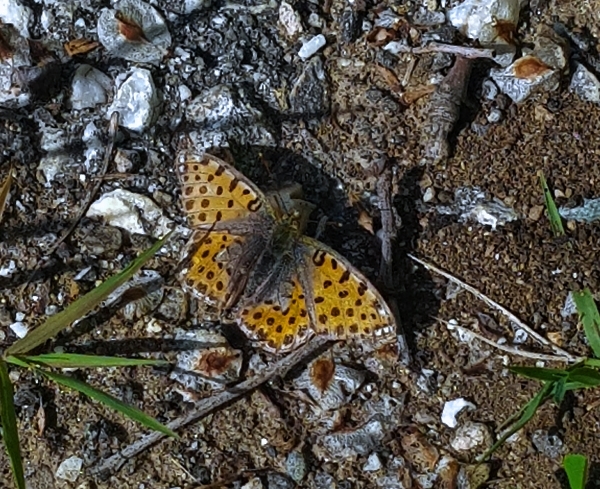 Queen of Spain Fritillary
The rest of the afternoon was spent in the same area but searching reed-fringed pools and riparian woodland for woodpeckers. As we arrived at one spot, we found Short-toed Eagle and our first Honey Buzzard, with Peregrine and a probably an Eleanora's Falcon the identity of which we could not clinch. Some of the group in the front vehicle saw a Great Spotted Woodpecker flying away from us as we pulled up too.
lunch at the picnic site
Our walk was punctuated by stops to look for singing warblers, one really interesting songster was a RIVER WARBLER, we spent a lot of time trying to see this bird without luck. It is a rarity in Northern Greece. We did see Garden Warbler (another uncommon migrant), Blackcap, Common Whitethroat and Olivaceous Warbler.
Lesser Spotted Fritillary
Back in the village we stopped for ice-creams and during our break Dancho and I noted a Eurasian Sparrowhawk flying over the village. We got back to to the hotel around 5:30pm and we sat on the tarrace for cold beer and watched the lake. A Pair of Short-toed Eagles circled very low over the hotel giving us great views.