VRONDOUS MOUNTAINS ABOVE SERRES
WEATHER: dull and overcast for most of the day with light rain early morning.
This was our big day out in the mountains! We chose the day carefully because we needed a still day with no, or just high cloud and that is what the forecast told us today would be like. However, after getting up very early, we found that we had low cloud with a light drizzle of rain!
It was 5:30am when we left the hotel and drove to the Vrondous Mountains in the dark, the leading bus kicked up a Eurasian Nightjar in the lane just outside the hotel! We arrived at our the lookout point where we hoped to see the star bird of the day, the ROCK PARTRIDGE. It was very cold up there, just above freezing so we all had a hot drink first and a nibble from our breakfast pack.
birding in drizzling rain and cloud mist......such fun!
We could seen banks of low cloud below us, but to start with we had a good vista of the mountainside below, it had scattered juniper bushes, some bramble scrub with rocks strewn all over it, perfect habitat for the Rock Partridge. We noted a few species singing which included Woodlark, Northern Wheatear, Red-backed Shrike, Greenfinch, Linnets and a Lesser Whitethroat, we saw all of the above.
a Wood Mouse, one fo three mammals seen today, the others were Red Squirrel and Roe Deer. Taken by Tony Moore
We saw that a large cloud was approaching, so we frantically began scanning the mountainside below us looking for the partridge, alas we never found one and the cloud came in and shrouded us in a thick mist with no visibility whatsoever! Doh!!
After waiting for 30 minutes or so the cloud cleared for a short while, but it did not give us much time at all before we were enshrouded in mist once again. During the clear time we added Lesser Whitethroat to the list and a Mistle Thrush.
Green-winged Orchid found during our Partrdige vigil. Photo by Tony Moore
The weather forecast showed improvement around 10am so we decided to continue up to the ski centre at Lailais. Just above where we were standing we saw two ROCK PARTRIDGES on some logs at the side of the road but the buses flushed them and they walked away into the mist never to bee seen again. A little further up, those of us in the second bus, saw a third bird sitting on a rock right by the side of the road, we had better views of this one before it jumped down and disappeared.
Wild Pansy seen along the track to the rock face
A track that we usually walk opens up from the pine forest and gives you a great vista of a rock-face where we usually look for Rock Bunting. Before we took the track we traced a apir of calling Firecrests, we also heard Robin, Wren, Blackbird and Chaffinch.
Dancho had heard of a recent sighting of Ural Owl just along the lane, so we searched in vain for that before we took the track. The cloud cover seemed to lifting at this point. Along the track a Black Woodpecker called and we saw it in flight, so we back-tracked to get a better view. The woodpecker showed well briefly but most of the group only got flight views!
Tree Pipit - by Tony Moore
At the rock face the cloud cover cleared and apart from two small episodes of cloud cover we stayed virtually cloud free from then on, it was 10:30am. We scoped the area below the rock-face and found Tree Pipit performing its parachuting flight-display and then the Rock Bunting appeared in the top of a pine below us, we had reasonably good views of it, but it always seemed to be obscured by twigs.
Eurasian Treecreeper
In the meantime we saw Black Redstart, Eurasian Treecreeper, Wren, Wood Pigeon (not common here), Raven, Common Buzzard and two more pairs of Firecrests. We couldn't find Crested Tit which was another one of our target species.
At Lailail Ski Centre we sat at picnic benches and ate our picnic lunch and drank the remains of the hot coffee, the sun began to break through the clouds and it warmed up a tad. We saw Coal Tit, Crag Martin, Mistle Thrush and a Short-toed Eagle flew over us. Dancho went for a walk whilst we ate, he knew of a recent sighting of a Tawny Owl very close to where we were sitting. He found the owl and waved us over, sure we all saw this rare sighting, a Greek lifer for Danco and the rest of us!
its a lonely life being a tour guide
At lunch we went for a walk looking for Woodpeckers, Willow and/or Marsh Tit and anything else we could find. We saw very little It was very quiet out there. As we drove back down from the Ski centre we stopped once more to look for Black Woodpecker. We found a very 'new' hole in a beech tree, it was oval shaped, a Black Woodpecker's nest site. We waited for a while but nothing happened in the immediate area.
a 'Greek' lifer for all of us - Tawny Owl taken by Tony Moore
We went down and spent another couple of hours looking for a better sighting of the Rock Partridge, on the way down we saw Mistle Thrushes and a Spotted Flycatcher during one stop and we all had good views of Common Whitethroat during the first part of the 'partridge watch'. Some of group saw two more partridges flying away from them as they left the bus, flushed by mistake!
Our persistence eventually paid off, we had superb, prolonged views of a pair of Rock Partridges, they performed really well and everyone saw them!! Hallelujah !! Our search for Common Rock Thrush went unrewarded, not one was seen or heard.
Rock Partridge (almost identical to Chukar)
We left the mountains at 3pm making one stop to look for Bonelli's Warbler along way, we only found Serin during our stop. We had a lovely coffee stop in Serres where we sat out in warm sunshine, it was the first time we had seen the sun in two days.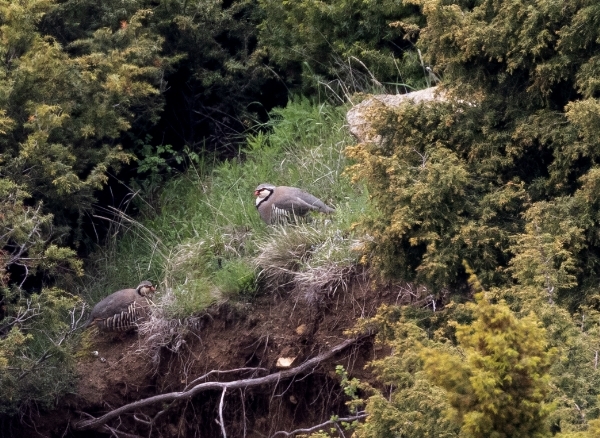 two Rock Partridges taken by Tony Moore
We got back to the hotel around 5:30pm. It had been a long day, thwarted by the weather once again! Our list now stands at 155, we are few down on last years total of 175 (seen), but we have two days to go and can catch up.
A quick evening vigil outside the hotel at 9pm produced nothing! We we were hoping for a Nightjar sighting but all got was a distant Scop's Owl calling and then a much closer Little Owl doing the same.