ANO POROIA - LAKE KERKINI BOAT TRIP – LAVIDIA QUAY - NORTH COAST TRACK
WEATHER; perfect once again, clear blue sky, no wind and a lovely temperature of 24C
The day of our boat trip had finally arrived, an event that we were all looking forward to, but first we had appointment with a Semi-collared Flycatcher. At 6:30 (our usual meeting time) we set off for a hillside village a few kilometers west of our hotel.
Not a selfie, nor a picture of Guy Campbell, but a Common Toad
The site for the Flycatchers was a wooded area on the edge of the village, the trees were deciduous, mainly Plane Trees. After 5 minutes Dancho heard a Semi-collared Flycatcher singing and soon located it, he is incredible at doing that!!
This first bird was a little distant but it was not very long afterwards that second then a third was located much nearer and both singing, which most of us heard. We all had great views of them. Grey Wagtails were also noted as well as Chaffinches, Great Tit and a Eurasian Nuthatch.
two shots of the Semi-collared Flycatcher
After breakfast we drove to the Jetty at Mandraki and boarded our boat for a 3 hour trip around the lake. The water was flat clam, the light was superb and the birds, well, it is just one of those experiences that you will never forget.
We sailed close to nesting colonies of Cormorants, Little Egrets, Night Herons, Squacco Herons, Grey Herons, but we kept a fair distance from the more sensitive colonies of breeding Pelicans. The colours, the noise (and the smell) made this a wonderful experience (excluding the smell), whether you had a camera or not it was magical.
our view from the boat
We sailed out into the middle of the lake to look at Marsh Terns where we saw Whiskered, Black and our first White-winged Terns. We also found small numbers of Black-necked Grebes and a few Little Gulls flew past the boat.
A surprise sighting was that of a Bewick's Swan, this bird does spend the winter here but it should have long gone by now, we assumed it had an injured wing but it looked perfectly well. We also found a few waders, a large flock of Ruff flew over us, we saw a single Wood Sandpiper and three Black-tailed Godwits. We also saw a flock of 'plovers' flying high over the lake but we got onto them after they had passed over and it was difficult to identify them, we assumed that they were Golden Plover, but we couldn't be sure.
a Cormorant Tree
We drifted past a small Sand Martin colony in the banks of a channel, in the past there was thousands of nest holes, but now with a higher water level, we saw only about 20 nest holes. Tree Sparrows were the only passerine we encountered out on the lake, well, you would not expect many would you?
Water Buffalo taken from the balcony by Mike Hails
Another addition to our list was the Glossy Ibis, we saw flock of 30-40 birds in the distance and a single one on an island but we never saw a single Cattle Egret and not many Spoonbills. After three mesmerising hours we made it back to the jetty and headed off for lunch.
the lone Bewick Swan - photo by Iordan Hristov (Dancho)
Today we had arranged a sit-down lunch at a taverna at the railway station in Veronia. It was a lovely setting and the food was excellent we all enjoyed it. After that we drove back to the hotel for a siesta, a two-hour break, we reconvened at 4pm. Unfortunately the rain clouds had gathered and our visit to the quayside a Lavidia was cut short because of rain.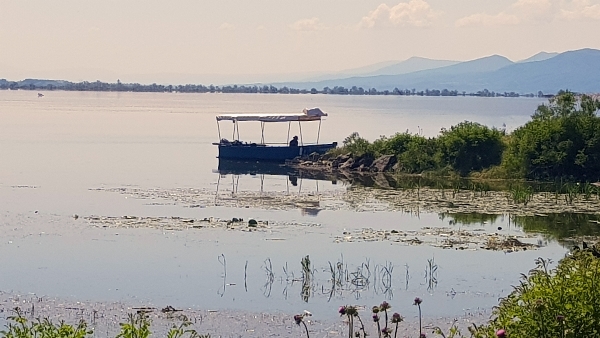 the jetty at Mandraki
We did see Golden Oriole, Turtle Dove, Common Cuckoo, Great Reed Warbler, Black-headed and Corn Buntings and many water birds already listed above. After driving back towards the hotel it stopped raining so we got off the bus for another walk into some fields where hedges and grass meadows were found.
It was Mervyn who found the star bird, he saw a cuckoo-like bird fly into a very distant tree and when we 'scoped it we realised that it was in fact, a Great Spotted Cuckoo!! What a find, not even Dancho had seen one in Greece before now. The bird took off and flew straight towards us and gave us some excellent flight views, what a magnificent beast!
We were back at the hotel at 6:30pm in good time to prepare for dinner. Tomorrow is our last full and we hope to see a few more species, we have a total of 170 at the moment.